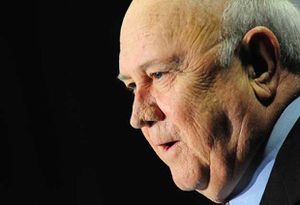 South Africa's last president under white rule has suggested that Israel risks heading toward apartheid if it does not reach a peace deal with the Palestinians.
The comments by F.W. de Klerk echo warnings made by Palestinian, American and dovish Israeli officials. But his words carry special meaning, given his role in South Africa's painful history of race relations.
De Klerk was the last president under apartheid and along with the late Nelson Mandela, brought about the end to decades of systematic racial discrimination against blacks, jointly winning the 1993 Nobel Peace Prize.
Comparisons to South Africa's racist rule have increased in public discourse about Israel and its treatment of Palestinians. In April, U.S. Secretary of State John Kerry – who had been mediating negotiations between Israel and the Palestinians – set off an uproar when he made a similar warning.
In an interview aired Tuesday on Israeli Channel 2 TV, de Klerk said calling Israel an apartheid state now was "unfair." But he said that without the establishment of a Palestinian state, Israel may have to contend with the consequences of one state for both peoples.
"The test will be [does] everybody living then in such a unitary state, will everybody have full political rights?" de Klerk said. "Will everybody enjoy their full human rights? If they will, it's not an apartheid state."
He added: "There will come in Israel a turning point where if the main obstacles at the moment which exist to a successful two-state solution are not removed, the two-state solution will become impossible."
De Klerk was in Israel receiving an honorary doctorate from the University of Haifa.
Israeli backers of the creation of a Palestinian state say relinquishing control of the Palestinian territories and its roughly residents is the only way to ensure Israel's future as a democracy with a Jewish majority. Following the collapse of the most recent round of peace talks, fears that the sides could be headed toward a single "binational" state are growing. The Palestinians want the West Bank, the Gaza Strip and east Jerusalem – territories captured by Israel in 1967 – for their hoped-for independent state.
Israel is a democracy whose Arab minority holds citizenship rights. Israeli Arabs often complain of discrimination but have reached senior positions in government, the judiciary, the foreign service and other fields including the military.
But it is the situation in the West Bank that sparks comparisons to apartheid. The territory is home to two populations – a Palestinian majority of some 2.4 million people and a Jewish settler minority of 350,000 – that are subject to two vastly different legal and political systems. Israeli West Bank settlers, for instance, can vote in Israeli elections, while Palestinians cannot.
Israel captured the West Bank from Jordan in the 1967 Middle East war.
Israel vehemently rejects any comparison to apartheid-era South Africa. While South Africa's was a system rooted in race, Israel says the differences in the West Bank stem from legal issues and security needs.
Most of its leaders, including hard-line Prime Minister Benjamin Netanyahu, have endorsed the idea of establishing a Palestinian state to protect Israel's Jewish majority.
"The two-state solution might be the best one," de Klerk said. "You'll have to move fast. See the window of opportunity. Jump through it. It might close."
A number of prominent centrist Israelis, including former prime ministers Ehud Olmert and Ehud Barak, and the current chief peace negotiator, Tzipi Livni, have invoked the apartheid analogy in their calls for a peace agreement and change in the status quo.
Paul Hirschson, a South African-born spokesman for Israel's Foreign Ministry, brushed off de Klerk's remarks, saying Israel would not accept a one-state solution.
"It's not a warning. It's a comment by people who misunderstand Israel, the Arab-Israeli conflict and the Middle East," he said.
Mohammed Madani, a senior Palestinian official in charge of outreach to Israeli society said Israel should take note of de Klerk's words.
"When the leader of the former apartheid regime in South Africa warns Israel of going down the road to this style, it should listen to him carefully because he knows what he is talking about," he said.
Source: http://www.theglobeandmail.com/news/world/israel-risks-apartheid-without-palestinian-peace-south-africas-de-klerk-says/article18882661/