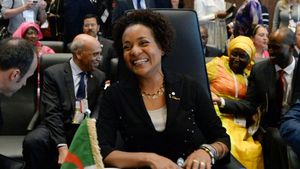 Former Governor-General Michaëlle Jean was chosen Sunday to lead la Francophonie, as the organization of French-speaking states places a renewed focus on economic development.
She will serve as Secretary-General for a four year term, taking over from former Senegalese president Abdou Diouf. Ms. Jean, whose candidacy was backed by Canada, Quebec and New Brunswick, was named to the position by consensus after the four other candidates vying for the organization's top job bowed out. Quebec and New Brunswick have status as participating governments at la Francophonie.
La Francophonie is made up of 57 member states and its goals include democratic development, conflict resolution, cultural dialogue and economic co-operation.
Prime Minister Stephen Harper, who attended the meeting with Quebec Premier Philippe Couillard and New Brunswick's Brian Gallant, congratulated Jean in a statement.
"I am especially pleased that, for the first time in its history, la Francophonie has elected a Canadian woman as its head," he said.
"Thanks to her impressive qualifications and her vast experience...Ms. Jean is the ideal person to promote French and the values of the Organisation.
"She will embody the renewal and modernity that la Francophonie of the 21st century needs, and will listen to heads of state and government and their citizens."
The selection process lasted longer than expected on Sunday. Some delegations feared the matter could end up going before a vote, an unprecedented move for an organization that has always chosen its leaders through consensus.
The Canadian government is interested in seeing la Francophonie place a greater emphasis on economic development, a key plank in Ms. Jean's platform.
"People are seeing in this economic strategy, some hope, a new relevance for la Francophonie. You know, countries, people and civilizations came together by doing business together," Ms. Jean said.
"…I believe that this magnificent project is to do that within la Francophonie, [to] use this very rich language and make it an extraordinary space to move forward together for the development of the economies of our countries."
Canada is the second-largest contributor to la Francophonie but most of the organization's members are African.
A former journalist, Ms. Jean served as Canada's governor general from 2005 to 2010. She has since served as UNESCO special envoy to Haiti and Chancellor of the University of Ottawa. She also launched the Michaëlle Jean Foundation, which works to empower youth.
Ms. Jean was born in Port-Au-Prince, Haiti, and her family immigrated to Canada in 1968 to escape the regime of Jean-Claude Duvalier.
Gov. Gen. David Johnston issed a statement on behalf of his family to congratulate Jean.
"We are confident that she will fervently and passionately defend not only the French language and culture, but also respect for the shared values of peace, democracy and human rights that have solidified the belonging of each nation in la Francophonie," he said.
"She already showed her commitment to these causes during her tenure as governor general of Canada, from 2005-10.
"We join with all Canadians in wishing Madame Jean every success as she begins a new chapter in her professional life on the international stage."
University of Ottawa president Allan Rock also issued a statement, congratulating Ms. Jean and praising her passionate defence of diversity and bilingualism in her role as chancellor at the university.
Ms. Jean's win means the current administrator of la Francophonie, Canadian Clément Duhaime, will likely step down to make way for an African representative among the organization's leadership.
Source: http://www.theglobeandmail.com/news/world/michaelle-jean-elected-new-head-of-la-francophonie/article21838710/