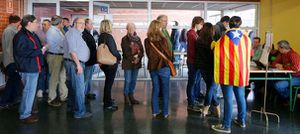 Residents in Spain's north-eastern region of Catalonia cast their ballot in a symbolic referendum on Sunday in defiance of the central government in Madrid and Spain's constitutional court.
The Catalan government said that more than , 2 million residents had voted, out of an eligible 5.4 million in 1,200 polling stations. The results are expected on Monday morning.
"Despite the enormous impediments, we have been able to get out the ballot boxes and vote," the Catalan leader, Artur Mas, said on Sunday, after months of tense legal wrangling between Madrid and Barcelona forced Catalan leaders to water down their plans for a formal referendum.
The result was the symbolic vote, staffed by about 41,000 volunteers who registered voters on the spot in the absence of formal electoral rolls.
After the country's constitutional court suspended all preparations and campaigning related to the vote last week for the second time, doubt loomed over whether it would take place. Until she stepped into her polling station on Sunday morning, Margarita Roca was not convinced that the referendum would actually happen. "I was a bit worried," she said. Her apprehension was heightened after Spain's public prosecutor announced – hours before voting was to begin – an investigation into the use of public buildings to hold the non-binding, informal vote.
The atmosphere on the streets of Barcelona was festive, as young and old made their way to polling stations across the city, some with Catalan flags wrapped around them and others snapping selfies as they cast their ballots.
Outside the Jaume I primary school, tucked behind Barcelona's main railway station, voters arrived at 7.30am. The queue had grown to about 100 people by 9am, who applauded as the polling station was officially opened and they were ushered in.
"It was really moving," said Enrique Sola Campillo, a volunteer, of the first few moments of the day. "So many have been waiting for this." Calling it a historic moment, another volunteer, Marta Masats, said: "Lots of us are remembering our parents, grandparents, relatives, friends, who were deeply democratic and today have passed on. They would have been very proud of us."
The ballot asked voters two questions: whether Catalonia should be a state and, if so, if it should be an independent state.
Chavi Gomez and Mónica García were among the first to vote, their three-year-old son in tow. "We are here because we want him to have a better life," said Gomez.
From the moment Catalan leaders announced their plans to hold a November referendum, Spain's prime minister, Mariano Rajoy, insisted that no vote would take place. On Saturday, played down its importance. "Call it whatever you like, but it is not a referendum, not a consultation, nor anything that resembles it," he said, adding that it would have little effect. He urged the region to "return to sanity".
Next to polling stations, volunteers collected signatures to send to the European court of human rights in Strasbourg to complain about Madrid's actions to deny the region a formal referendum on independence. "They're not letting us decide our own future," explained Jordi Crusi, as he added his name.
Others hoped that a large turnout would prompt the central government to negotiate tax and political autonomy with the region or perhaps even pave the way for a proper referendum.
"Even if it's symbolic, at least we'll show we want to express our opinion and have some sort of result to push the process forward," said Felipe Alcalde Rodríguez after voting. "This is our attempt to be democratic in a state that doesn't respect democracy."
For Jaume Marsany of the Catalan National Assembly, a grassroots, pro-independence group, it was an extraordinary day. But it was just one more step towards secession, and far from a decisive one. "We still have a long way to go," he said, noting that his group had called for early elections, which could act as a de facto poll on independence, to be held in the region within the next three months.
Rafael Arenas of the Catalan Civil Society, a group opposed to the independence of Catalonia and who had called on Catalans to boycott the vote, cautioned against reading too much into the results. "It wasn't a democratic process. Those carrying out the vote had a vested interest in the outcome," he said. He also took aim at the turnout, which he said was much lower than it would have been in any election. "It shows there are a lot of Catalans who are not interested in independence," he said.
Source: http://www.theguardian.com/world/2014/nov/09/catalans-vote-symbolic-referendum-independence-catalonia-madrid