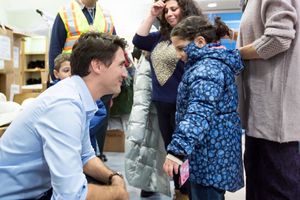 Hamid Osman has some advice for the Syrian refugee family who will soon be resettled in Whitehorse, the Yukon capital about 211 miles (340km) north of Juneau, Alaska.
"Winter is something you have to get ready for – you need a good coat and good shoes," he said in a telephone call from Inuvik, in the Northwest Territories, where he is a member of the world's northernmost mosque.
Living in the land of the midnight sun, where daylight lasts up to 20 hours in summer, can also pose an extra challenge for Muslims fasting during monthlong Ramadan, he warned.
"It's 24 hours daylight here – you can't fast the whole month. Either they'll have to follow their hometown hours or Mecca," he said.
Of the more than 75 Canadian communities that will open their doors to 25,000 Syrian refugees in the coming weeks, Whitehorse is among the most far flung.
Across Canada, government departments, NGOs and local groups are scrambling to lay the groundwork for the country's most ambitious refugee resettlement programme since the Vietnam war.
The first refugee flight landed in Toronto on Thursday afternoon, where they were greeted by the prime minister, Justin Trudeau. A second flight is scheduled to land in Montreal on Saturday.
"This is a wonderful night, where we get to show not just a planeload of new Canadians what Canada is all about, we get to show the world how to open our hearts and welcome in people who are fleeing extraordinarily difficult situations," Trudeau said earlier to staff and volunteers who were waiting to process the refugees.
After his landslide electoral victory in October, Trudeau repeated a campaign pledge to resettle 25,000 refugees by 31 December.
In late November, the Liberals admitted they would fail to meet the target, saying they will bring in 10,000 mostly private-sponsored refugees by the year's end and another 15,000 government-sponsored refugees by 29 February. A further 10,000 government-sponsored Syrian refugees will arrive over the course of 2016.
Even with the delay, it is an unprecedented number to be brought in on such a short timeline, dwarfing the influx of 5,000 Kosovars who fled to Canada in 1999.
But volunteer groups say they are ready to welcome them.
Raquel de Queiroz, 33, the director of Yukon Cares – a group of Whitehorse residents privately sponsoring the family of 10 – said she was galvanized to offer help by the photographs of drowned toddler Alan Kurdi, whose body washed up on a Turkish beach in September.
In three months, Yukon Cares raised $46,000 to sponsor the Syrian family and help them with food, rent, clothing and furniture in Canada. They will be responsible for shepherding the family through the healthcare system and enrolling them in school and language courses.
"We have a small Arabic community, Muslim community. We even have a Syrian in town who's very on board with helping out as much as he can," she said.
"We'll do our best to make them feel welcomed. And they will be safe here."
For now, De Queiroz and her group know little about the family they will be bringing in beyond their names, ages and the fact that they are Syrian Sunnis who have been living in Lebanon and who speak no English. Their arrival date has not yet been confirmed.
The government's most recent figures show that 1,537 permanent resident visas have so far been issued and almost 12,538 refugee applications are currently being processed.
United Nations High Commission for Refugee officials, who are assisting with the resettlement plans, recently told reporters they were having difficulty finding refugees ready or willing to come to Canada on such short notice.
Angela Keller-Herzog, with the volunteer-run Ottawa Centre Refugee Action, said her group is ready to sponsor up to 30 refugees through the UNHCR referral program but that just three have been confirmed so far.
"We are saying: 'OK, we're ready, send us some cases,'" she said. "Those case files – these are just not coming down the pipeline at this moment."
Louisa Taylor, director of Refugee613 in Ottawa, which is helping coordinate resettlement in the nation's capital, said: "The demand for refugees far outstrips the supply."
She added that organizations like hers are "inundated" with donations and offers to help.
"Part of getting ready, oddly enough, is managing the incredible generosity of Canadians. It sounds so ungrateful, but it's so true," she said.
Meanwhile, as the settlement sector waits for the refugees to begin arriving by the planeload – more than 400 people will need to arrive every day to meet the December target – Refugee613 is stretched to maximum capacity.
Dr Meb Rashid, medical director at the Crossroads Clinic, a hospital-based Toronto refugee health center, said the government's plans have shifted dramatically from one week to the next.
"There are a lot of moving parts to coordinate and it's very hard to plan when you don't know numbers, you don't know dates," he said.
"Every week it seems clearer than the week before, but we can't say we have absolute clarity yet."
But both Taylor and Rashid say Canada has the ability to absorb the influx – though Taylor and expressed concern about the availability of affordable housing in major cities.
Taylor said in the end, though, they will be "ready anytime" to welcome the newcomers.
"We can make it work – we will scramble with whatever gets dumped our way because that's what we do, that's what the situation demands," she said.
Source: http://www.theguardian.com/world/2015/dec/11/canada-syrian-refugees-arrive-whitehorse-yukon