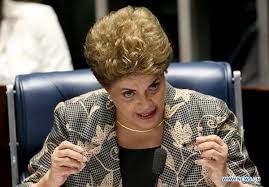 Dilma Rousseff made an impassioned and emotional address to her country's senate on Monday, in the final chapter of her lengthy impeachment trial, telling those who will decide her political future that they will be judged by history and must act to protect democracy in Brazil.
"I don't fight for my mandate, out of vanity or attachment to power," she said. "I fight for democracy, for truth and for justice. I fight for the people of my country and their well-being."
It seemed clear, however, that even Ms. Rousseff herself is under no illusion that her mandate will survive the vote, which will likely take place Tuesday evening. Fifty-four of 81 senators must vote in favour of the impeachment; the final tally will likely be higher and include members of her own party who have indicated they intend to abandon the hugely unpopular president.
Ms. Rousseff was forced to step aside in May for the period of this trial and she was replaced by her Vice-President, Michel Temer. If she is impeached, he will serve out the duration of her term, to late 2018.
She is being tried on charges of budgetary manipulation – of borrowing from state banks to paper over deficits in state accounts as the country fell into a steep recession. She says she did nothing that was not done by many presidents before her and nothing that constitutes a crime of responsibility, of which she stands accused.
Instead, she told the senators, her impeachment has been pursued by politicians angry that she refused to reign in federal prosecutors investigating a massive corruption scheme that has ensnared figures from her governing coalition and from the major opposition parties, and who hoped to pressure her with the threat of forcing her from power.
Ms. Rousseff invoked her experience of torture – "the marks of which I bear on my body and my soul" – and imprisonment when she was a Marxist guerrilla opposed to the military dictatorship in the 1970s. Then, too, she said, she held her head high while she faced those who judged her – but they masked their faces from a photographer lest they be recognized in future.
"The point of this speech was the historical record – so that history hears her voice," said Marco Antonio Teixeira, a political analyst with the Getulio Vargas Foundation in Sao Paulo. "There was nothing new in her speech, but it was extremely symbolic … and today the whole country is paying attention to it."
After the speech, the floor was opened to questions from senators, and so began a marathon set of exchanges in which Ms. Rousseff's critics denounced her from the floor and she rebutted them, didactically, at length, but with an apparent attention not to alienate anyone. At the 10-hour mark, just more than half the senators who had indicated their intention to speak had so far had the floor; with only two hour-long breaks, Ms. Rousseff was hoarse but not visibly flagging. The interactions were, for the most part, sombre and dignified, with none of the theatrics and grandstanding that characterized the vote in March in the lower house to open the impeachment.
Ms. Rousseff's 30-minute address to the senate was perhaps the best speech of her political career, in which she has consistently been faulted for lacking the charisma and rhetorical prowess of her predecessor, Luiz Inacio Lula da Silva. It took until the last hours of her presidency for her to speak in a way that connected her directly with the people she called "the citizens of my beloved Brazil." Mr. da Silva sat in the balcony as she spoke, his eyes fixed on her, looking grave.
She noted that she personally has never been accused of receiving any personal financial benefit from the state, either as president or in her long career as a public servant, but that the same cannot be said of those who judge her. As she made this point, a stone-faced row of senators in dark suits stared back – more than half of those who will vote on her conviction are either indicted or under investigation on bribery or graft charges. Several of the most influential figures in the senate were caught in a police wiretap, released in May, discussing how, with Ms. Rousseff gone, they could shut down the corruption investigation known as Lava Jato.
She said that those who sought to end her presidency had conspired from within hours of the last election in 2014, and that they had worsened Brazil's economic crisis by consistently blocking her attempts to implement reforms. She had a sharp exchange with Aecio Neves, the opposition candidate she defeated almost two years ago. "I could not imagine that after our last presidential debate, we would meet here again today in the senate under these circumstances," he said. "There is no dishonour in losing the elections, especially when you champion ideas and act within the law. I would not say the same when you win telling lies and committing illegal acts."
Ms. Rousseff replied icily, "I respect the direct vote in this country … I respect the will of the people in the streets and the electoral contest – that's why I respect those who competed with me. But I do not respect an indirect election which is the product of an impeachment process without a crime."
The suspended president also has supporters, still, within the senate, including an unlikely ally, Katia Abreu, a powerful agro-industrialist whose party led the impeachment drive but who herself served as a minister in Ms. Rousseff's cabinet and who is personally close to her. "I have no doubt that this impeachment is a conspiracy that … took shape in the boundless greed of a small group for power," she said.
Ms. Rouseff was sharply critical of the administration of Mr. Temer, her Vice-President, whom she referred to in her speech as "the usurper."
Mr. Temer installed an unelected government "that had no women at the head of its ministries, while at the ballot boxes the people chose a woman to rule the country," said Ms. Rousseff, the country's first female president.
The Temer cabinet also contains no people of colour, she noted, while the cameras of national television panned the multiracial coalition of 30 supporters she brought with her to the senate on Monday. One questioner, a supporter, suggested she is being penalized because she does not fit the typical Brazilian elite image of femininity. Ms. Rousseff replied: "I am a strong woman among meek men."
Source: http://www.theglobeandmail.com/news/world/brazils-rousseff-faces-senators-says-accusations-meritless/article31590262/