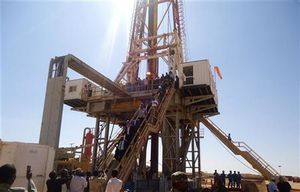 African nations joining the elite club of oil and gas producers should invest in education and roads while supporting traditional sectors to avoid the "oil curse" trap, the head of the African Development Bank said.  
Ghana, Kenya, Mozambique, Tanzania and Uganda have all discovered oil and gas in recent years, thrusting them into a crossroads between following the likes of diamond-rich Botswana into prosperity or the likes of Nigeria into over-dependence on oil.
Donald Kaberuka said governments should resist using windfalls from oil and gas exports to pursue populist policies like sharply raising public sector wages.
"(They should) avoid using the resources to rapidly increase recurrent expenditure. That is what people will be expecting but that would be the wrong thing to do," he told Reuters in an interview late on Tuesday.
Over-reliance on oil exports has created an imbalance in the economies of producers like Angola and Gabon, with the oil sector overshadowing others and giving rise to inflationary pressures that curb citizens' purchasing power.
In extreme cases in the past, it has led to outright conflicts and exclusion of vast segments of the population, leading to the term "oil curse".
"This region (East Africa) has done very well without oil, without gas, without minerals. These are finite resources. In other countries they have become a curse, so make the right public policy choices," Kaberuka said.
  Earnings from the resources should be channelled into sectors like education and the infrastructure in order to build a sustainable base for future development, he said.
INFRASTRUCTURE SPENDING
Fast economic growth rates on the continent in recent years have caused an explosion of demand for basic infrastructure like roads as well as reliable power supplies.
African leaders say the continent has to invest a minimum of $92 billion in its infrastructure per year, in order to keep up with the demand.
Kaberuka said he expected total infrastructure spending on the continent to rise from the $42 billion invested last year.
"It will be higher especially in the energy sector. The regulatory environment for the energy sector is improving... that makes it much more possible for independent producers to come and generate energy, knowing they will be paid," he said.
But he cautioned against developing roads, railways and other transport systems that would not be used optimally due to man-made barriers like national borders.
"We don't believe that you can have 54 segregated markets in a continent of one billion people and you claim that you have got one market," he said, adding 20 percent of AfDB's soft lending capacity was dedicated to regional integration.
Trade experts say Africa can raise its share of global trade from under 5 percent, by increasing trade between African nations, helping to stimulate growth and development.
AfDB expects the continent to maintain an average growth rate of 6 percent this year, thanks to reforms in management of public finances, higher investment and the continent's own consumers.
Save for the period during the global financial crisis, economies in the continent have grown by an average of 5 percent per year in the last decade, buoyed by a surge in demand for its commodities by nations like China.
The outlook depended on whether the euro zone resolved its debt crisis, and whether major emerging markets would avoid a slowdown in economic growth, Kaberuka said.
"Despite those turbulences I'm simply confident many economies in sub Saharan Africa will maintain the momentum which began in 2002," he said.
He said the continent no longer had difficulties caused by mismanagement of public finances, and that economies navigated the global crisis better than some European countries.
A consumer boom which has contributed to growth, was also intact, due to rapid urbanisation, a youthful population and increased penetration of communication services like mobile phones and the Internet, he said.
Growth on the continent has attracted investments in sectors like mining, telecoms and financial services from local and foreign firms.
"That is continuing. I see great appetite, not less," said Kaberuka, a former finance minister for Rwanda.
Source: http://af.reuters.com/article/topNews/idAFJOE83308220120404?pageNumber=3&virtualBrandChannel=0