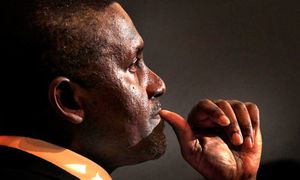 Earlier this year, a century-old wasteland of limestone and red dirt in south-west Nigeria was transformed into the biggest cement plant in Africa. The $1bn (£626m) Ibese plant will produce 6m tonnes of cement a year – expanding to 12m – cement that will quickly be swallowed up by the huge demands of Nigeria's construction boom.
West Africa's economies are some of the fastest growing in the world, and if one man is perfectly placed to profit from the boom it is Aliko Dangote, the richest man in Africa and the richest black man in the world. Ranked in 76th place among the world's billionaires by Forbes magazine, he is one of only 16 Africans on its 1,226-strong list, with a personal fortune estimated at $11.2bn.
The IMF has forecast the sub-Saharan African economy will grow at 5.75% this year. But it is not only his role in building Nigeria's sprawling cities that boosted Dangote's fortune by a reported 557% in 2011 and transformed him into a household name in the country. His Dangote Group – also known as the Group – which has just announced plans to float a 20% stake on the London stock exchange, is also a market leader in Nigeria for consumer products ranging from fruit juice and instant noodles to salt, sugar and flour.
It was in those commodities that the Group's business had its humble beginnings. The great-grandson of a wealthy kola nut trader from Kano in northern Nigeria, Alhaji Aliko Dangote studied business studies at Al-Azhar University, Cairo. In 1977, he used a small loan from an uncle to begin trading in rice, sugar and cement, reinvesting the profits until he was able to venture into full-scale manufacturing.
In 1981, the Dangote Group was born, as a conglomerate with a focus on cement, but also with interests in sugar, flour milling, salt processing, textiles, real estate and oil and gas. By the early 1990s, the Group had grown into one of the largest trading conglomerates in the country with the largest cement plant in sub-Saharan Africa. Pre-tax profits in 2010 were more than $100m.
It is the combination of his company's pan-African and industrialist vision – reminiscent of the aspirations of African independence pioneers like Ghana's Kwame Nkrumah – and its relentless financial growth that has set Dangote apart. He speaks about providing local value-added products and services to fuel Africa's growth, still a rare phenomenon on a continent bemoaning its dependence on imported products and still nascent infrastructure.
"We are marking the closing ceremony of cement import in Nigeria with the coming on stream of our factory," he is reported to have said just before the final commissioning of the Ibese plant. "Our long-term ambition is to develop 46m metric tonnes of production and terminal capacity in Africa by 2015. We want to become a truly pan-African champion in the sector, capable of competing globally with the largest cement companies in the world."
Dangote has been lauded by many in Africa for investing in countries which others have avoided – such as with a $4bn cement facility in Ivory Coast and a $30m investment in the newly created Dangote Cement Liberia.
He plans to list his $11bn cement business in London next year and says he will loosen his personal control over the company, responding to criticisms about his iron grip, and more generally about the Group's corporate governance. The company's future will depend less on food commodities, too, with a move towards focusing only on cement, petrochemicals and mining coal, iron and bitumen.
Dangote himself has not been shy of publicity, although relatively little is reported in the local press about his opulent lifestyle. The 54-year-old, who celebrates his birthday next week, is married with three children. His membership of Nigeria's superwealthy scene is unquestionable. Recent purchases include a $45m Bombardier Global Express XRS aircraft which he bought himself for his 53rd birthday.
His philanthropic activities are better documented – he has spent significantly on education, health and social causes in Nigeria, including a gift of more than $600 to each person displaced by the violence following recent elections.
But many of his critics believe his high-profile giving masks ruthless business practices, and that he has wielded his huge political clout to manipulate the markets, shutting out competitors to secure the Group's dominance.
Dangote has certainly formed close relationships with successive governments – for which he is unapologetic – playing a prominent role in the funding of former president Olusegun Obasanjo's re-election campaign in 2003, to which he donated millions of dollars.
The current government of President Goodluck Jonathan controversially rewarded him last November with the second highest honour in Nigeria, the Grand Commander of the Order of the Niger, making him the first non-government recipient of the award.
There has been speculation in Nigeria that Dangote would run for office himself in the future, claims that he denies. But as he promises to take more of a back seat in the business affairs of the Group, numerous rumours have surfaced about how he will occupy himself, including reports in 2010 from the Daily Mirror that he was considering buying a 16% stake in Arsenal football club.
For the moment, he remains deeply involved in the flotation of the Group on the London stock exchange and, if present fortunes continue, watching his cement spread ever further across the African continent.
Source: http://www.guardian.co.uk/world/2012/apr/03/aliko-dangote-nigeria-cement-africa