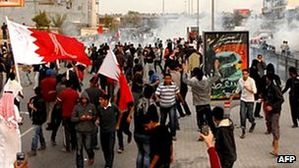 There have been clashes on the outskirts of Bahrain's capital, Manama, as the opposition marks the first anniversary of pro-democracy protests.
Police fired rubber bullets and tear gas at youths in several villages, who hurled back petrol bombs and stones.
Large parts of Manama were also sealed off to prevent people reaching the site of the now-demolished Pearl Roundabout - the focus of last year's unrest.
A BBC correspondent says the city centre has so far been quiet.
Most of the demonstrators are from the Gulf kingdom's Shia Muslim majority, which has long complained of discrimination at the hands of the Sunni royal family, the Al Khalifa, and wants democratic reforms.
'Reforms'
The BBC's Bill Law, who is in Manama, says there has been no sign on Tuesday of the mass protests called by the opposition a year on from the peaceful takeover of Pearl Roundabout.
However, during a trip to a Shia village outside the capital, the BBC team was among those trapped in a small square by police who fired tear gas without provocation, he adds.
Pearl roundabout, and the monument that used to stand in the centre of it, were demolished and replaced by a new road junction last March, after protesters were forced out violently by the authorities.
There is a massive police and army presence in the city, and roads to and from Shia villages on the outskirts have been closed, our correspondent adds. Police and army vehicles have also sealed off the Bahrain Financial Harbour commercial district in Manama.
However, some people attempted to march towards the capital from the villages of Sanabis, al-Daih and Jidhafs, which lie to the west, witnesses told the AFP news agency.
The main Shia opposition group, al-Wefaq, said more than a dozen people had been arrested.
A doctor who treated people injured in last year's disturbances told the BBC Tuesday's situation was "chaotic", with clashes as people tried to get to the monument.
She said the security situation had worsened since last year, adding: "The attack is getting more severe. The regime in Bahrain is still choosing the security option."
Another protester, called Mohammed, told the BBC: "The main roads in Bahrain... seem very normal because all protesters are now getting contained within their own villages and they've been attacked."
Overnight, riot police used tear gas and stun grenades to disperse demonstrations in several villages, including Sitra and Sanabis. Some protesters threw stones and Molotov cocktails.
Protesters reportedly managed to get within 2km (1.5 miles) of the former site of Pearl Roundabout before being pushed back by riot police.
Meanwhile, about 120 expatriate construction workers were threatened by masked youths as they travelled home on two buses on Monday evening, the Gulf Daily News reported. The workers were forced to walk home.
On Tuesday morning, the government issued a statement blaming al-Wefaq for turning what it said should have been a peaceful, government-sanctioned demonstration in the capital into a riot.
Al-Wefaq rejected the "unfounded accusations", and said the government was trying to delegitimise the people's demands.
"They have used excessive force against the people throughout all this time, but people keep coming back to the streets to insist on their demand to have a role in the decisions about their country,'' Abdul Jalil Khalil, a former MP, told the Associated Press.
In an interview with the German magazine Der Spiegel on Monday, King Hamad dismissed the opposition's complaints.
"We have made political reforms. We have just passed a number of amendments to the constitution which allow parliament to dismiss the government," he said.
"We invited everyone with openness. But some people boycotted the election and certain people just walked out of parliament. If you want a better system you have to join."
The king also insisted Bahrain was already a constitutional monarchy, that were no political prisoners, and that members of the royal family who occupied influential government posts were there only "because of merit".
'Excessive force'
At least 35 people were killed between February and March 2011, 30 of them civilians and five security forces personnel, according to the human rights commission. It also found that security forces had used excessive force and tortured detainees, including five who died.
Almost 3,000 people were also arrested by security services after King Hamad declared a state of emergency in March and asked fellow Sunni-led Gulf states, notably neighbouring Saudi Arabia, to send in troops. Scores were tried by military courts and sentenced to prison terms of up to life after what human rights activists said were grossly unfair trials.
More than 4,000 private sector employees and civil servants were also sacked, and at least 30 Shia prayer centres were demolished.
Last month, King Hamad tried to address some of the protesters' demands by announcing constitutional reforms intended to lead to greater accountability. He also ordered the rebuilding of prayer centres and the reinstatement of those who had lost their jobs.
But the opposition, as well as human rights groups, say that the violent crackdown on dissent is continuing.
On Monday, Amnesty International said at least another 20 people had been killed since March "in the context of ongoing protests and excessive use of force by the security forces". Others put the death toll at 30.
Source: http://www.bbc.co.uk/news/world-middle-east-17025148