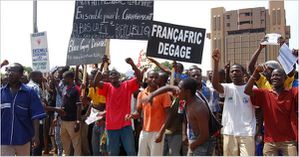 The riots have ended for now. The main market is bustling again and fleets of motorcycles have returned to the dusty streets. And in his fortresslike palace miles away, the president appears serene in portraits the newspapers publish.
The calm is tenuous. Students, soldiers, shopkeepers, police officers and even members of the presidential guard have all taken part in protests over the last two months, sometimes violently. A suspicious death in police custody prompted a march by students; stores were looted by military men disgruntled over low pay; and angry merchants, in retaliation, attacked government buildings — all a shock in this landlocked country with few resources and mostly bypassed by an outside world focused on places with oil and crops.
But while there have been opposition demands for the departure of President Blaise Compaoré after 24 years in office, the imperturbable leader is not leaving.
Mr. Compaoré, a former army captain who came to power in a bloody coup in 1987 that led to the killing of President Thomas Sankara, a military comrade of Mr. Compaoré's, has recently faced down his most serious challenge yet. The governing party's headquarters is a looted-out shell, signboards of the government ministries downtown are shattered and some stores have been stripped bare of goods by rampaging soldiers.
Mr. Compaoré is not budging, though, just as he would not after similar but less serious outbreaks in 1999, 2003, 2006, 2007 and 2008, when government buildings were also defaced.
How he has lasted is a lesson in survival strategies for long-term autocrats: negotiate, conciliate, spare the gun (there have been only about six deaths in 10 weeks of troubles), let others do the talking, and remain above the fray.
Mr. Compaoré, invisible in public and rarely seen on state television, met with army officers on April 29 after mutinous soldiers went on rampages in March and April. The local papers showed him raising a glass with the officers after promising more money. In earlier gestures to the protesters, he had dismissed his government and named a diplomat and former journalist as prime minister.
His sweltering country of 15 million people just below the Sahara was one of the world's poorest when he seized power in 1987, and it remains so today, with a per capita income that is less than half the African average. It is largely illiterate — only 26 percent can read and write — and in the absence of a large, educated middle class to help form a broadly popular opposition, Mr. Compaoré has been regularly re-elected with over 80 percent of the vote.
He has also skillfully managed to undermine his political rivals and persuade many people that he is somehow separate from the troubles swirling around his government, a feat few of the leaders under threat in the Arab world have accomplished.
On the streets of this low-slung capital, where it can reach 110 degrees by noon, there is little appetite for chasing him from power, even among the merchants looted by his marauding soldiers.
"The president is not responsible for what the soldiers did; it's their commanders," said Mathias Nikiema, a downtown cellphone vendor who has twice been ransacked by military men. "The president, he's trying to listen to them."
Oumarou Zigani, another phone vendor who suffered at the soldiers' hands and who took part in one of the protest marches, agreed. "It's not the president; it's the government," he said. "The president, there's no problem with him. It's the people under him."
Besides, Mr. Nikiema, said, "There is no one to take his place."
And that turns out to be a central element of Mr. Compaoré's strategy.
"They say, 'It's me or chaos,' " said Augustin Loada, a political scientist who directs the Center for Democratic Governance, a research group here, summing up the government's argument. "If our system doesn't work, there's nothing. People are afraid of that."
In a recently published study, Mr. Loada wrote that "the weakness of the opposition is not an accident." He went on to explain how control of state institutions, the bureaucracy and patronage by Mr. Compaoré's party gives the president a crushing electoral advantage.
An opposition rally a couple of weeks ago was mocked even in the independent press here — "Fiasco" read one headline. About a thousand people showed up, but rather than try to disperse them by force, the government took little notice.
Security forces were not an obvious presence. And there was no sign that the 34 political parties represented there, for all their antigovernment statements, were ready to strike a deal with one another after years of division and cooptation by the government. The demonstration fizzled out after hours of speeches in the broiling heat.
"The opposition has been totally annihilated by the government over the course of decades," said Mathieu Hilgers, a Burkina Faso specialist at the Free University of Brussels.
Still, Mr. Compaoré has a problem, and not just because soldiers at one point burned down the home of Gen. Dominique Djindjéré, the army chief of staff, or beat up the mayor of Ouagadougou, Simon Compaoré (who is not related to the president).
Living conditions are bad, and the situation is getting worse.
"We're fed up," said Robert Daboné, an out-of-work woodworker at the opposition rally. "Look at this," he said, pointing down at his torn jeans. The price of rice has doubled, some complained. And "there is a problem with the cost of living — gas, sugar; life has become much more expensive," Mr. Hilgers said.
Below car windows, legless beggars, crippled from polio, demand alms. At the rally, protesters complained of having to go without meals, and speakers denounced a corrupt government, a claim echoed in the State Department's 2010 human rights report for Burkina Faso. It noted that "local NGO's denounced what they called the overwhelming corruption of senior civil servants."
Despite the waves of protests, Mr. Compaoré's new government maintains that all is under control. "This is not a structural crisis, but a temporary crisis," the minister of communications, Alain Edouard Traoré, explained in the old presidential palace in downtown Ouagadougou.
Yet the fact that Mr. Compaoré made himself minister of defense suggests unease about the army's potential for revolt, political analysts said.
His officials dismissed that notion. But his new prime minister, Luc Adolphe Tiao, the former journalist who was hastily summoned back from his post as ambassador to France, spoke in an interview at the palace of the need for a "rupture with the past" by replacing certain officials. And he acknowledged the potential for further trouble.
His people, Mr. Tiao said, "can take a lot, but when they've had it up to here, it will blow up." He added that "forcing out Blaise Compaoré, that's not their preoccupation. But if you don't settle the social problems," he noted, "the social problem can lead to a political one."
Source: http://www.nytimes.com/2011/05/10/world/africa/10burkina.html?pagewanted=2&_r=1&ref=global-home