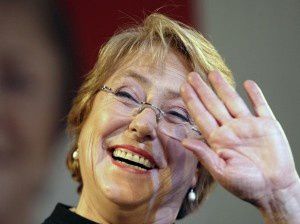 The winner of Sunday's presidential election in Chile, Michelle Bachelet, says she will use her clear victory to push through her reform agenda.
With almost all the votes counted, Ms Bachelet, the left-wing candidate for the New Majority coalition, won 62% of the vote in the second and final round.
Her conservative rival, Evelyn Matthei of the governing Independent Democratic Union, lost with 38% of the votes cast.
Ms Bachelet promised to carry out a "thorough reform programme".
In her victory speech, she said she had been guided by the voice of the people, those who "with valour had set the country on its course".
"Thanks to you, especially the young, who have strongly expressed their desire to create a public education service which is both fee-free and of good quality, these priorities have come to the forefront" she said referring to recent mass protests by students.
She said that the economic, social and political conditions were right for change: "Chile, now, at last the moment has come!"
"Today, in Chile, those who want change are in the vast majority."
Appeal for unity
But she also appealed to those who did not vote for her to come together to "fight for the dream of all Chileans: combating inequality".
Chile is one of the richest countries in Latin America, but tens of thousands have staged protests over the past few years to push for a wider distribution of wealth and better education.
Ms Bachelet campaigned on a promise to spend $15bn (£9.2bn) on reforming education, improving health care and reducing income disparity.
She wants to increase taxes to offer free university education and reform political and economic structures dating from the 1973-1990 dictatorship of Gen Pinochet.
But the BBC's Gideon Long in Santiago says that it will not be easy to finance Ms Bachelet's ambitious education reform, especially as prices for Chile's main export commodity, copper, are falling.
But in her speech to supporters outside her campaign headquarters, the president-elect dismissed critics who warn that her reform programme is too ambitious.
"We believe in hard work, in the people, and we believe that good ideas will prevail," she said.
"It's not going to be easy, but when has changing the world ever been easy?"
Second chance
Ms Bachelet already served one term as president from 2006 to 2010. Under Chile's constitution she was banned from running for a second consecutive term, even though her popularity ratings remained high.
But some of her left-wing supporters said she failed to push through many of the changes she had promised that time round, and have vowed to hold her to account this time around.
Her rival, Evelyn Matthei, congratulated Ms Bachelet in person.
Coming close to tears, Ms Matthei told her supporters that her "deepest and honest desire is that things go well for her [Michelle Bachelet]".
Shared history
The two candidates have known each other since they were children, when they would often play together.
Their fathers served at the same airbase, but ended up on opposite sides of the political spectrum after the 1973 coup by Gen Pinochet.
Ms Matthei's father, Fernando, rose through the ranks to run a military academy during the Pinochet regime.
Michelle Bachelet's father, Alberto, died in 1974 of a heart attack while in custody.
An investigation concluded that the 51-year-old general had probably died of heart problems aggravated by torture at the military academy Gen Matthei had been in charge of.
A judge ruled earlier this year that Gen Matthei had no knowledge of or involvement in the torture.
Source: http://www.bbc.co.uk/news/world-latin-america-25404867