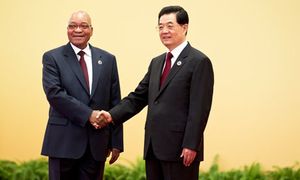 Chinese President Hu Jintao has offered $20bn (£12bn) in loans to African countries over the next three years, boosting a relationship that has been criticised by the west and given Beijing growing access to the resource-rich continent.
The loans offered were double the amount China pledged for the previous three-year period in 2009 and is the latest in a string of aid and credit provided to African countries.
The pledge is likely to boost China's good relations with Africa, which supplies it with oil and raw materials, such as copper and uranium.
But the loans could add to discomfort in the west, which criticises China for overlooking human rights abuses in its business dealings with Africa, especially in Beijing's desire to feed its booming economy.
Hu brushed off such concerns in his speech at the Great Hall of the People, attended by leaders including South African president Jacob Zuma and Equatorial Guinea's Teodoro Obiang Nguema, a man widely condemned by rights groups as one of the world's most corrupt leaders.
"China wholeheartedly and sincerely supports African countries to choose their own development path, and will wholeheartedly and sincerely support them to raise their development ability," Hu said.
China will "continue to steadfastly stand together with the African people, and will forever be a good friend, a good partner and a good brother", he added at the summit held every three years since 2000.
Hu also pledged to "continue to expand aid to Africa, so that the benefits of development can be realised by the African people". He did not provide an amount.
Hu said the new loans would support infrastructure, agriculture, manufacturing and development of small and medium-sized businesses in Africa.
Aid history
Critics say China supports African governments with dubious human rights records as a means to get access to resources.
The EU has rejected what they call China's cheque book approach to doing business with Africa, saying it would continue to demand good governance and the transparent use of funds from its trading partners.
Such criticism draws rebukes from China that the west still views Africa as though it were a colony. Many African countries say they appreciate China's no-strings approach to aid.
"Africa's past economic experience with Europe dictates a need to be cautious when entering into partnerships with other countries," Zuma told the forum.
"We are particularly pleased that in our relationship with China we are equals and that agreements entered into are for mutual gain," Zuma added.
"We certainly are convinced that China's intention is different to that of Europe, which to date continues to intend to influence African countries for their sole benefit."
China's friendship with Africa dates back to the 1950s, when Beijing backed liberation movements in the continent fighting to throw off western colonial rule.
Chinese state-owned firms in Africa also face criticism for using imported labour to build government-financed projects such as roads and hospitals, while pumping out raw resources and processing them in China, leaving little for local economies.
"Certainly quite a number of us are thinking we need to move into more value addition," South African's trade and industry minister Rob Davies said.
"We need to export mineral products in a more processed form ... We need to bite this bullet very seriously."
Trade has jumped in the past decade, driven by Chinese hunger for resources to power its economic boom and African demand for cheap Chinese products.
China's trade with Africa reached $166.3bn in 2011, according to Chinese statistics. In the past decade, African exports to China rose to $93.2bn from $5.6bn.
Source: http://www.guardian.co.uk/world/2012/jul/19/china-20bn-dollars-loans-africa