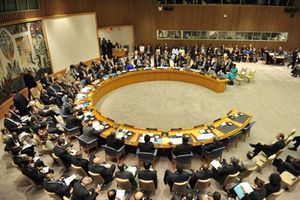 As international anger grows over reports of mass carnage at the hands of the Syrian regime, a U.N. Security Council draft resolution condemning Syria failed to be adopted Saturday after veto-wielding members Russia and China voted against it.
Earlier, U.S. President Barack Obama urged theSecurity Council to pass the resolution Saturday aimed at stopping the bloody crackdown that has consumed the Arab nation.
Thirteen Security Council members, including permanent members France, United Kingdom, and the United States, voted in favor of the resolution.
Some Syrians have cried out for international action to stop attacks on civilians, more so after at least 260 civilians were killed and hundreds wounded after in the city of Homs.
The opposition Syrian National Council blamed government forces for the massacre, with residential buildings and homes randomly and heavily bombed.
In a strongly worded statement Saturday, Obama said Syrian President Bashar al-Assad had lost all legitimacy and that the international community "must work to protect the Syrian people from this abhorrent brutality."
Government forces "committed one of the most horrific massacres since the beginning of the uprising in Syria," killing at least 260 civilians over the past day, the opposition Syrian National Council said Saturday.
"During the attack, residential buildings and homes were randomly and heavily bombed," the group said.
Some Syrian residents say the international community is sitting idle as bodies mount in the streets.
"The U.N. isn't doing anything about it. The Arab League isn't doing anything about it. ... While they're having their little discussion, people are sitting here and they're dying," said an activist identified as Danny.
Homs resident Abu Abdo Alhomsy described continuous bombing and snipers perched throughout the city.
"There are so many people on the streets that are wounded and they need help, but we can't reach them to help them," he said. "They're ready to kills us all. They have no problem with doing that. Please, we call (on) the international community for help."
The Local Coordination Committees, a Syrian opposition group, reported 24 more deaths elsewhere in Syria Saturday, most of them killed while taking part in the funeral of a slain protester in Darya, outside Damascus.
U.N. Security Council members gathered in New York to vote on the resultion, which would demand that al-Assad to stop the killing and answer international calls aimed at finding a Syrian-led solution to the crisis.
U.S. Ambassador Susan Rice responded angrily to the failure to pass, saying the United States was "disgusted."
Referring to Russia, she said, "This intransigence is even more shameful when you consider that one of these members continues to deliver weapons to Assad.
The Russian foreign minister has spoken in defense of Russian arm sales to Syria, saying they did not affect the regional balance of power.
Russia, which counts Syria as a major weapons client, has made clear that it will not accept an arms embargo or economic sanctions.
Obama said the Syrian government was guilty of murdering hundreds of Syrian people, including women and children.
"Every government has the responsibility to protect its citizens, and any government that brutalizes and massacres its people does not deserve to govern," he said.
"Assad must halt his campaign of killing and crimes against his own people now. He must step aside and allow a democratic transition to proceed immediately."
Source: http://edition.cnn.com/2012/02/04/world/meast/syria-unrest/index.html?hpt=hp_t1