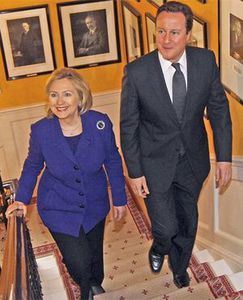 The United States paved the way to arming rebel groups in Libya as leaders from nearly 40 countries met in London to discuss the next moves against Colonel Gaddafi's regime.
The US Secretary of State, Hillary Clinton, said she believed that UN resolutions allowed for the "legitimate transfer of arms" to the rebels should any country wish to do so. She added that no decision had been made "at this time" by the US on arming the rebels.
William Hague, the Foreign Secretary, said that while Libya was under a United Nations-mandated arms embargo that did not mean arming the rebels was impossible. France said it would also consider supplying weapons. "I remind you it is not part of the UN resolution... but we are ready to discuss it with our partners," the French Foreign Minister, Alain Juppé, said.
The move by the international community will delight Libyan opposition leaders who were also in London yesterday to press Western governments to provide arms. It also highlights a fear among coalition partners that unless the rebels get outside arms they may be unable to overthrow the Gaddafi regime, which still has strong support in the capital, Tripoli.
British sources said weapons supplied to opposition groups would, under the UN resolution, have to be used to "protect civilians". They did not, however, suggest how this could be verified. Asked about arming the rebels, Qatari Prime Minister Sheikh Hamad Bin Jabr al-Thani said: "We have to find a way to stop this bloodshed."
Speaking before Ms Clinton's announcement, Guma El-Gamaty, UK coordinator for the new Libyan Interim National Council (INC), told journalists they desperately needed weapons.
"Look at reports and you will see we have very light arms, we are driving regular cars and don't have any armour at all – otherwise we would finish him in a few days. We are welcoming any help we can get from any country. We would like to give our youth some real weapons."
In signs of emerging ties between opposition figures in Libya and the international community, INC members were invited to London to meet the foreign ministers of France, Germany and the US on the fringes of the Libya conference yesterday. They also held talks with William Hague and were invited to meet David Cameron in Downing Street.
But there were signs of divisions over a plan – put forward by the Italian Foreign Minister, Franco Frattini, to provide a safe-haven for Gaddafi if he were to go into exile. This is supported by Turkey but is less enthusiastically backed by Britain and the US who would prefer him to face an investigation by the International Criminal Court in The Hague.
"We are not engaged in the UK in looking for somewhere for him to go, but that does not exclude others from doing so," said Mr Hague. The Libyan opposition also opposed the plan. "The people will not accept a deal for him to go into exile. We will not start to negotiate until he has gone," said Mr El-Gamaty.
Mr Hague said the London meeting had agreed to consider more sanctions against Gaddafi. He added that these would be directed at "individuals and entities associated with the regime". However, despite the show of unity there were some unexpected "no-shows" among Middle Eastern states which had been due to attend. Saudi Arabia "pulled out at the last minute," while officials briefed that Iraq would also attend – but did not turn up. Britain also hoped to announce further Arab participation in military action – limited so far to Qatar – but none is yet forthcoming.
Mr Hague said there was "extremely strong, intensely strong international pressure" for Gaddafi to quit. "There is no future for Libya with Gaddafi in charge or trying to hang on to power.
Meanwhile, in a characteristically defiant statement directed at the London summit, Gaddafi exhorted the Western powers to "stop your barbaric and unjust offensive against Libya. Leave Libya for the Libyans. You are carrying out an operation to exterminate a peaceful people and destroy a developing country."
Where could Gaddafi live in exile?
The hunt for a possible bolthole for Muammar Gaddafi was focused on Africa last night, even though there were international divisions about whether the Libyan leader should be allowed to leave his country.
Since Britain and the US want Colonel Gaddafi to face an investigation by the International Criminal Court (ICC), any destination would have to be outside its jurisdiction. Italian Foreign Minister Franco Frattini said he hoped "the African Union can find a valid proposal".
It is thought Gaddafi could try to call in financial favours from several African nations if needed, but whether he would be welcomed is a different question. Nobody has invited him to come but Equatorial Guinea has been mooted and is one of the 22 African nations outside the ICC's jurisdiction.
Former Tunisian leader Zine al-Abidine Ben Ali found asylum in Saudi Arabia when he was overthrown in January. That destination is ruled out for Gaddafi given the long history of strained Saudi-Libyan relations. The other toppled leader, Hosni Mubarak, is not allowed to leave Egypt.
Other options lie west: William Hague erroneously suggested in the early days of the crisis that Colonel Gaddafi had left for Venezuela to renew his "friendship" with President Hugo Chavez.
Enjoli Liston
Source: http://www.independent.co.uk/news/world/politics/clinton-un-resolution-gives-us-authority-to-arm-libyan-rebels-2256768.html