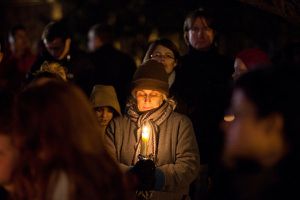 A gunman killed 26 people, 20 of them children between ages 5 and 10, in a shooting on Friday morning at an elementary school in Newtown, Conn., about 65 miles northeast of New York City, the authorities said.
The gunman, believed to be 20, walked into a classroom at Sandy Hook Elementary School and opened fire, killing 20 students in two classrooms. He also fatally shot six other adults, then killed himself inside the school. One other person was injured in the shooting.
At the gunman's home in Newtown, the police found the body of his mother, a teacher at the school, who had also been shot dead.
A law enforcement official identified the assailant as Adam Lanza and said that a brother, Ryan Lanza, had been questioned. Adam Lanza was wearing combat gear when he entered the school, the official said.
The school shooting is the second deadliest in American history, after the 2007 massacre at Virginia Polytechnic Institute, which claimed 32 lives.
President Obama, speaking on national television Friday afternoon, appeared to break down several times as he spoke of the crime. "The majority of those who died today were children, beautiful little kids between the ages of 5 and 10 years old," he said. .
After pausing to compose himself for 12 long seconds, Mr. Obama went on, "They had their entire lives ahead of them: birthdays, graduations, weddings, kids of their own."
Then the president wiped the corner of his eye.
Witnesses described a harrowing scene at the school, located at the end of a long drive and surrounded by woods about 12 miles east of Danbury, Conn. Sounds of gunfire were followed by screams as terrified students and staff members hid in classrooms, closets and wherever else they could take shelter.
"We were in the gym, and I heard really loud bangs," said a 9-year-old boy as he stood shivering and weeping outside the school with his father's arms draped around him. "We thought that someone was knocking something over. And we heard yelling, and we heard gunshots. We heard lots of gunshots. We heard someone say, 'Put your hands up.' I heard, 'Don't shoot.'
"We had to go into the closet in the gym. Then someone came and told us to run down the hallway. There were police at every door. There were lots of people crying and screaming."
Yvonne Cech, a school librarian, said that she, three other library workers and 18 fourth graders had spent 45 minutes locked in a closet during the shootings. "The SWAT team escorted us out" she said.
The Newtown police summoned the State Police to the school shortly after 9:30 a.m., said Lt. J. Paul Vance of the State Police. "Immediately upon arrival," he said, officers "entered the school and began an active shooter search."
Most, or all, of the violence occurred in two classrooms that are next to each other, a law enforcement official said. "He visited two classrooms," the official said.
Eighteen students were pronounced dead at the school, and two others were taken to a hospital where they were declared dead. All the adults who were fatally shot at the school were pronounced dead at the scene.
Law enforcement officials said the weapons used by the gunman were a Sig Sauer and a Glock, both handguns. The police also found a Bushmaster .223 M4 carbine, a rifle, at the scene that they believe belonged to him.
Few details emerged about Adam Lanza, the man who the authorities said was responsible for the rampage. He was believed to have lived with his mother in Newtown. He attended Newtown High School, and former high school classmates recalled him as smart, introverted and nervous. They said he went out of his way to not attract attention.
Meredith Artley, the managing editor of CNN.com, said someone who works at the school told her that after the shooting began, "three people went out into the hall and only one person came back — the vice principal, she said, who was shot in the leg or the foot, who came crawling back." The vice principal, the school worker told Ms. Artley, "cowered under the table and called 911. There must have been a hundred rounds."
As news of the shooting spread, frantic family members were taken to a nearby firehouse, where teachers and students who had been evacuated from the school had been taken by the authorities. Some clergy members were also there.
"The teachers wrote down the names of all the children,'' said Msgr. Robert Weiss, the pastor at St. Rose of Lima in Newtown. "The ones who were unaccounted for, those parents went to another room and wrote their names on a list."
"It was around, obviously," he added, "the number that passed away."
Officials struggled for words to describe the horror of the crime. Gov. Dannel P. Malloy of Connecticut, who went to Newtown to comfort relatives of victims, said, "Evil visited this community today.''
Mr. Obama said: "We've endured too many of these tragedies in these past few years, and each time I learn the news I react not as a president but as anyone else would as a parent, and that was especially true today. I know there's not a parent in America who doesn't feel the same overwhelming grief that I do."
Mayor Michael R. Bloomberg of New York, a vocal national advocate for gun control, issued an exasperated statement criticizing national leaders for failing to do more to stop gun violence.
"We have heard all the rhetoric before," he said. "What we have not seen is leadership – not from the White House and not from Congress."
Mr. Bloomberg waited to issue his statement until after Mr. Obama spoke, hoping that he would hear something more specific on gun control. But he did not.
"President Obama rightly sent his heartfelt condolences to the families in Newtown," Mr. Bloomberg said. "But the country needs him to send a bill to Congress to fix this problem. Calling for 'meaningful action' is not enough. We need immediate action."
The school, set among wooded hills and suburban tracts in Fairfield County, serves kindergarten through fourth grade and has about 700 students.
"It's just a little country school," Robert Place, 65, said as he stood nearby. "The look is very ′50s or ′60s. One floor. It's always had a good reputation. People come to Newtown for the schools."
Lillian Bittman, a former chairwoman of the Newtown Board of Education, has three children who attended Sandy Hook.
"It's a place that feels like my house, a place that feels like my home,'' she said. "It's as if he walked into my house and did this. I'm not alone in feeling this. Everyone I talked to feels that way. When people left Sandy Hook, when they aged out, they were sad. They were sad their kids wouldn't be part of that community."
The school's principal, Dawn Hochsprung, was reportedly one of those shot. But at the home of her daughter Cristina Hassinger, in Oakville, Conn., the family was still awaiting any news of her fate.
"We're looking for any hope," said Ryan Hassinger, Ms. Hochsprung's son-in-law.
Maureen Kerins, a hospital nurse who lives close to the school, learned of the shooting from television and hurried to the school to see if she could help. "I stood outside waiting to go in, but a police officer came out and said they didn't need any nurses, so I knew it wasn't good," Ms. Kerins said.
In front of a senior center next door to the school, a 20-year-old woman was with her 4-year-old sister, who was in the school at the time of the shooting. The woman went to pick up her young sister along with their mother. The girl had her arms and legs wrapped around her.
When a reporter asked the woman what the little girl knew of what had happened, the woman said, "Absolutely nothing, and we don't plan to tell her anything."
Source: http://www.nytimes.com/2012/12/15/nyregion/shooting-reported-at-connecticut-elementary-school.html?pagewanted=2&_r=0&ref=global-home