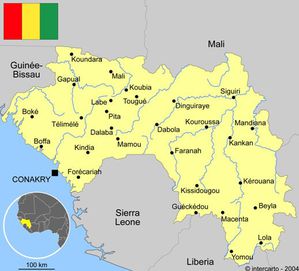 Documents obtained by U.S. authorities investigating mining corruption in Guinea show Israeli billionaire Beny Steinmetz's mining company promised to pay millions of dollars in Africa to win valuable mining concessions.
Experts say evidence of corruption could throw into question the future of one of the world's richest undeveloped deposits of iron ore.
Steinmetz's BSG Resources (BSGR), the mining arm of Steinmetz's sprawling business empire, is battling Guinea over a 2008 license to develop the northern half of the Simandou deposit in the country's south.
In court papers, the FBI described the documents as appearing to be contracts between BSGR and a company controlled by the wife of a Guinean official to procure mining concessions in Guinea.
The current Guinean government alleges that BSGR bribed officials and the wife of former President Lansana Conte to win the concession. A committee the Guinean government set up to review the legality of mining licenses is due to report its findings on BSGR in weeks. No charges have been brought in Guinea.
BSGR denies allegations that it paid bribes for its concession. The firm says it operates to the highest standards of corporate governance and has criticized the review, saying it is designed to allow Guinea to renege on its obligations.
"Allegations of fraud in obtaining our mining rights in Guinea are entirely baseless," a BSGR spokesman said on Friday. "We are confident that BSGR's position in Guinea will be fully vindicated."
BSGR would not comment on the authenticity of the papers.
On Sunday, FBI agents arrested BSGR representative Frederic Cilins in Florida, on charges of obstructing a criminal investigation, tampering with a witness and destruction of records.
Cilins's lawyer did not respond to requests for comment.
Reuters has seen some of the documents, including what appear to be contracts between BSGR and a company connected with the wife of former President Conte.
Two of the contracts were signed in February 2008. In August that year, Conte stripped mining major Rio Tinto, which held the entire Simandou concession, of the right to mine its northern half. Conte accused Rio Tinto of moving too slowly. The concession was handed to BSGR four months later, just weeks before Conte's death.
Rio still holds the southern Simandou concession and declined to comment for this story.
One of the contracts - signed by both BSGR Chairman Asher Avidan and Mamadie Toure, the wife of then president Conte - promised to pay a $4 million commission to obtain Simandou's blocks 1 and 2 for BSGR.
Half of that amount is promised to Matinda and Co. Ltd, which the contract says is represented by Toure, after the firm has made "all the necessary steps to get from the authorities the signature" for the blocks.
According to the contract, the rest of the $4 million "will be split between persons of good will having contributed to facilitating the granting of the said blocks".
Matinda could not be reached for comment.
A high-ranking Guinean government official in Conakry, shown copies of the contracts by Reuters, said they appeared to be legitimate.
A lawyer based in Sierra Leone, whose stamp appears on several of the documents, declined to comment.
FUTURE UNDER REVIEW
Mining industry experts and advisers say that firm evidence of corruption could be sufficient for the Guinean government to scrap BSGR's license.
"The government has consistently stated that evidence of corruption would be used as grounds for renegotiation or revocation, and is likely to use the growing body of allegations against BSGR to fast-track the revisitation of its licenses," said Tom Wilson, head of strategic advisory services at consultancy Africa Practice.
"A number of scenarios are possible but - if the allegations are proven - government rhetoric to date suggests that a revocation of one or both licenses is possible."
The government of Guinea had no immediate comment.
The controversy over BSGR and its portion of Simandou, Guinea's flagship mineral deposit, comes at a difficult time for the government of Guinean president Alpha Conde, which faces opposition protests and unrest on the streets ahead of long-awaited parliamentary elections in June.
Conde came to power in 2010 promising prosperity to Guineans, who are among the world's poorest people, and to clean up and strengthen the mineral-rich nation after decades of corruption and turmoil.
The government's technical review committee now faces the question of whether to confirm, alter or revoke BSGR's license.
Cancelling BSGR's license could win support for Conde among some foreign donors, but it will leave the government with the unenviable task of finding a new miner to dig Simandou's half of the iron ore, at a time when major players are cutting spending and pulling out of tough places like Guinea.
Even Rio, which has spent $2.3 billion on its portion of the deposit, has slowed progress of its investment.
Cancelling the license would also likely trigger a string of complicated legal tussles, not least between BSGR and Brazilian miner Vale, to whom BSGR sold a 51 percent stake of its project in 2010 for $2.5 billion.
Vale has already sought to distance itself from BSGR's problems, saying earlier this week that it was "deeply concerned" by allegations of corruption and promising to cooperate with Guinean and U.S. authorities.
Source: http://www.reuters.com/article/2013/04/19/us-guinea-mine-idUSBRE93I15A20130419