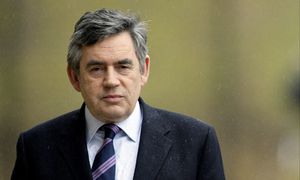 Wealthy nations are failing to fulfill their millennium promise to ensure all the world's children are given decent quality education by 2015, former British Prime Minister Gordon Brown has warned.
Brown told CNN there is still the "terrible figure" of some 70 million children who are not in school today worldwide, the majority of whom are in Africa.
He said: "[It is] a real problem that if we don't solve will make people think that promises that are made are not kept, promises are made in a casual way rather than made in a serious way.
"A promise made to children, as Nelson Mandela himself has said, is a particularly sacred promise that's got to be observed, it's got to be honored, it's got to be implemented."
Brown, who heads the High Level Panel on Education, part of the Global Campaign for Education, has been pushing education to the top of the development agenda.
He recently launched "Education for all: Beating poverty, unlocking prosperity," a report that urges rich nations to put education at the heart of their strategy for accelerated economic growth in the developing world.
According to the report, improved access to schools and increased learning achievement could increase per-capita income growth in the poorest countries by 2%.
The report estimates that every $1 invested in education would generate $10-$15 in returns through higher growth.
It also adds that universal basic education up to lower secondary level for women in sub-Saharan Africa could save 1.8 million lives every year.
While Brown notes that there have been some great success stories in recent years -- citing the "enormous progress" of countries such as Ethiopia and Tanzania -- he adds that more needs to be done to tackle the education problem across Africa.
"We need a million more teachers, we need the classrooms built, we need the education materials," said Brown, who served as Britain's Prime Minister from June 2007 to May 2010.
He describes the oil-rich nation of Nigeria as a "disappointment," citing the country's million uneducated children. "There are still eight million children not at school, there are problems in the regional educational decisions that are being made," he said.
"Girls are not given the prominence that they deserve for education in some parts of Nigeria -- it's a cultural as well as a financial challenge that's got to be met," Brown explained.
Brown, who has asked the world's richest nations to donate $3-4 billion annually by 2015 to a new Global Fund for Education, said a leap of technology is needed in Africa so that the internet, mobile phones and computers become accessible and are used as educational tools for children.
"Instead of waiting for the old education materials to arrive, we go straight to the new ones," he said.
Brown argued that technology companies can be brought into this process and therefore reduce the cost of incorporating these new platforms into educational practices.
Such a development, he said, would also be beneficial for teacher training, a key area in the fight for better education across the developing world.
"In the long run we need to train up teachers, so we put a lot of emphasis on teacher training, on how we can use distance learning, how we can use the internet to make it possible for people to get access to training courses in a way that's not been possible before without having the expense of travel or the expense of accommodation to learn at any particular college," he said.
Providing schooling services in conflict-ridden areas across the continent is another major obstacle in the efforts to reach the education targets, according to Brown.
Drawing parallels with the action taken by health agencies in times of war, Brown called on the international community to come up with a new approach that will ensure the continuation of education amid troubled times.
He said: "In health, we have Medicines Sans Frontieres, we have the Red Cross -- they will go into areas to give health and provide health care and treatment in a conflict zone -- but education should continue despite the fact that there is a conflict on.
"Perhaps we've got to think of new ways where the world community will accept that even if there is a conflict we've got to keep schools moving forward."
Source: http://edition.cnn.com/2011/BUSINESS/06/14/gordon.brown.education/index.html