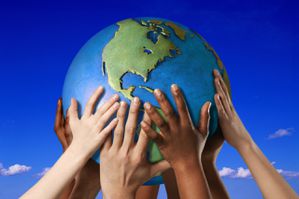 Global development groups on Friday called on G20 leaders to step up to their commitments to tackle global food security and come up with new ways to boost world growth that also benefit the poorest.  
With Europe's sovereign debt crisis set to dominate the G20 summit on November 3-4 in Cannes, France, there is concern leaders will avoid firm decisions to address increased global food price volatility and new ways to finance development.
"The challenge for the G20 is can they see beyond the immediate crisis to what is needed to ensure broader prosperity," said Samuel Worthington who heads InterAction, an alliance of U.S. based international development groups.
French President Nicholas Sarkozy has called for progress to address rising food prices and infrastructure development. He asked billionaire philanthropist Bill Gates to come up with innovative ways to raise resources for poor countries.
In an op-ed published in the Washington Post on Friday, World Bank President Robert Zoellick said the world economy was not only hobbled by large deficits and troubled banks but also by joblessness and slow growth.
"Together all nations must at least agree not to do dumb things -- such as retreat to protectionism or trade wars. The G20 also must offset the damage to the poorest which do not sit at the table," he wrote.
The debt crisis in the euro zone and budget cuts in the United States to address high government debt have squeezed foreign aid.
  House Republicans have proposed cutting another $8.6 billion from the budget for the State Department and foreign aid in fiscal 2012 starting October 1. Such cuts have led to thinking about new sources of aid for development programs.
The Gates report is set to propose taxing financial transactions, tobacco and shipping and aviation fuels to raise new sources of aid, according to a draft of the proposals obtained by Reuters.
The financial transaction tax is a thorny issue and opposed by Canada, Britain, the United States, Australia and China because it puts more burden on banks. France, Germany and Austria support it.
In the draft, Gates suggests that even a small tax of 10 basis points on equities and 2 basis points on bonds would raise about $48 billion among G20 members.
"We hope that this is something the G20 takes up seriously and the U.S. at least stops opposing and at best gets behind in order to address some of the global economic challenges we're facing," Paul O'Brien, vice president for policy and campaigns at Oxfam America, told reporters.
O' Brien said the G20 agreed on the need to boost growth but the process was hampered by an unwillingness by both advanced and emerging economies to commit to new initiatives to create lasting economic growth.
"If they come out of Cannes with yet another internal discussion and nothing conclusive on institutions or financing, how many more G20's are we going to wait before we get what the global economy needs, which is a little bit of foresight and consensus around course correction," he said.
Neil Watkins, director of policy and campaigns at ActionAid USA, acknowledged he did not expect major progress on food security issues at the upcoming G20.
He said he hoped the United States, which chairs the G8 next year, and Mexico, which takes over the G20 from France in 2012, will signal they intend to take up the issues.
  "This is a real crisis and G20 leaders have a responsibility to take action to reduce the world's vulnerability and food insecurity," said Watkins.
Citing a report by the U.S.- based International Food Policy Research Institute, he said biofuel production in the European Union and U.S., extreme weather, and increased trading in commodity futures had exacerbated food price volatility.
Watkins said the G20 was likely to take firm decisions on food insecurity except adopt a pilot project on food reserves in West Africa.
"This is an important pilot project but its totally insufficient compared to the needs out there," he said, calling on leaders to commit to halt incentives for biofuel production.
Robert Zachritz, director advocacy and government relations at World Vision, noted that Americans will spend $7 billion on Halloween costumes and candy this year, nearly twice the $3 billion the United States has committed to feeding programs.
Source: http://af.reuters.com/article/investingNews/idAFJOE79S01220111029?pageNumber=3&virtualBrandChannel=0