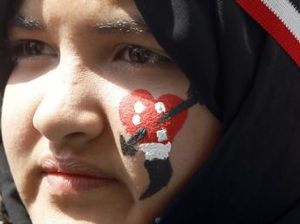 IT IS the trial many Egyptians thought they would never see. The appearance of Egypt's former president, Hosni Mubarak, in court charged with ordering the killing of protesters during Egypt's uprising in January along with a host of corruption charges, has provoked much comment in the Arab press.
Leading political commentator and founding member of the Masr Al-Hureyya Party (Freedom Egypt Party) Amr Hamzawy strikes a congratulatory tone in his op-ed in al-Shorouk, an independent Egyptian daily, but closes on a cautionary note:
"This is a great day for the Egyptian revolution, a day of victory for the will of the people and the rule of law. This is a great day for Egyptians and Arabs who, for the first time, see a former ruler brought before a judge to answer charges of murdering his people while rulers elsewhere commit the same crimes without having learned the lessons of Mubarak and his aides. This is a great day for us. Let us not spoil it by saying the wrong thing, by promoting a culture of revenge, or by failing to treat the former president with respect."
Writing in the formerly pro-regime daily al-Ahram Osama Ghazali Harb, a politician who leads the liberal Democratic Front Party, argues that Mr Mubarak's trial is a sign of Egypt's political development: 
"There is no doubt that emotions will run high for all Egyptians as today we see former president Hosni Mubarak in the dock in the first case of its kind in Egypt's long history. The ancient Egyptians deified and sanctified their ruler. Modern Egyptians killed him. The new Egypt, the Egypt of the January 25th revolution, is a democratic Egypt: the ruler will be neither deified nor executed, but rather tried in a just manner. This is the greatest form of political maturity."
Abdel Moneim Saed, writing for Al-Sharq al-Awsat, a pan-Arab daily, shares Ghazali Harb's sense that the trial is an historic occasion: 
"The wheels have been set in motion, and we are all waiting to see what comes next. [...] The time has come to witness the trial of the Egypt's fourth president, an unprecedented occasion in Egypt or any Arab country. Is this good news signifying that no-one is above the law, or is it a warning to rulers that the Arab spring will force them to reap what they have sown? The Egyptian judiciary will decide."
Wael Abdel-Fattah, writing in independent Lebanese daily al-Akhbar, points to some of the questions that the trial, and its outcome, will raise:
"The dictator is above the law, his orders are holy, and he can grant life or take it away. So imagined Mubarak as he shouted to his security minister: Do anything. Use live ammunition to stop all this immediately. [...] What will the image of Mubarak in that cage add to things? Will it push the revolution forward into a third wave? Will the rebels return to the fray, or will the trial succeed in forcing them into the margins? Who will come out of this trial victorious? The revolution or the military council?"
In his editorial for al-Quds al-Arabi, another pan-Arab daily, editor-in-chief Abdel Bari Atwan comments that Mr Mubarak left Egypt a shadow of her former self, and that this was his worst crime:
"There is no sympathy for the tyrants. There is no pity for those who treat their people as though they are a herd of sheep, and their country as though it is a farm for their unholy descendants. [...] The ousted president's crime lay not only in looting or killing five hundred demonstrators who were demanding the collapse of his regime, but in destroying Egypt's position, prestige, and dignity. He tainted its identity, and changed it from a beloved, dignified country to a lowly, impoverished state surviving on crumbs. It is from Egypt that Saudi Arabia sought the precious fabric to cover Islam's holiest sites, Libya its financial and nutritional aid, the Gulf its doctors and teachers, Morocco its revolutionaries and weaponry, and the entire Arab world its art and literature. But thanks to President Mubarak and his cronies, Egypt has become a "basket case" upon which many look down."
In its editorial on the trial, al-Ahram—for years the mouthpiece of the Mubarak regime—described its hope that the trial would act as a deterrent for other rulers and officials:
"This trial will prove the many crimes Mubarak and his aides committed against the rights of the people: corruption, looting, wasting public funds and killing innocent people. It will make any ruler or any official anywhere think a thousand times before he deviates from the straight and narrow, and before he abuses his position because he knows he will find thousands standing in his way to take back their rights. This is the trial of the century: the trial of an Egyptian president toppled by a peaceful revolution."

Source: http://www.economist.com/blogs/newsbook/2011/08/hosni-mubaraks-trial