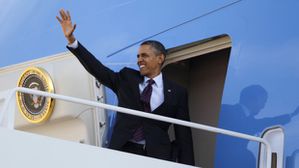 Sending special forces deep into hostile territory to free hostages underscores President Barack Obama's reliance on unconventional warfare.
Once again, he turned to highly-trained warriors – the same special forces from the elite U.S. Navy Seals group who killed Osama bin Laden last year in Pakistan – to strike at enemies around the world.
This time it was in Somalia. The rescue mission – in which at least nine Somali hostage-takers were killed in a brief, fierce firefight in a remote desert lair – followed in the wake of actions by other countries that are fighting back against Somali pirates.
The stealthy, nighttime operation once again shows Mr. Obama's preference for special forces and missile-firing drones, as well as a bold willingness to hunt down terror suspects or free Americans. Last May's killing of the fugitive al-Qaeda leader in Pakistan, the use of a missile-firing drone to assassinate an American citizen, the al-Qaeda cleric Anwar al-Awlaki, in Yemen, and repeated raids – not all of them successful – against Somali brigands mark Mr. Obama as a risk-taking Commander in Chief.
According to The Wall Street Journal, the Pentagon plans a major expansion of its global network of drones and special-operations bases in a fundamental realignment aimed to project U.S. power across the globe. While scaling back its conventional forces, the military calls for a 30-per-cent "surge" in its drone fleet and will deploy more teams of special-operations forces to "lily pad" bases where they can foster local allies and launch their own hunt-and-kill missions.
The assault team parachuted silently into the desert, surrounded the isolated camp and caught the kidnappers dozing. According to Bile Hussein, a pirate reached by telephone by the Associated Press, U.S. forces arrived while the guards were sleeping off the effects of khat, a stimulant widely used in the Horn of Africa.
In Wednesday's predawn raid, an American woman and a Danish man, both seized last October while teaching demining in war-ravaged Somalia, were rescued and flown to Camp Lemonnier, a U.S base in Djibouti.
Jessica Buchanan, 32, and Poul Hagen Thisted, 60, both worked for a Danish aid agency. More than 150 foreigners, many of them seamen, are believed held throughout Somalia.
Some of the criminal clans responsible for the recent rise in land kidnappings are believed to include former pirates who have turned to taking Westerners hostage on shore as warships and armed guards on ships have made off-shore piracy more risky.
After the firefight, U.S. helicopters landed and the freed hostages and the assault team flew out of Somalia. Claims that several of the kidnappers were captured alive and taken prisoner were denied by U.S. officials.
"The United States will not tolerate the abduction of our people," Mr. Obama said.
The President had personally given the go-ahead for the rescue effort, reportedly after the pirates rejected a $1.5-million (U.S.) ransom offer.
U.S. officials said the secretive Seal Team Six, the most highly trained unit among tens of thousands of U.S. special forces, staged the rescue operation.
Another unit from the same Team Six killed Mr. bin Laden. More than 30 of its warriors were killed when the Taliban downed a helicopter last summer in Afghanistan.
Somalia remains wild and lawless, riven by feuding clans.
A base for various Islamic extremist groups, including al-Shabab and a branch of al-Qaeda, Somalia has been largely ungoverned since a failed international intervention in the early 1990s. Canadian and other UN troops failed to pacify the nation and a U.S.-led force was pulled out after taking casualties in the now-famous "Black Hawk Down" incident in Mogadishu.
In a rare previous U.S. military raid into Somalia, special forces killed Saleh Ali Saleh Nabhan, an al-Qaeda leader, in 2009.
Last week, a missile-firing Predator drone killed several al-Shabab fighters south of Mogadishu.
The strikes and raids – coupled with much more aggressive attacks at sea – suggest a co-ordinated international effort to crush piracy, hostage taking and extremism.
South Korean, British, French and American naval commandos have all attacked and freed ships taken by pirates in recent months.
Mr. Obama knew the raid had succeeded before he delivered his state of the union speech Tuesday night. On the way to the podium, he stopped and said: "Leon, good job tonight," to Defense Secretary Leon Panetta. After the speech, he telephoned Ms. Buchanan's father to confirm his daughter had been rescued.
Elite Canadian, British and Australian special-forces warriors train and have exchange programs with America's myriad special-operations units. Details are secret, but non-American special forces deploy with U.S. units on operations. For instance, Canadian special forces fought alongside and were integrated into U.S. special-forces operations in Afghanistan as well as conducting missions for Canadian conventional units.
Source: http://www.theglobeandmail.com/news/world/hostage-rescue-illustrates-obamas-new-take-on-military-might/article2314380/