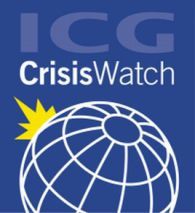 Guinea's political and military leaders and the international community must take urgent measures to halt widespread attacks against defenceless civilians and to prevent political tensions from degenerating into large-scale ethnic violence and regional instability.
Following the announcement of presidential election results on 15 November, handing Alpha Condé victory over his rival, Cellou Dalein Diallo, the country has descended into violence, with two days of clashes in the streets of the capital, Conakry, and elsewhere. Defence and security forces have engaged in systematic attacks on supporters of Diallo's Union des Forces Démocratiques de Guinée (UFDG), a party associated mainly with the Peul ethnic group in major urban areas in the Fouta region. Earlier on, UFDG supporters were involved in attacking and destroying properties belonging to ethnic Malinké and Peul supporters of Condé's Rassemblement du Peuple de Guinée (RPG) party.
The election campaign had witnessed sporadic violence, but the situation has now deteriorated further. The active participation of the military -- beating, molesting and shooting defenceless civilians and destroying their property -- has changed the dynamics of the violence. One observer in the northern town of Labe told Crisis Group that armed soldiers were patrolling neighbourhoods and openly threatening civilians. Also, there are reports of Red Beret soldiers, notorious for human rights abuses, roaming in Peul neighborhoods in Conakry and hunting down Peul businessmen. At least twelve people were reported to have been killed in Conakry, and shots were heard in several other cities.
If Guinea's security and defence forces do not enforce greater discipline in their ranks, the country could quickly descend into further chaos. The possibility that the violence could feed into broader ethnic tensions within the army cannot be ruled out. Guinea's interim president, General Sékouba Konaté, and the Prime Minister, Jean-Marie Doré, must recognise that a violent crackdown on defenceless Peuls would severely damage their credentials and likely lead to open ethnic conflict. Continued violence would ruin Guinea's transition process and endanger the prospects of substantial investment that could help stabilise the country.
Condé's offer to constitute a government of national unity as a gesture of reconciliation should the Supreme Court declare him the winner, may help ease tensions.
But this move will not do enough to reverse this deteriorating situation, which is now far more serious than party supporters protesting election results. General Konaté announced an eight-day state of emergency on 17 November, while the Supreme Court reviews the election results. This will not help to stop the violence, however, especially if he continues to overlook the actions of the security and defence forces. Konaté must rein in the military and stop them from attacking civilians; all civilian and military leaders must be held accountable if they fail to do so.
In addition, Guinea's two presidential candidates must now urge their supporters to allow the Supreme Court to conduct its work in peace, and they must warn them of the consequences of continued violence. Both Condé and Diallo should address the ethnic-tensions and polarisation that have dogged the second round of polls. Both candidates and the interim government need to come together and jointly call for an end to violence and a restoration of calm throughout the emergency period while the court deals with challenges to the election outcome.
The following steps are needed urgently:
The Interim President and the Prime Minister should ensure discipline among the armed forces. General Konaté should immediately order them to stop attacking civilians; military commanders should be held accountable if they fail to restrain their troops.

The United Nations Security Council should send a clear message that the current military leadership will be investigated for any crimes committed against civilians while executing orders.

The International Criminal Court should issue a statement reminding Guinean authorities of their obligations to protect civilians and avoid gross human rights abuses in the country.

The UN Office of the High Commissioner for Human Rights in Conakry should support the establishment of monitoring mechanisms on the ground to assess the level of violence and human rights abuses.

Both Alpha Condé and Cellou Dalein Diallo should continue to work towards diffusing tensions and address the ethnic polarisation seen during the second round of polls.
Source: ICG newsletter