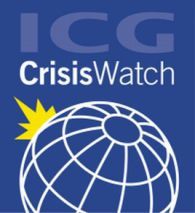 President Obama's first year of "engagement" has yielded little more than simmering crises and a frustrating diplomatic stalemate. But for all its pitfalls, the United States cannot quit the Arab world.
A year into U.S. President Barack Obama's presidency, the Middle East is on the brink. Almost every country in the region spent 2009 waiting in vain for something dramatic to come out of Washington. By the time 2010 was rung in, most players appeared to have given up just as hastily on the Obama administration. As hopes of progress wane, the region risks slipping back into chaos.
The year's holding pattern produced some positive signs. In Lebanon and Gaza, Hezbollah and Hamas showed relative restraint, a reflection of the new constraints they face, having both assumed a larger share of power and suffered the destructive consequences of past wars. The West Bank appears remarkably quiet. Iraq continued to witness, as the U.S. military put it, "sustainable levels of violence."
But the calm is deceptive. None of the region's fundamental problems has been solved. There has been no progress on the peace process, whether in its Palestinian or Syrian versions. Iran's nuclear file is fast approaching a perilous impasse. Iraq's future remains as unpredictable as ever: Regional actors have yet to fully play their part, even as the United States, seeming more interested in maintaining acceptable conditions for a withdrawal than in consolidating what it will leave behind, gradually bows out. In Lebanon, the stalemate reached during George W. Bush's administration is now enshrined in a national unity government which has yet to prove it can produce much more than paralysis. Yemen is shaken to its roots. Throughout the area, a vicious struggle is taking place just under the surface at a time when the rules of the game are dangerously unclear.
Hamas, virtually strangled in Gaza, might be tempted to reframe its struggle more regionally -- something it historically has been loath to do. So far, the United States has done little to lift the Israeli siege and has done much to obstruct Palestinian reconciliation, meaning that Hamas has few other options than to look outside the territory.
Hezbollah has been preparing for the next, more decisive round with Israel since the 2006 showdown. Because the movement is now an integral part of the Lebanese government, because it has redeployed its military deeper into Lebanese territory, and because it doesn't see its defeat as an option, there exists a real potential for a far more comprehensive war than last time. Although, arguably, neither side wants a renewed conflict, their mutually reinforcing military and rhetorical buildup, combined with the absence of negotiated redlines and effective containment mechanisms, creates a dynamic that could spiral out of control. Rather than attempting to mediate between the parties and work toward clarifying and enforcing reciprocal redlines, the United States has urged the side on which it has least leverage, Hezbollah, to stop its "provocations."
The Iranian issue has fallen back into a now familiar pattern, with yet another cycle of halfhearted diplomatic overtures, half-effective sanctions, and half-empty threats. Washington and Tehran apparently have turned the page on their elusive "engagement," returning to a state of subdued confrontation. Here as well, Iran's uneasy domestic situation, coupled with the U.S. preoccupation with withdrawing from Iraq and "surging" in Afghanistan, could lower the threshold for confrontation.
As is often the case, Damascus offers a relatively accurate reflection of the regional state of play, as it endlessly seeks to adjust to the shifting political terrain. Washington contends that Syria is covertly deepening its military cooperation with Iran and Hezbollah just as fast as it is, overtly, developing ties with Turkey in all other domains. Skepticism in the United States has reduced prospects for a genuine partnership, while reluctance in Israel has thwarted progress in peace negotiations. For this reason, the Turkish and Iranian offers are -- from the perspective of Damascus -- the only games in town. Moreover, as pressure mounts on Hamas, Hezbollah, and Iran, Syria's room to maneuver shrinks. When the perils of war return, Syria will need those allies more than ever. In this instance, Damascus fears that another redline could be crossed, leading to conflict spilling over onto Syrian territory for the first time since 1973.
Such dynamics represent clear threats to U.S. interests. They render calls for disengagement illusory; if Washington were to ignore the Middle East, the region surely would find tragic ways to recapture its attention. At a time when the United States is discovering the limits of military might, confronting its tarnished regional image, and struggling with dwindling political leverage, it is tempting to conclude that there is little for it to do. Yet a lack of progress in the region is having a considerable effect all its own, and not for the better. As the administration's calls for peace fall flat and pressure on the militant camp comes to bear, the balance between diplomacy and conflict is turning wobbly in a region that desperately needs some external stabilization from Washington.
Peter Harling is the Project Director for Iraq, Lebanon and Syria at the International Crisis Group
Source: http://www.crisisgroup.org/home/index.cfm?id=6546&l=1