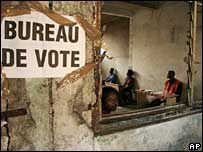 A sense of menace hangs over the long, dirty boulevards of this African metropolis.
Riot police officers with face masks, helmets, Kalashnikovs and black-plastic shin guards prowl the neighborhoods. Columns of heavily armed trucks roll through town, the business ends of their cannons pointing at the populace. These are the last line of defense, the red-bereted and much feared Republican Guard, the president's closest men.
On Monday, Congo is scheduled to hold presidential and parliamentary elections, only the second time in this troubled country's history that the entire population has been able to vote. And no one here thinks it is going to be smooth.
Already, several people have been killed at political rallies, including two men who were smashed with rocks on Saturday. The security forces of President Joseph Kabila have been widely accused of torturing opposition supporters. The opposition, for that matter, is hardly faultless, and Etienne Tshisekedi, a 78-year-old rabble rouser and the leading presidential challenger, recently declared himself president and stirred up his supporters to break their comrades out of jail.
There have been delays, myriad logistical problems and growing accusations of fraud. More alarming, analysts say, is the possibility that the presidential race will be close, seriously testing this country's dangerously weak institutions.
"People are scared," said Dishateli Kinguza, who sells baseball caps from a rickety stand here in Kinshasa, the capital. "Actually, I'm scared. If people don't accept who wins, it's going to be bad."
Ethiopia. Kenya. Zimbabwe. Ivory Coast. There is a lengthening list of very different African countries that have imploded, at great loss of life, because of disputed elections. And Congo is far more volatile and violent than all of those.
This enormous nation in the heart of Africa plunged into war in 1996 when rebel fighters and Congo's neighbors teamed up to overthrow one of the most corrupt men on the most corrupt continent, Mobutu Sese Seko, Congo's former dictator who ran this country into the ground during three decades of kleptocratic rule.
Congo has never really recovered, especially in its staggeringly beautiful eastern region, where the real spoils are: the gold, the diamonds, the tin ore, the endless miles of towering hardwood forest. Brutal rebel groups still haunt the hills, pillaging minerals and killing and raping at will.
But it is not just the east that is lawless. A witch doctor recently led a revolt in the northwest of the country. In February, rebels besieged the airport in Lubumbashi, in the south, thought to be Congo's most promising city. Even here in Kinshasa, home to about 10 million people, bands of wiry, adolescent street children wielding iron bars routinely set up roadblocks and steal money from helpless motorists.
There are few other places on the planet where politics are as disconnected from reality. For example, one of Mr. Kabila's campaign billboards shows him grinning next to a high-speed, Japanese-style bullet train. But Congo does not have any high-speed trains; actually, there are few working trains at all. Most Congolese say the rail network was in far better shape 70 years ago, when the Belgians ruled. These bullet-train billboards are all over Kinshasa, most often rising above crumbling streets that reek of uncollected garbage.
Congo's stagnation or even worse, its reverse development — this year the United Nations ranked it dead last of the 187 countries on the Human Development Index — is driving many people to vote against Mr. Kabila, who has been in power since 2001.
"I don't see any changes in my life," said Angel Nyamayoka, a single mother of seven children who scrapes by on $2 a day. "We have to vote for anyone but Kabila."
Many analysts say it is hard to see how Mr. Kabila could win this election fairly. Mr. Tshisekedi, a veteran Congolese politician still revered for standing up to Mr. Mobutu, is very popular in Kinshasa. He is also seen as a father figure of the Luba ethnic group, one of Congo's biggest, and is expected to carry the populous Kasai regions in the south and pick up anti-Kabila votes across the country.
Mr. Kabila, 40, has never been well liked in Kinshasa, where many people view him as an outsider, possibly even foreign born, who does not comfortably speak Lingala, the lingua franca. In 2006, the last election, Mr. Kabila relied on eastern Congo to win the presidency. But this time around, eastern Congo has its own champion running for president — Vital Kamerhe, the well-educated former speaker of the national assembly who hails from the city of Bukavu and is expected to draw votes away from Mr. Kabila.
Many analysts say that the government knows that it needs to use every trick in the bribery and repression handbook to hang on. Witnesses in Bukavu said that the president's party recently packed a stadium full of women from the market and handed them each the equivalent of $5, what many earn in a week.
A recent United Nations report described a "general climate of intimidation" with opposition supporters "threatened, beaten or arrested" and noted an episode in July in which Republican Guard soldiers set up a roadblock in a central Congolese town and warned residents that a new war would break out if they did not vote for Mr. Kabila.
But Congo is becoming the land of no consequences, as this election shows. Ntabo Ntaberi Sheka is the commander of a militia that last year, in the span of three days, raped scores of women — including some in their 70s and 80s. The Congolese government has issued an arrest warrant for Mr. Sheka, but he is now running for Parliament, in the same area where the rapes took place.
Similarly, Bosco Ntaganda, a former rebel leader, has been accused of war crimes by the International Criminal Court. But Mr. Ntaganda has been promoted to a top government army job in the east, and his forces are reportedly strong-arming people into voting for Mr. Kabila.
Human rights advocates despair about Congo and say this election especially worries them.
"If it is close," said Anneke Van Woudenberg, a senior researcher at Human Rights Watch, "the chance for significant unrest is high."
But there is a crucial difference between this election and 2006, when intense gun battles erupted on Kinshasa's boulevards between Mr. Kabila's forces and the militia of Jean-Pierre Bemba, the presidential runner-up. This time around, most opposition supporters are not part of a militia and therefore do not have guns.
Western diplomats predict that Mr. Kabila, who this year pressured the Parliament to change Congo's Constitution and eliminate a second round of voting, will win a thin plurality, spurring opposition protests in Congo's biggest cities. But many Congolese say their country has become so exhausted and jaded that the protests will not degenerate into all-out rebellion and that they will eventually fizzle out.
"We'll take to the streets and burn some tires and the police will shoot at us and we'll throw rocks," said Mr. Kinguza, the vendor of baseball caps. "But that will probably be about it."
Source: http://www.nytimes.com/2011/11/27/world/africa/in-congo-elections-fraud-is-expected-and-violence-is-feared.html?pagewanted=1&_r=1&ref=africa