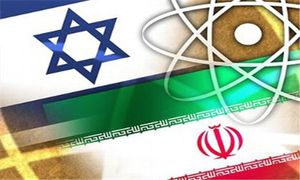 An apparent attempted bombing in Bangkok Tuesday lent greater credence to the belief that Iran lies behind a wave of bombings apparently directed at Israeli targets.
A series of explosions in the centre of the Thai capital led police to two men, identified as Iranians, who had rented a house where the first blast took place. One of the men, captured as he attempted to evade police, was seriously wounded when he attempted to throw a grenade. The second was arrested at the airport as he tried to board a flight.
The Bangkok blasts came on the heels of a bombing in New Delhi on Monday that injured the wife of an Israeli diplomat and an attempt against Israeli embassy staff in Tiblisi that failed when the bomb was discovered and defused. Israeli leaders have been quick to blame Iran for them all.
"The attempted terrorist attack in Bangkok proves once again that Iran and its proxies continue to perpetrate terror," said Israeli Defence Minister Ehud Barak on a visit to Singapore.
Israeli Prime Minister Benjamin Netanyahu described Tehran on Monday as the "largest exporter of terrorism in the world."
Iran has denied involvement in any of the incidents.
But in the murky world of espionage, terrorism and "special ops," few things are crystal clear, and this week's bombings are no exception.
If Iran carried out or ordered the attacks in an effort to avenge a series of assassinations of Iranian nuclear personnel it believes were carried out by Israel and to deter such assassinations in the future, it failed miserably.
"The wife of the [military] attaché who sustained moderate injuries and a bomb that was defused certainly cannot be weighed against the series of assassinations [of Iranians] that has been attributed to Israel," wrote Yoav Limor, security analyst for Israel Hayom, an Israeli newspaper close to Mr. Netanyahu.
With the score yet to be evened up, Israel hasn't seen the end of such attacks. Iran and its Lebanese protege Hezbollah will continue to seek Israeli targets, Mr. Limor concluded.
"The moment that there is a chance to kill a senior Israeli, a security official or a diplomat, or even a group of travellers, it is unlikely that anyone in Beirut or Tehran will recoil from giving the green light," he wrote.
A similar analysis by the Israeli government prompted a heightened security alert for Israeli officials around the world. For the next several days, Israeli representatives abroad have been ordered not to travel in their official vehicles.
But if Iran is behind the attacks, it has to be very careful.
It must select a target important enough to avenge its scientist "martyrs" and to deter further attacks – a senior Israeli diplomat or prominent scientist, perhaps – but, in the current climate of tension between Israel and Iran, its response must not be of the kind that would trigger large-scale retaliation by Israel.
The same goes for Hezbollah, the militant Lebanese Shia organization sponsored by Iran. If it has been seeking to avenge the assassination of Imad Mughniyeh, a Hezbollah leader killed by a car bomb in Damascus in a 2008 attack widely believed to have been carried out by Israel, then Monday's bombing attempts were not sufficient either. And it, too, must proceed with caution.
Gone are the days of 1992, when Hezbollah leader Abbas Musawi was killed by Israeli helicopter gunships and the response was a car bomb attack on the Israeli embassy in Buenos Aires that killed 29 people. Such an action today could easily trigger a much wider conflagration.
So, too, could the kind of attack planned by Iran and Hezbollah three years ago in Azerbaijan. In that case, agents from the two parties reportedly planned a multi-pronged attack against Israeli targets, including the embassy and the El Al airline office, as well as American military assets. But foreign espionage agencies were tipped to a massive cache of explosives and weapons.
That attempt may have failed, but as Alex Fishman, security analyst for the Yedioth Ahronoth newspaper, notes, "It showed that when the Iranians want to organize a large-scale terror attack, they have the means to do so."
All of which could explain why such low-value targets were hit on Monday.
To be sure, Iran did vow revenge against Israel when the most recent murder of one of its nuclear scientists was carried out last month in Tehran (in an operation very similar to Monday's New Delhi blast), something the Israeli leadership must have contemplated when it ordered the Iranian assassinations, if indeed Israel did carry them out. So it's not unreasonable for Israel to conclude that Iran was responsible for Monday's bombings.
But that does not mean that the bombings, at least the one in New Delhi, were in fact committed by Iran.
Ajai Sahni, India's foremost expert on security issues and director of the Institute for Conflict Management, said that while there is "some credible circumstantial evidence" that points toward Iranian involvement – such as the similarity of the bomb to those used in previous attacks linked to Iran and the simultaneous attempted bombing in Georgia – the near-instant attribution of the attack to Iran by the Israeli government was "almost too pat" and raises serious questions.
For one thing, Iran's relationship with India is too critically important for Tehran to sanction violence in India. "This is the worst conceivable time for Iran," Mr. Sahni said. "The Iranians are strategic terrorists – they try to secure specific strategic objectives through terrorism – but nothing here seems to fit into that pattern."
India, he noted, has consistently resisted pressure from the West to cut off trade with Iran because of the nuclear issue, and has defended Iran at the UN Security Council. As well, India is a huge importer of Iranian oil.
"India is the most unlikely target for Iran," Mr. Sahni said. "It's highly unlikely an Iranian would have come here and executed the attack – even if a nexus emerges with Iran, they will have used a local cadre."
Mohamed Marandi, a professor of political science at the University of Tehran currently visiting the American University of Beirut, agreed. "Even if Iran wanted to carry out such acts, India would be the last place it would choose to carry one out."
Iranians, Mr. Marandi said, view the New Delhi attack as a clumsy attempt to drive a wedge between their country and India. "Someone wants India to join the embargo on Iranian oil," he said.
Mr. Marandi, who was born in the United States after his parents, critics of the Shah of Iran, had taken refuge there, denounced Mr. Netanyahu for characterizing Iran as an exporter of terrorism.
"Iranians have actually been murdered," he said, referring to the large number of Iranian nuclear personnel killed over the past four years. "But no Israelis have been killed. Just who is the terrorist state?"
Mr. Marandi suggested that Israel and the United States, "egged on by countries such as Canada," are attempting to strangle Iran. "If things continue on this path a violent confrontation is more likely," he said. "What do you expect?"
Shortly after last month's assassination of Iranian nuclear scientist Mustafa Ahmadi Roshan, Avner Cohen, an Israeli analyst at the Monterey Institute of International Studies, wrote of his concerns over an apparent pattern of foreign policy by assassination.
He noted that "Israel's official response to news of the assassination was a deafening silence. The unofficial response was a wink."
The Israeli public, Mr. Cohen said, "did not question the wisdom of assassinating the Iranian scientists."
"In Israeli culture, which sanctifies security," he wrote, "such questions are seen as treason. If the hit was successful – the scientist was eliminated and the assassins disappeared – you don't ask questions.
"But do such killings do real damage to Iran's nuclear program?" asked Mr. Cohen, author of The Worst-Kept Secret: Israel's Bargain with the Bomb.
"Not only will killing individuals fail to significantly delay the project or cause its leaders to dial back their political and strategic goals, it will almost certainly have the opposite effect," Mr. Cohen concluded. "It will only add to Iran's determination to carry on.
"And to keep their scientists from becoming demoralized, the Iranians will do everything possible to make good on their promise of revenge."
Source: http://www.theglobeandmail.com/news/world/israel-and-iran-at-war-in-the-shadows/article2338689/