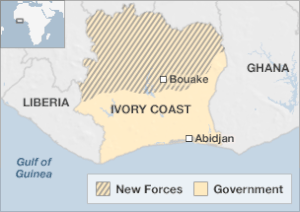 The scale of the frenzied violence wrenching Ivory Coast apart became apparent yesterday when a respected Roman Catholic charity claimed that more than 1,000 people had been shot and hacked to death in just one western town.
Patrick Nicholson, a spokesman for Caritas, said that the charity's workers who visited Duekoue on Wednesday found the town's Carrefour neighbourhood filled with bodies of victims who died from gunshot wounds or were cut to death with machetes. This is more even than the estimate of 800 dead in the town made by the International Federation of the Red Cross. Hundreds of United Nations peacekeepers are based in Duekoue, and there are fears that places without even this protection may have suffered even worse massacres.
The news of these atrocities came as an offensive aiming to unseat Ivory Coast's incumbent president, Laurent Gbagbo, appeared to encounter resistance yesterday, with soldiers loyal to the entrenched ruler seizing back the state television station and broadcasting a call to arms. In a televised address yesterday morning, Gbagbo's military spokesman, Lt-Col Alphonse Guano, called on security forces to report for duty and to resist attacks by fighters loyal to the internationally recognised president, Alassane Ouattara. A dishevelled TV announcer said that Gbagbo was at his residence yesterday and that it had not been attacked.
In just five days, the force aiming to install the democratically elected Ouattara took three-quarters of Ivory Coast, before entering the coastal city of Abidjan and encircling the presidential residence and palace.
Overnight, however, the shooting near the palace and the residence died down, suggesting the armed group had been pushed back. A fighter with Ouattara's forces, Boubacar Drame, said they were waiting for reinforcements.
Ouattara's democratic victory, with 54 per cent of the vote in last November's election, was recognised first by the country's electoral commission and then by governments around the world. Leaders from Barack Obama to Nicolas Sarkozy have appealed to Gbagbo to step down. Commander Frederic Daguillon, spokesman for the French forces in Ivory Coast, said that at least 1,500 foreign nationals have taken refuge since the offensive began at the French military base in Abidjan.
Gbagbo's Europe-based adviser Toussaint Alain told reporters in Paris that Gbagbo is still in his residence "like Sarkozy at the Elysée and Obama at the White House".
But Gbagbo's whereabouts could not be confirmed yesterday, and the phones of his close aides rang unanswered. Gbagbo, 65, has not been seen in public since the offensive began, but those in his inner circle said on Friday that he was still in Abidjan and would fight until the end. Ouattara has ordered land and sea borders closed in case Gbagbo tries to flee.
A local living near Gbagbo's residence in Abidjan's Cocody neighbourhood said that at around 9am the shooting restarted after a mostly quiet night. Heavy machine-gun fire also erupted just after noon at one end of the lagoonside highway leading to the palace, around two city blocks from the gate of the presidential compound.
An adviser to Ouattara, who asked not to be named, said the loss of the TV station was a setback, but that Ouattara's forces were still at the residence and the palace and were preparing for battle. He said Ouattara told him fighters had surrounded the palace but that they stopped shooting to give Gbagbo time to surrender overnight. "He said there has been too much blood," said the adviser. "Ouattara does not want for Gbagbo to die. But he also said that patience has a limit."
The battle for control of the country has come at a terrible price, and nowhere illustrates this more than Duekoue. It is unclear if Ouattara's forces were involved in the attack, and the town has been the scene of communal violence before. Ouattara's government yesterday denied that its fighters were involved in atrocities, blaming the killings on Gbagbo forces.
Colonel Chaib Rais, the UN military spokesman, said that nearly 1,000 peacekeepers at Duekoue "are protecting the Catholic church with more than 10,000 [refugees] inside". He added that he had had no "special report" of mass killings.
The town was the object of fierce battles last week. On Monday, fighters loyal to Ouattara took Duekoue; then, on Tuesday, a Red Cross spokeswoman, Dorothea Krimitsas, said that "communal violence" had erupted.
The area has been a hotbed of conflict between two tribes that support Ouattara and Gbagbo. The latter had postponed the November poll for years.
The International Organization of Migration said on Friday that tens of thousands of refugees have overcrowded Duekoue, and that others who had fled the violence there "are now stranded along the route, in fear for their lives". It said some of those slaughtered were apparently killed by "mercenaries" from Liberia. Liberian mercenaries have been reported to be fighting for both Gbagbo and Ouattara.
The Roman Catholic bishop for the area, the Right Rev Gaspard Beby Gneba of Man, said tensions are a mixture of political, ethnic and land rivalries, aggravated by the influx of new Ivorian refugees and long-established refugees from neighbouring Liberia. In January, an unknown number of people were killed, while homes were torched and others looted, he said.
Mr Gneba said that more than 30,000 refugees had flooded the town since January. Many are being sheltered at the Salesian priests' Mission of St Theresa of the Baby Jesus. "There's a traumatic humanitarian situation," he said. "They need food, medicine, water, sanitation. People have lost everything – houses, clothes – they do not even have a mat to sleep on."
Human Rights Watch issued a statement yesterday saying that it had documented abuses, with the vast majority perpetrated by forces loyal to Gbagbo against real or perceived Ouattara supporters, as well as against West African immigrants and Muslims. "The abuses include targeted killings, enforced disappearances, politically motivated rapes, and unlawful use of lethal force against unarmed demonstrators," the statement said. "These abuses, committed over a four-month period by security forces under the control of Gbagbo and militias loyal to him, may rise to the level of crimes against humanity."
But the New York-based organisation said atrocities committed by pro-Ouattara forces also could amount to war crimes and crimes against humanity, including three detainees burned alive and four whose throats were slit, all in Abidjan. In one village near Abidjan, the statement said, at least nine civilians were killed "in an apparent case of collective punishment against alleged civilian supporters of Gbagbo".
Yesterday, William Hague, the Foreign Secretary, issued a call for restraint, and said he will be discussing the crisis with Jean Ping, head of the Africa Union, during his visit to London tomorrow.
Source: http://www.independent.co.uk/news/world/africa/massacre-on-the-streets-of-ivory-coast-2260825.html