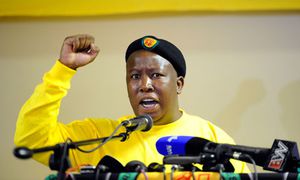 A warrant has been issued for the arrest of the South African politician Julius Malema on charges of corruption.
Malema, who was expelled from the governing African National Congress (ANC) this year and has become an outspoken critic of President Jacob Zuma, is expected to appear in court next week.
South Africa's City Press newspaper reported that the warrant related to charges of fraud, money laundering and corruption involving government contracts. Malema has always vehemently protested his innocence.
Nicqui Galaktiou, a lawyer for Malema, said she had not yet seen the contents of the warrant. "We were notified today that a warrant had been issued and we have been negotiating with the authorities regarding Mr Malema's appearance in court," she told eNews Channel Africa "He will hand himself over voluntarily at a court appearance next week."
The case would be heard in Polokwane in Limpopo, Malema's home province, Galaktiou added. The date has not yet been confirmed.
Malema, 31, was removed as president of the ANC Youth League in March but remains one of South Africa's most electrifying politicians. He seized on the recent industrial unrest to call for a national mining strike, turning himself into a lightning rod for workers' anger over the yawning gap between rich and poor.
But critics regard him as an opportunistic demagogue who has cynically manipulated the situation in an attempt to revive his political career and oust Zuma.
Asked if the charges were politically motivated, Galaktiou replied: "That is our belief up to now. Once we've seen the charges, we'll have a better idea."
At a press conference in Johannesburg on Tuesday, Malema claimed that Zuma was likely to move against him. "If we are illegally arrested tomorrow, we would have been arrested by Jacob Zuma," he said.
Malema was willing and ready to go to jail and was not intimidated, he added. "I have nothing to hide … I only have my convictions. Nothing will stop me from fighting for economic freedom, not even my death ... We are unshaken."
Reports that Malema is facing arrest have been swirling since long before the crisis erupted at the Marikana mine. He has been under investigation by the elite Hawks detective unit for alleged corruption relating to his Ratanang Family Trust and its shareholding in On-Point Engineering, a company that has made millions of rand from government tenders in Limpopo.
A separate report into the matter by South Africa's anti-corruption ombudsman, the public protector, is also said to be imminent.
Many commentators have questioned how a self-proclaimed champion of the poor can fund a lavish lifestyle that includes champagne parties, a Breitling watch and a Mercedes-Benz. In a recent interview with the Guardian at his home in Sandton, dubbed the wealthiest square mile in Africa, Malema denied any wrongdoing.
"I'm waiting for the day I'm going to be charged with corruption because to be judged that I've got where I am because of corruption is incorrect," he said. "There is no judge or any credible institution which has arrived at that conclusion. For as far as I'm concerned, I'm innocent until proven otherwise.
"How am I corrupt when I've never worked for government, I've never dished out tenders for government, I've never sat in any committee that gives tenders in government. How am I influencing those people? Who did I influence?"
Asked about his personal wealth, Malema replied: "I'm not worth anything. There shouldn't be a temptation to get into people's bank accounts, but just take it from me, I'm worth nothing. Half of what I have belongs to the bank."
As in previous court appearances, Malema and his supporters are likely to spare no expense in mounting a legal defence.
On Friday the opposition Democratic Alliance welcomed the arrest warrant. "The South African public are sick and tired of politically connected individuals abusing public procurement to line their own pockets," said Dianne Kohler Barnard, the shadow police minister.
"Now that Julius Malema is outside of the ANC fold, he clearly lost the protection from law enforcement agencies that he once appeared to enjoy."
Source: http://www.guardian.co.uk/world/2012/sep/21/julius-malema-arrest-warrant-corruption