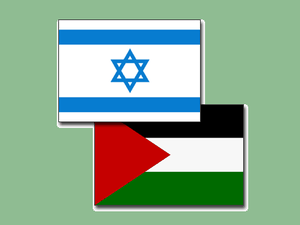 Israeli and Palestinian leaders have "established a basis" to resume direct peace negotiations for the first time in three years, Secretary of State John Kerry announced Friday, after an intense round of shuttle diplomacy aimed at reviving the dormant Middle East peace process.
The preliminary agreement is the Obama administration's first incremental success in efforts to convene talks since the president's attempt to broker a deal early in his first term ended in acrimony. If negotiations develop beyond what Mr. Kerry described as an "initial" phase by chief negotiators, it would be the first face-to-face meeting of Prime Minister Benjamin Netanyahu of Israeli and President Mahmoud Abbas of the Palestinian Authority since the Arab Spring upended politics across the Middle East.
After multiple, marathon sessions with each man in recent weeks, Mr. Kerry said here Friday that both had shown "courageous leadership" that made him "hopeful" about the prospects for resolving the intractable conflict. He said that if "everything goes as expected," Saeb Erekat, the chief Palestinian negotiator; Tzipi Livni, the Israeli minister in charge of the peace process; and Isaac Molho, Mr. Netanyahu's special envoy, would join him for talks in Washington "within the next week or so."
"The representatives of two proud peoples today have decided that the difficult road ahead is worth traveling and that the daunting challenges that we face are worth tackling," Mr. Kerry said in Amman, the Jordanian capital, on Friday night before flying back to Washington. "They have courageously recognized that in order for Israelis and Palestinians to live together side by side in peace and security, they must begin by sitting at the table together in direct talks."
There was no indication that either the Israelis or the Palestinians had compromised on core issues — such as ending Israeli settlement activity in the West Bank or conceding the right of return of Palestinian refugees — that have sunk previous negotiations. Rather, this round of diplomacy was focused on getting distrusting adversaries to sit in the same room.
But after years of stalemate in which the prospects of creating side-by-side Israeli and Palestinian states seemed to fade, even as a goal of American and regional diplomacy, the resumption of a process of talks counts as progress, some analysts said.
"He's gotten them into the pool," said David Makovsky, director of a project on the peace process at the Washington Institute for Near East Policy, referring to Mr. Kerry. "Right now they're in the very shallow end, and they're going to have to swim in deeper waters — and they can be treacherous. It's still an achievement that he got them into the pool."
On Saturday, a senior minister confirmed that Israel had agreed to release some long-serving Palestinian prisoners, one of three key issues that had been major sticking points in the American-led effort to resume negotiations. The others were Palestinian demands to base the negotiations on the borders before the 1967 war, and to freeze Israeli settlement activity in the West Bank.
"There will be some release of prisoners," the minister of strategic affairs, Yuval Steinitz, said on Israel Radio, according to Reuters, adding that the release would be carried out in phases. "I don't want to give numbers but there will be heavyweight prisoners who have been in jail for tens of years."
A senior official involved in the talks, speaking on the condition of anonymity, said Saturday that one of the reasons for Mr. Kerry's tentative language about the resumption of negotiations was that Israel still needed to take some official action on prisoner release, which has been a contentious and divisive political issue in Jerusalem.
Friday's announcement came after Mr. Kerry repeatedly extended his visit, the sixth to the region since March in what has been his main focus as secretary of state. On Wednesday, he won an endorsement from the Arab League of a "formula" involving economic incentives for Palestinians and security assurances for Israel along with a new political framework for the talks, but the Palestinian leadership balked at the proposal Thursday night.
On Friday, Mr. Kerry met twice here in Amman with Mr. Erekat and then traveled by helicopter to the West Bank to see Mr. Abbas at his Ramallah headquarters. He apparently won concessions on the new framework, which American, Israeli and Palestinian officials said would allow Washington to declare the 1967 prewar borders as the basis for the talks — along with the recognition of Israel as a Jewish state — but allow Mr. Netanyahu and Mr. Abbas to distance themselves from those terms.
Some actions on confidence-building measures — the prisoner release, and perhaps a Palestinian agreement to postpone participation in international organizations based on the observer-state status it won at the United Nations General Assembly last fall — must yet be taken, which is why a date has not been set for the Washington meeting.
Mr. Kerry said the sides had agreed not to disclose details of the deal. It remained unclear whether the negotiators had more work to do around the terms of the talks or would be tackling more substantive matters.
"They may be talking about process at first," said a senior State Department official, speaking on the condition of anonymity because of the delicacy of the diplomacy. "They may be talking about an agenda. I don't think they are going to sit down and draw lines on a map."
Late Friday night, Ms. Livni posted a message on her Facebook page declaring that "four years of political stagnation are coming to an end."
"I know that, despite this being an opportunity, once the negotiations begin they will be complex," she wrote. "In that room we will maintain the national and the security interests of Israel as a Jewish and democratic state — to that I vouch."
Ahmad Abbas, director of the Palestinian Authority planning ministry, said in an interview that "all the big issues — Jerusalem, settlements, refugees — have been postponed until further notice," but that the "Americans agreed to provide guarantees which would not turn our faces red" regarding the future borders.
"Financially, we are going to solve our problems," he said. "We have to choose the best option among the evil ones."
The obstacles to any substantive peace agreement remain formidable on both sides, and it is unclear whether either party is contemplating real concessions, or is even fully focused on resuming the intractable peace process.
The 78-year-old Mr. Abbas presides over a fiercely divided people, with the militant Hamas movement ruling the Gaza Strip and his more moderate Fatah faction dominating the West Bank. His political weakness was apparent this week at stormy leadership meetings. Mr. Netanyahu, meanwhile, heads a fragile, conservative governing coalition and political party in which many key figures virulently oppose the establishment of a Palestinian state, in a nation more focused than ever on domestic concerns.
Dennis B. Ross, a former American peace envoy to the Middle East, said that given those internal political challenges, having the talks start at the negotiator-level and remaining mum about the terms were smart steps by Mr. Kerry.
"You don't need another situation where you bring the leaders together and build the expectations that you're going to have a dramatic breakthrough," Mr. Ross said. "There probably isn't a complete meeting of the minds, but there's enough convergence there and enough confidence in him that they each feel they can proceed. Better not to say certain things that might require one or the other to respond or qualify."
The last round between Mr. Netanyahu and Mr. Abbas, in 2010, broke down after 16 hours of talks over three weeks. This time, according to Israeli news reports, both sides have agreed to negotiate for at least six months.
But those involved in the process and expert analysts agree that the hard part is yet to come.
"If the negotiations will start, then the problem begins," one senior Israeli official said, also on the condition of anonymity. "This is just the foreplay."
Source: http://www.nytimes.com/2013/07/20/world/middleeast/kerry-extends-stay-in-mideast-to-push-for-talks.html?pagewanted=2&_r=0&ref=global-home