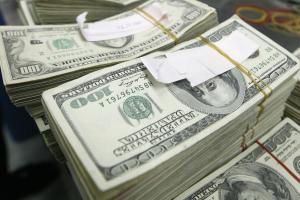 The three Nigerian men who opened a series of bank accounts in Switzerland in the 1990s used a bewildering permutation of names.
Sani Mohammed. Sani Abba Mohammed. Ibrahim Sani. Muhammad Sani Abdu. Abba Muhammad Sani. Ibrahim Muhammad Sani.
One name they didn't use was Abacha.
They were the three sons of Sani Abacha, the Nigerian strongman who died mysteriously in 1998 after stealing $5-billion (U.S.) in public funds.
Swirling through dozens of banks in seven countries, the intricate financial web left by the Abacha family is a testimony to the efforts the world's dictators deploy to launder their stolen assets.
And the dos and don'ts of hiding money are likely in the minds of many heads of state these days. Moammar Gadhafi is only the latest in the Arab world who is likely facing an unexpected, early retirement.
Three years ago the world got a glimpse of his financial muscle after one of his sons, Hannibal, was arrested in Geneva for allegedly beating two servants. Mr. Gadhafi retaliated by withdrawing $5-billion from Swiss banks.
It is said Mr. Gadhafi personally reviews all contracts involving Libyan government funds worth more than $200-million. From its offices in a downtown tower overlooking the Tripoli seafront, his country's wealth fund, the Libyan Investment Authority, has been sitting on a $32-billion hoard in liquidity.
What Mr. Gadhafi did with his fortune likely follows the same lessons that many kleptocrats and corrupt officials from Peru to Zambia have drawn over the years.
Lesson 1: Move the money before it's too late
In Tunisia, observers had long looked for signs that the family of president Zine El Abidine Ben Ali, which controlled a large share of the country's economy, had been planning for a lucrative departure. Relatives had been buying real estate in Europe and Canada. One of his son-in-laws tried in vain to get a residency permit in Switzerland before ending up in Montreal.
But the Ben Ali assets seized so far in Switzerland, Belgium and Canada range only in the tens of millions of dollars, raising questions about whether the regime collapsed before the clan could make an orderly exit.
The most prolific looters, such as Mr. Abacha or the late Ferdinand Marcos of the Philippines (up to $10-billion stolen), were able to siphon massive amounts directly from their countries' treasuries undisturbed.
Mr. Marcos had time to move money to accounts in Hong Kong and Switzerland and purchase real estate in the United States through shell corporations and people acting as fronts.
Meanwhile, the Abacha family was able to send stolen funds to the U.S., Britain and Austria, then transfer the sums to Switzerland, Liechtenstein and Luxembourg. In Britain alone, 23 banks handled the money. In Switzerland, 19 banks took deposits from Mr. Abacha's relatives and associates.
Lesson 2: Blur the audit trail
Put some distance between the money and its original source, via a series of convoluted financial transactions. This is where one is reminded of Somerset Maugham's quip about sunny places for shady people.
Sheik Fahad Mohammed Al-Sabah, a member of Kuwait's royal family, was part of an $800-million fraud while he was running his country's London-based Kuwait Investment Office until 1992.
Through Swiss, Island of Jersey and Liechtenstein shell companies, the money was moved to the Cayman Islands, the Bahamas and Jersey. The Sheik is now living in exile in the Bahamas and declared himself bankrupt while facing court efforts to recover the money.
In Macau, Ao Man Long, a corrupt public works official who amassed assets of more than $100-million, used companies registered in the British Virgin Islands to funnel in bribes into 39 Hong Kong bank accounts.
Some go even further – buying themselves their own bank.
Pavlo Lazarenko, Ukraine's prime minister from 1996 to 1997 who was accused of embezzling $200-million, purchased a majority share of an off-shore bank in Antigua, European Federal Credit Bank, to help launder money.
But efforts to hide the money can fail.
Joshua Dariye, a corrupt state governor in Nigeria, initially stumped British investigators who were checking allegations that he took millions of dollars to the United Kingdom.
They found no trace of him in public records. But they discovered his children attended the exclusive Dean Close School in Gloucestershire.
The tuition fees were paid by one Joyce Oyebanjo, a housing manager who, despite her modest job, managed $2.3-million spread among 15 bank accounts and $3-million in real estate, assets which were linked back to Mr. Dariye.
Lesson 3: Be ready for a war of attrition
Developing countries have limited resources, so recovering a former autocrat's stolen assets often turns into drawn-out legal battles as the relatives or heirs of the fugitive politician hire lawyers to keep their riches.
The new authorities in the dictator's country face several challenges when chasing the money. The assets have often moved to another continent. Forensic-accounting expertise is required. To investigate offshore accounts, requests for mutual legal assistance have to be submitted, and months pass before there is a reply.
"Every time money is transferred, it takes 10 minutes. The fund is in another jurisdiction. Then it takes three to six months to complete a request for mutual legal assistance," said Clive Scott, a legal adviser for the United Nations Office on Drugs and Crime who worked on the Lazarenko case.
As a result, more countries are turning to civil courts, where the burden of proof is lower, rather than lengthy criminal proceedings.
In 2007, Zambia successfully turned to the U.K. High Court to reclaim more than $46-million that former president Frederick Chiluba diverted to accounts in England, Belgium and Switzerland, in a trial full of juicy details such as the $1-million account Mr. Chiluba kept with a Geneva tailor's shop.
LESSON 4. BANK HAVENS ARE LESS WELCOMING
Traditional tax havens are increasingly mindful that sheltering dirty money is bad for their image.
Though Switzerland froze $356-million of the Marcos' assets after his ouster in 1986, it took 12 years of litigation before the money was returned to the Philippines.
The process is more streamlined now. Earlier this year, Switzerland adopted a new law enabling officials to seize suspicious assets without a request from a foreign country, which might not have the resources to pursue an investigation.
And anyone thinking of the Cayman Islands as a good place for dirty assets should be mindful that the local courts have been willing to implement requests for forfeiture of stolen money.
"Their reputation is at risk if they allow themselves to be used as repository for stolen money," Mr. Scott said. "So even in the most active tax havens you will find increased surveillance and concerns."
Source: http://www.theglobeandmail.com/news/world/kleptocrats-the-dictators-guide-to-amassing-wealth/article1926083/