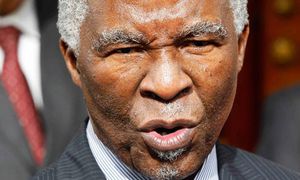 Thabo Mbeki, the former president of South Africa, has broken a four-year silence to deliver a withering verdict on the state of the nation as it reels from violent strikes and dampened self-confidence.
Although he did not mention president Jacob Zuma by name, Mbeki's first intervention in domestic politics since being forced from office in 2008 was widely interpreted as an attack on his successor.
The 70-year-old said he is "deeply troubled by a feeling of great unease that our beloved motherland is losing its sense of direction, and that, we are allowing ourselves to progress towards a costly disaster of a protracted and endemic general crisis."
Mbeki continued: "I, for one, am not certain about where our country and nation will be tomorrow, and what I should do in this regard, to respond to what is obviously a dangerous and unacceptable situation of directionless and unguided national drift."
Having succeeded Nelson Mandela as president in 1999, Mbeki was forced to resign after the governing African National Congress (ANC) turned against him and elected Zuma.
He has subsequently declined to comment on day-to-day politics in South Africa and the ANC.
But the killing by police of 34 striking miners at Marikana and continued violent unrest in the mining sector, along with a deepening sense of national malaise at home and abroad, may have prompted Mbeki to speak out. Zuma is facing a leadership contest in December.
"Among others, that feeling of unease is informed by questions I have not been able to answer about what happened which allowed the eminently avoidable massacre at the Lonmin Marikana mine in the north-west province to happen," said Mbeki, who was giving a lecture at Fort Hare university in Eastern Cape province.
"My feeling of unease is also informed by what I sense is a pervasive understanding throughout the nation that there is no certainty about our future with regard to any of our known challenges, and therefore the future of the nation."
Mbeki warned: "I am convinced that it would be treacherous to hide our heads in the sand and behave as though we remain on course in terms of the achievement of our shared and various national objectives."
He went on to quote some lines from Hamlet: "'The time is out of joint. O curséd spite/ That ever I was born to set it right!' I dare say that the time during which we live is out of joint. The challenge each one of us faces is whether we have the courage to set it right!"
With factional tensions still high in the ANC, Mbeki's critique earned a sharp rebuke from Zuma's allies.
Gwede Mantashe, the party's secretary-general, told South Africa's Sunday Times: "We are dealing with old problems. But if his judgment is that we are losing direction, it is up to him.
"There were statistics released this week on the impact of the HIV/Aids programme that is in place now. Life expectancy rate has grown from 52 years to 60 years. That is an improvement. If you look at the sharp decline in infant mortality... if you look at the sharp decline in the transmission of mother-to-child [HIV transmission]... that is progress. If these achievements are a loss of direction, it's fine."
S'dumo Dlamini, president of the Congress of South African Trade Unions, added: "Now we will not accept it when there is an insinuation or a direct pronouncement that our country is directionless or leaderless. I want to challenge the former president [about] what is he doing right now to provide the leadership he says this country does not have."
The debate came just as Zuma was pleading with politicians and commentators "to stop talking our country and economy down".
An Economist magazine cover story headlined, Cry the beloved country: South Africa's sad decline has caused a stir following the downgrading of the economy by international ratings agencies Moody's and Standard and Poor's.
Zuma's office issued a statement in response insisting "it is grossly incorrect to suggest that South Africa is on a downhill slide... Despite the challenges, South Africa is getting many things right".
Source: http://www.guardian.co.uk/world/2012/oct/22/mbeki-fears-south-africa-directionless