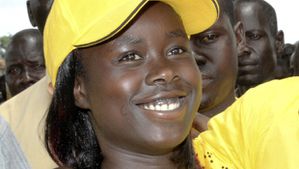 Just a few months ago, Proscovia Oromait's life was dominated by her A levels and catching up on her favourite TV programme, Vampire High. These days the fresh-faced Ugandan finds it a little harder to make time for the show set thousands of miles away in Canada, and it's not just because she is studying for a degree in mass communications.
Ms Oromait, who turned 20 today, is Africa's youngest-ever MP, and she is thought to be the youngest legislator currently serving anywhere in the world. The position has certainly added something to her CV, which previously highlighted her role as a newsreader at assemblies and being named as her school's Miss Wildlife.
"What I said when I was younger was that in years to come, I'll become the President," she told The Independent, sitting behind her parliamentary desk. "It's just been my dream to become a leader of Uganda. And here I am, the youngest MP. And I'm so proud of what I am."
Her original plan was to finish her education first, but she was thrust into the spotlight in July last year by the sudden death of her father, the MP Michael Oromait. Ms Oromait threw herself into campaigning, and in September she won the by-election for his seat in Usuk County, with the backing of President Yoweri Museveni's National Resistance Movement (NRM) party.
Ms Oromait's age has caused a stir in a country where President Museveni, 68, has five septuagenarians in his Cabinet and the average age of ministers is 62. Already the critics are lining up decry her lack of experience, no matter that she more accurately represents a nation where 78 per cent of the population is under 30.
Barnabas Tinkasimire, a senior ruling party MP and a friend of her late-father, dismisses Ms Oromait as "that baby". "It was too early for her," he said. "You cannot say she had any form of experience in legislation."
But as her former head teacher, Everest Baguma, quipped during a recent visit by his star graduate to St Kalemba: "A young MP is better than an old sleeping one." And the government's preference for experience may be due to the President's vanity as much anything else: some have gossiped that he likes the company of elders as it makes him look and feel younger.
So far, it is her gender rather than her age which has caused to most problems for the MP. On the face of it, Uganda has a relatively good level of female representation in its politics.
There are 134 female MPs in Parliament, out of a total 385. Uganda has been ranked 15th in the world for female ministerial appointments, above many developed countries including the UK. An article in the constitution stipulates that there must be at least one woman MP for each district.
Yet many female parliamentarians complain that sexual harassment is rife. Some have been publicly degraded by authorities, and the country's press does not seem to hold back from printing sleaze and scandalous rumour. The down-market Red Pepper tabloid recently told its readers that five "sex-hungry male MPs" were already "demanding sex" from Ms Oromait. "Some, above the ages of her late father, are relentlessly making sex advances to her despite the fact that she has on many occasions turned them down," it claimed.
She wouldn't be the first Ugandan MP to face harassment. In 2008, Nabilah Sempala, an opposition MP for Kampala district representing the Forum for Democratic Change (FDC), had been trying to leave suggestion boxes at a busy market when she was arrested and had her skirt hoisted up by a male officer.
Ms Sempala said: "Behind the scenes, my colleagues who are in government come to me – fellow women – and say 'Nabilah, please, we don't want you to stay out late at night. Don't go out in Kampala. Try not to be a target because one time they'll rape you'."
In April, Ms Sempala's colleague Ingrid Turinawe, the head of the FDC Women's League, had her breast publicly squeezed by a police officer while being detained. A group of women later stripped to their bras in protest. As anger grew, the Prime Minister, Amama Mbabazi, eventually officially apologised to "all women, and the country at large" on behalf of the government for the brutal arrest, although he claimed that the perpetrator was a woman. The victim maintains it was a male officer who groped her in a sexist attack.
Ruth Joy Acheng, who represents Kole District for the opposition Uganda Peoples Congress, fears that even with NRM support, some may still try to sexually exploit Ms Oromait. But Ms Oromait is relaxed about handling her parliamentary colleagues.
"My first day was like any other day of high school," she said. "You make a lot of friends. There are those who come to intimidate you. You just have to give them the cold shoulder."
Even if Ms Oromait can overcome the sexism in Parliament, she will have a battle to convince others that she can do her job. "She's been voted in basically as sympathy from the death of the father," Ms Acheng said. "For Ugandan politics, which is rough, she's young."
Many seasoned MPs are also asking whether an "intern legislator" will be able to represent a constituency facing complex issues. Usuk County is in Katakwi District in Uganda's east, which for years has experienced inter-border conflict with a neighbouring district. But Ms Oromait is fast learning the political beat. She has vowed to fix Usuk's roads, build a new health centre and deliver cleaner water. And she is nothing if not determined. "It's not the age of the body," she says. "It's the brain that one has to fight for the constituents".
She admits that juggling her degree with her work in parliament is proving to be hard work.
"There is stress. The challenge is balancing the schoolbooks and the parliament." But she still has her old hobbies to turn to for relaxation: "When I'm bored I read my Bible. When I'm tired I watch TV, high school movies." And there is always Vampire High, of course. "I'm now watching season two," she says.
Source: http://www.independent.co.uk/news/world/africa/meet-proscovia-oromait-the-worlds-youngest-mp-8434699.html