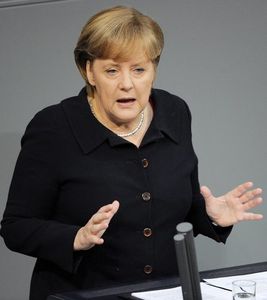 Chancellor Angela Merkel of Germany, a central player in efforts to rescue Europe's single currency, on Friday ruled out a rapid solution to the euro zone's debt crisis, comparing the process to a marathon and saying it could take years.
Mrs. Merkel was speaking to the German Parliament as Europe's leaders prepare for yet another round of talks on the issue, which has roiled markets across the continent and forced the collapse of governments in Greece, Italy and elsewhere. Mrs. Merkel spoke in sober and serious tones, and her words drew sustained if not overly enthusiastic applause from lawmakers.
"Resolving the sovereign debt crisis is a process, and this process will take years," Mrs. Merkel said.
Marathon runners believe that their efforts become particularly difficult after the "35 kilometer mark," she said, adding, "but they also say that you can get to the finish if you are conscious of the magnitude of the task from the very start."
"The future of the euro is inseparable from European unity. The journey before us is long and will be anything but easy," she said. "But I am convinced that we are on the right path. It is the right path to take to reach our common goal: a strong Germany in a strong European Union that will benefit the people in Germany, in Europe."
Later on Friday, President Nicolas Sarkozy of France met in Paris with British Prime Minister David Cameron — whose country is not part of the single currency but belongs to the European Union and whose economy is heavily dependent on continental trade.
"We need the euro zone to resolve their crisis. We need the countries of the euro to stand behind their currency," George Osborne, Britain's chancellor of the Exchequer, said shortly before Mr. Cameron traveled to Paris. "We do need the countries of the euro to work more closely together to sort out their problems."
"Britain doesn't want to be a part of that integration — we've got our own national interests — but it is in our economic interest that they do sort themselves out. The biggest boost that could happen to the British economy this autumn would be a resolution of the euro crisis," Mr. Osborne said.
Mr. Cameron's discussions in Paris came in advance of talks between Mr. Sarkozy and Mrs. Merkel on Monday to be followed by a summit of European leaders in a week's time.
Mrs. Merkel's speech came after Mr. Sarkozy said on Thursday night that Europe could be "swept away" by the euro crisis if it does not change. He said that Europe would "have to make crucial choices in the next few weeks," and that France and Germany together were supporting a new treaty to tighten fiscal discipline and promote economic convergence in the euro zone.
The European Union needs "an overhaul," Mr. Sarkozy said, to remain relevant and competitive, but he was vague about the details of what needs to be done.
"If Europe does not change quickly enough, global history will be written without Europe," he said. "Europe needs more solidarity, and that means more discipline."
On Friday, Mrs. Merkel again appealed for a strengthening of fiscal cooperation across the euro zone in what she called a "union of stability" able to enforce controls on individual European economies.
"Where we today have agreements, we need in the future to have legally binding regulations," she said.
Mrs. Merkel said it was time to fix the "mistakes of construction" in the euro zone. "We must strengthen the foundations of the economic and monetary union in a sustainable way."
"We are not only talking about a stability union, but we are beginning to create it," she said, advocating changes in European treaties so as to create a fiscal union — a measure likely to be opposed by Britain.
Evoking the spirit of German leaders past, from Konrad Adenauer to Helmut Kohl, Mrs. Merkel said Germany wanted to "avoid divisions" by creating a two-speed Europe split between those inside the euro zone and those outside it.
She again ruled out so-called euro bonds backed by all 17 members of the existing currency union, which embraces many different levels of economic strength ranging from struggling Greece to the export-driven German economy which is seen as the powerhouse of Europe. She called the idea of euro bonds "unthinkable."
Germany, she said, did not wish to dominate Europe. "That is far-fetched," she said.
"Germany and European unity are two sides of the same coin," she said. "That is something we will never forget."
Frank-Walter Steinmeier, parliamentary leader of the opposition Social Democrats, accused Mrs. Merkel of "talking past the heart of the matter" and said her "tactical approach was not making things stable."
But Rainer Brüderle, the head of the parliamentary group of Mrs. Merkel's junior coalition partner, the Free Democrats, offered an important token of support, saying Mrs. Merkel was "fighting for the future of Europe and we stand behind her."
Source: http://www.nytimes.com/2011/12/03/world/europe/angela-merkel-germany-speech-euro-zone-debt-crisis.html?ref=global-home