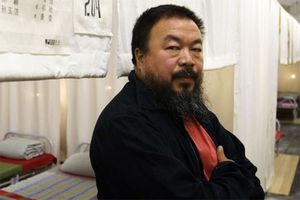 He is one of China's most successful and internationally renowned artists -- but at the opening of his latest exhibition "Circle of Animals/Zodiac Heads" in London, the controversial Chinese artist Ai Weiwei was missing.
The unveiling of 12 cast bronze sculptures -- representing the Chinese zodiac animals -- at London's Somerset House on Wednesday, was overshadowed by the artist's absence.
Ai was detained by authorities in Beijing on April 3 and hasn't been seen or heard from since. Relatives and human rights groups believe he has been targeted because of his activism, but Government officials have said the artist is currently under investigation for economic crimes and have denied accusations of human rights abuse.
"This is a bitter-sweet occasion," said Gwyn Miles, director of Somerset House Trust.
"We are terribly proud of the installations, but we fully expected Ai Weiwei to be here to unveil them," she continued.
"I think the most important thing is that he's not forgotten and the best support we could give him is to show his work and keep him in the public eye."
Monita Rajpal: Creating a life of our choosing
It was a solemn occasion, with artists and academics reading quotes of Ai's, while also calling for the artist to be freed.
"The most threatening thing about Ai Weiwei is his ability to communicate to very broad audiences, both globally and in China," said Katie Hill, senior lecturer in Contemporary Chinese Art at the University of Westminster.
"The fact that he has effectively 'disappeared' and been detained is because of a complete lack of ability to deal with Ai Weiwei on behalf of the Chinese government," she continued.
Ai's 4-foot high sculptures explore one of China's most "humiliating" events of the 19th century -- the sacking of Beijing's Summer Palace.
Still a raw subject for many Chinese today, the works are recreations of 12 bronze animal heads, designed and built for the palace gardens by European Jesuits and ransacked by British and French troops during the Second Opium War in 1860.
Only seven of the original sculptures have been recovered, five on display in China, the other two in France.
"I know Ai Weiwei had a particular interest in that moment in history," said Hill.
"He's talked about this 'moment of humiliation' to China, during the looting of the Summer Palace. It's a scandalous and dark episode which we (British) feel deeply shamed by and China still holds up as a brutal moment of colonialism over China," she added.
She continued: "The great irony in this work is that it effectively encapsulates the quite complex relationship between China and the West.
"In the 20th century China has been grasping at a national identity on its own terms, without the necessity of the West. I think that is at the heart of this work, that the relationship remains problematic."
In an interview before he was detained in April, Ai told CNN what drew him to the infamous zodiac heads.
"When they first appeared back on the auction market it generated a lot of attention in China -- people wanting to buy it back, they think it's shameful they were taken," he said.
He continued: "But there is a lot of argument about if they are really Chinese and if it's really a 'treasure.' It really generates a lot of discussion about the value and authenticity of these objects and how important they are in contemporary history."

Although the work is in keeping with Ai's familiar themes of authenticity and value, Larry Warsh, founder of AW Asia, said the installation was also designed to simply be enjoyed.
"This body of work was created with the public in mind," said Warsh. "It was very important for Ai Weiwei to create work for the everyday person. Of course it is conceptual, but yet it's a body of work that everyone can enjoy."
The timing of the opening, continued Warsh, could not be more appropriate.
He said: "We planned it to be an almost simultaneous opening, starting in New York and then in London to create a global impact. In a way it is helpful, it's bringing attention to Ai Weiwei and his work at the same time as his detainment.
"That wasn't planned, but certainly the fact that he has shows opening around the world adds to his absence and what he stands for."
Source: http://edition.cnn.com/2011/WORLD/europe/05/12/ai.weiwei.exhibition.opening/index.html?hpt=C1