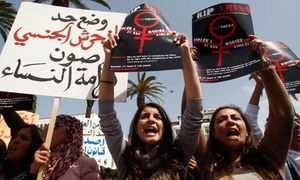 Morocco is under growing pressure to better protect women after a man who was allowed to marry a 16-year old girl he had allegedly raped was invited by a newspaper to join a discussion on improving women's rights.
The man did not attend the roundtable meeting about the case of the teenager, Amina Filali, who killed herself after a court ordered the marriage. The meeting was organised by Morocco's leading daily newspaper, Al Massae, which also invited Bassima Hakkaoui, the country's only female minister.
Moroccan human rights groups criticised the man's invitation, claiming it was further evidence of the impotence of the state and the justice system.
"This man should not have been invited, and more importantly, he should not be free," said Khadija Ryadi, president of the Moroccan Association of Human Rights. "Amina is dead, he is not facing any further sanctions, and for that the whole justice system is to blame."
The man, who has not been named, has denied raping Amina or forcing her into marriage.
Official figures show that more than 41,000 marriages in Morocco in 2010 involved female minors, up 25% on the previous year.
Amina's case has drawn attention to a little-known provision of Moroccan criminal law, clause 475, which has become synonymous with the battle for women's rights. The law, with roots in French colonial and Muslim criminal codes, states that if a minor and her abductor agree to marry, any prosecution can be dropped and can only be resumed if the marriage is annulled.
Experts in Morocco say the law applies only to the nonviolent "abduction" or "corruption" of a minor – "quiconque sans violences, menaces ou fraudes," in French.
Michèle Zirari Devif, a Moroccan lawyer specialising in criminal law, said: "Contrary to what has been reported in the press, clause 475 absolutely does not provide for a rapist to marry his victim. It forbids the abduction of minors and provides for cases where a girl has run away with a man – without the threat of violence or deceit – and where she has married him, then he can avoid prosecution."
The case has provoked protests including a sit-in outside the Moroccan parliament in Rabat this month, where male and female protesters carried placards stating "Rape me, then marry me", "RIP Amina" and "Clause 475 killed me".
Activists have criticised Hakkaoui for reportedly saying the law "will not be repealed, either today or tomorrow, just because of pressure from international public opinion".
An online petition tripled its initial target of 250,000 signatures, as details continued to emerge about the number of women affected by clause 475.
Hanane Jazouani, a journalist at Yabiladi, a Casablanca website, said: "It was quite shocking to see the number of women who have been protesting on the streets for Amina. Morocco's efforts in the realm of combating violence against women have lagged far behind. There is no law on domestic violence, there is penalisation of sex outside marriage, which means that a rape victim risks prosecution if her rapist convinces the court the sex was consensual, there is the infamous article 475, which this case drew attention to, and there is the law authorising judges to marry minors."
The status of women in Morocco is complex: residents in cities such as Casablanca have adopted European attitudes towards dress and demeanour, while many rural areas – including northern towns such as Larache, where Amina lived – remain deeply conservative.
Muslim extremist attacks in the country in 2003, when suicide bombers targeted Casablanca, led to a silencing of hardliners and greater calls for reform of women's rights. A new family code, the moudawana, adopted in 2004, was designed to give more rights to women, and the 2011 constitution provides for "men and women to enjoy equally the same civil, political, economic, social, cultural and environmental rights and freedom".
"The moudawana was created to give more rights to women, but it isn't the answer to all women's problems," said Jazouani. "The law is not fair from the beginning, there are gaps throughout."
Eric Goldstein, of Human Rights Watch, said: "There are repressive social customs and mores, and there is a police force not trained to deal with domestic violence complaints. The state has to exercise the political will it showed toward reforming the family code to combating domestic violence. There are statistics indicating it is a widespread phenomenon in Morocco."
Experts say that in addition to problems with the legal framework, the interpretation of the law by the judiciary remains a hurdle for women. "The judiciary are a big part of the problem," said Goldstein. "They insist on medical evidence in cases of rape or domestic violence and don't give proper weight to the complainant's testimony."
The Moroccan government has defended the judge in Amina's case. The governing Justice and Development party, which was elected last year, has been heavily criticised for failing to take sanctions against him or Amina's husband, and for failing to appoint women ministers.
"The tone of the debate is particularly sharp now because of the Islamist-led government and fears that it will be hostile to women's rights," said Goldstein.
Jazouani said: "Amina isn't the first one – there have been a lot of women who have killed themselves after being forced to get married. You have to put Amina's case in the context that there is a lot of concern about the status of women in Morocco at the moment, and for good reason."
Source: http://www.guardian.co.uk/world/2012/apr/03/moroccan-teenager-death-women-rights