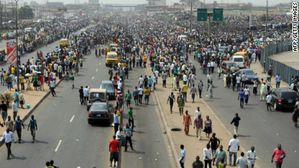 Protests that started over a scrapped fuel subsidy expanded into an outcry against the government's shortcomings as throngs of Nigerians of all classes took to the streets again Thursday.
Businesses including shops, banks and gas stations remained closed. Downtown Lagos, usually jam-packed on a regular day, was a ghost town as tires burned in the middle of empty streets.
In some areas, angry youth manned major highways.
"People of all walks are coming out to protest," said Olumide Adeleye, a Lagos entrepreneur. "There are young people and old people. People parking their Mercedes-Benzs and Land Rovers. People walking bare foot."
The government removed fuel subsidies January 1, doubling gas prices that in turn led to high transportation costs and soaring prices of food and other goods.
The government also faces another crisis -- a wave of religious attacks which has led some to fear that the current anger over fuel prices may set off sectarian violence.
As prices at the pump skyrocketed overnight, Nigerians rallied, accusing their leaders of corruption and squandering oil revenues as a majority of citizens battle grinding poverty.
In solidarity with the protesters, a union representing the oil industry threatened to halt production, which would affect global oil prices.
"Now that the federal government has decided to be callous minded, we hereby direct all production platforms to be on red alert in preparation for total production shutdown," the union PENGASSAN said in a statement.
Nigeria is the world's eighth-largest oil exporter.
"Our leaders don't do most of the things a responsible government should do," Adeleye said. "Frankly, we would pay for that high oil price if the roads were better, if our infrastructure was better. But we can't trust the government ... removing the fuel subsidy is just one of the many ways they have failed us."
Two Nigerian trade unions have accused President Goodluck Jonathan of using "armed thugs" to attack protesters, which the government denied Thursday.
"If these claims are properly investigated, you will find out that failed and bitter politicians have not only hijacked this protest, but have diverted it from a protest against deregulation policy," said Reuben Abati, the government spokesman.
He said negotiations between the labor unions and the government are under way.
The protests -- dubbed "Occupy Nigeria" -- have galvanized the continent's most populous nation. Citizens have harnessed social media to plan rallies and warn demonstrators of dangers at particular protests sites. Others posted private cell phone numbers of government officials and urged fellow Nigerians to call and demand the return of the fuel subsidy.
"In a country with hundreds of distinct ethnic groups and little sense of national identity, citizens rarely rally around a common cause," said Gordon Bottomley, an associate at Ergo, a global intelligence and advisory firm. "The sudden inability to procure fuel for basic needs such as transportation, however, has inspired Nigerians of all stripes to take to the streets en masse."
Most of the demands so far are centered around calls for government accountability and reinstatement of the fuel subsidy, though a few have gone as far as calling for the president's ouster.
"Protesters are not seeking to overthrow the government of President Goodluck Jonathan, not yet anyway," Bottomley said.
Many Nigerians view the subsidy as the only benefit of living in an oil-producing country that has little infrastructure, poor roads, high unemployment and intermittent electric power. The government has said the removal will help free up funds to improve the infrastructure.
But there is a widespread lack of trust in the government to provide the infrastructure -- Nigeria is regularly voted among the most corrupt countries in the world.
"Though we know that in the long run, removal of (the) subsidy will help the economy, for now it is a high-profile lifestyle that is unbearable for most Nigerians, and soon the poorer ones will die out," protester Diane Awunah said.
Much of the country was shut down as the national strike entered its fourth day Thursday. Some stayed home to join the local protests while others feared the violence may escalate.
"People are getting tired, people are getting frustrated because the government has been adamant," Adeleye said. "In the past few days, people were dancing and keeping their spirits up. It was fun ... but people are now getting tired and the level of anger is going up. I just pray that it does not get violent."
He said the frustration is shifting the direction of the protests, which started off with a call for peace.
"People are now advocating violence. The government has to tread carefully. More than 80% of the people don't support subsidy removal," the entrepreneur said.
Clashes have left at least 16 people dead and 205 injured, the Nigerian Red Cross said earlier this week.
Continued anti-Christian violence in the north and a long-simmering separatist movement are among the issues also increasing tensions on the street.
More than 30 Christians died in recent violence in Adamawa, prompting a 24-hour curfew in that northwestern Nigerian state to guard against Christian reprisals, a government chaplain said Saturday.
Boko Haram, a shadowy militant Islamic group that is said to favor strict Sharia law, is frequently blamed for the sectarian violence.
The group claimed responsibility for a series of attacks on churches on Christmas Day and issued an ultimatum earlier this month for the country's minority Christians to leave the mainly Muslim north within days.
Rumors have also swirled that Muslims in the largely Christian and animist south may become the targets of attacks.
The rising tide of violence led Jonathan to declare a partial state of emergency in four northern states two weeks ago.
Corruption, poverty and a lack of government services have helped Boko Haram gain support, especially among young Muslims out of work. So has a perception that the Muslim north has been marginalized by a political establishment drawn largely from the south, the president among them.
Source: http://edition.cnn.com/2012/01/12/world/africa/nigeria-strike/index.html?hpt=iaf_c1