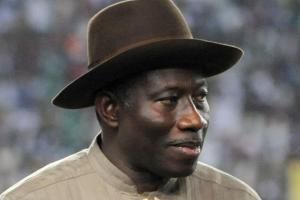 President Goodluck Jonathan took what appeared to be an unassailable lead on Sunday as votes were tallied from around Nigeria, despite a strong showing by rival Muhammadu Buhari in his mainly-Muslim strongholds.
Mr. Buhari, a former military ruler from the arid, dust blown north, was hoping to at least force a second round against Mr. Jonathan, the first head of state from the swamps and creeks of the oil-producing Niger Delta.
But that looked unlikely with a Reuters tally of results from across Africa's most populous nation showing Mr. Jonathan on more than 20 million votes to 10 million for Mr. Buhari. Other candidates were far behind.
Observers called the election the fairest for decades in Nigeria, where rigged polls have been the norm. There were still suspicions of malpractice in some districts, though, and that could inflame tempers after the count.
Mr. Jonathan's officials said there would be no victory claim until results were announced by the Independent National Electoral Commission. They were clearly upbeat.
"This is no time for triumphalism. It is a time for deep reflection, for strengthening the bond of our union and for all of us to work together," Oronto Douglas, a senior advisor to Jonathan, told Reuters.
The president did particularly well in his predominantly Christian south, while Mr. Buhari swept many northern states in the country of 150 million people.
To avoid a run-off, the winner must get a simple majority and at least a quarter of the vote in 24 of the 36 states. Mr. Jonathan already had that margin in enough states.
An outright win for Mr. Jonathan could ease worries over potential disruptions to crude exports from Africa's biggest oil producer and lift local financial markets awaiting the end of a series of elections.
But the voting made clear the challenge of ethnic and religious polarization facing the election winner alongside the need for reforms to Africa's third-biggest economy, held back by poor infrastructure, mismanagement and corruption.
"While a near term relief rally is easily plausible in Nigerian financial markets, the political impetus behind real reform, and the extent to which theses challenges are met head-on, will be the determinant of longer term outcomes," Razia Khan, Standard Chartered's Africa economist, told Reuters.
Heading African Union observers, former Ghanaian President John Kufuor said Nigeria appeared to have ended its reputation for badly flawed elections and could set an example for Africa with at least a dozen more African polls due this year.
"I expect the developments here will have a very positive impact on the continent," he told Reuters.
It was unclear how well a victory for the candidate of the ruling People's Democratic Party (PDP) would go down in the north, buoyed by early results showing Mr. Buhari doing very well and fearful that rigging could deny its candidate the vote.
"Rigging is the stock in trade of the PDP," said Bello Ar-Adam, a representative of Mr. Buhari's Congress for Progressive Change. "A leopard doesn't change its spots," he told Reuters.
Mr. Buhari's support was bolstered by a feeling among many in the north that Jonathan is usurping their right to another four years in power. Jonathan inherited office after his predecessor, northerner Umaru Yar'Adua, died last year in his first term, interrupting a rotation between north and south.
Trouble broke out in pockets of the north late on Saturday as youths feared a plot to tamper with the results.
Police investigated a possible bomb blast at a brothel near a polling station in Kaduna. A PDP official's house was burned down in Azere and in Bauchi a car was set ablaze because it was wrongly thought to be carrying fraudulent ballots.
Some northern voters were resigned and said that at least their votes had been counted this time.
"If it is the people's will, God's will then people must welcome Jonathan without a heavy heart because it was a fair fight," said Mohammed Ibrahim, 33, the driver of a three-wheeler rickshaw taxi in the ancient Islamic city of Kano.
Source: http://www.theglobeandmail.com/news/world/africa-mideast/nigerias-jonathan-set-for-victory-in-election/article1988584/