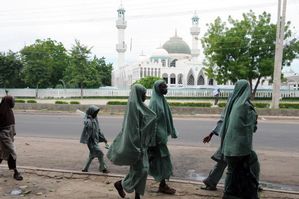 Nigeria's government has in the last week held its first indirect peace talks with Islamist sect Boko Haram, meeting mediators to discuss a possible ceasefire, political and diplomatic sources told Reuters on Thursday.  
Two people close to Boko Haram have been carrying messages back and forth between the sect's self-proclaimed leader Abubakar Shekau and government officials, the sources, who asked not to be named, said.
It was not clear whether any mediators met with President Goodluck Jonathan himself. A presidency spokesman said he could not immediately comment.
Boko Haram has said it wants to impose sharia, or Islamic, law across a country split equally between Christians and Muslims. The group has killed hundreds this year in bomb and gun attacks, mostly in the majority Muslim north of Africa's top oil producer.
"BH (Boko Haram) has mentioned a conditional ceasefire but it wants all its members released from prison. The government sees this as unacceptable but is willing to release foot soldiers," a traditional leader and civil rights activist involved in the talks told Reuters, asking not to be named.
"It is the first time a ceasefire has been mentioned, so it is a massive positive, but given the lack of trust a resolution is still a way off," he added.
Jonathan's national security adviser, General Owoye Andrew Azazi, told Reuters in January that Nigeria was considering making contact with moderate members of the shadowy Boko Haram via "back channels".
  A source at the presidency confirmed that efforts are being made to reach out to the sect's negotiators, but that direct talks had not yet begun. A well-respected Islamic cleric has been contacted to reach out to them, he said.
Shekau has appeared in two video tapes posted on YouTube in January claiming leadership of the sect and making bellicose threats against security forces.
Since then, however, Nigeria's military has made some key arrests and senior members of the sect have been killed, while the sophistication and scale of its attacks have fallen since a wave of deadly strikes from November to January.
Two security sources said one of the people involved in the negotiations was a close ally of Mohammed Yusuf, the founder of Boko Haram who died in police custody in 2009, triggering a widespread violent uprising by the sect. They were both members of a group called the Spring Council of Sharia.
Shekau has not said the group was interested in dialogue in his videos and neither has the group's spokesman, Abu Qaqa, who holds sporadic telephone interviews with local media in the sect's heartland of Maiduguri.
But they have not ruled them out completely either.
DIFFERENT FACTIONS
Jonathan told Reuters in January that the government was open to dialogue but said sect members were hidden and therefore direct talks were unlikely.
He noted that talks to resolve the conflict in the oil producing Niger Delta, that ended with an amnesty in 2009, were different in that officials knew who the militants' leaders were and how to contact them.
  Jonathan had previously drawn fire for treating Boko Haram as a purely security matter, rather than as a problem requiring a political solution that would address northern grievances.
The military's efforts to stem the sect's insurgency have had mixed results in the past, with human rights groups saying heavy-handed tactics have worsened resentment of authorities.
But more recently there have been arrests of senior figures and some have died in clashes with security forces, security sources say. They include Abu Qaqa, Nigeria's secret service have said, although a man claiming to be him phoned journalists to say it was another senior figure.
The security services paraded five suspected members of Boko Haram on Wednesday before the press, who they said were behind the kidnapping of a Briton and Italian in May, adding that the ringleader had died in custody.
The group has not managed to launch a widescale, coordinated attack since one in Kano that killed 186 people in January, reverting to crude bomb attacks and drive by shootings.
"I wouldn't say the back has been broken on Boko Haram but certainly these high profile arrests and deaths will have weakened its position," a foreign security expert in Abuja said.
"The most telling sign is that we haven't seen the more sophisticated, coordinated attacks for some time."
The group's factional nature means it will be difficult to negotiate any ceasefire deal with all elements.
"The difficulty is: who do they actually represent? Boko Haram is a big label for many different command groups. Are they all being represented at these talks or just some of them?" said Peter Sharwood-Smith of security consultants Drum Cussac.
"It's just really hard to know who's who ... and if these talks are going to achieve much."
Shekau is believed to be in command of units carrying out the majority of attacks, most of which occur in the northeast.
"Even though dialogue is going on with just one faction of the group, it looks like the most high profile one," a foreign diplomat specialising in security in northern Nigeria told Reuters.
"Even some sort of peace deal would ease the pressure and allow the military to mop up more of the breakaway groups."
Source: http://af.reuters.com/article/topNews/idAFJOE82E06H20120315?pageNumber=4&virtualBrandChannel=0