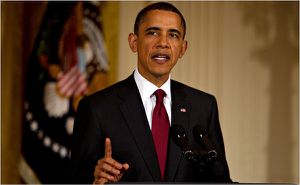 The United States will support efforts for reform across the Middle East and North Africa, including "transitions toward democracy," President Barack Obama said Thursday
In a speech at the U.S. State Department laying out his policies toward the region, the president said he is marking "a new chapter in American diplomacy."
He pointed to recent popular uprisings in Egypt, Tunisia, Libya, Syria, and elsewhere. "The events of the past six months show us that strategies of oppression and strategies of diversion will not work anymore," Obama said.
People in parts of the region "have seized control of their own destiny," he said.
The "shouts of human dignity are being heard," Obama said.
But the president emphasized that the changes under way will take time. "It will be years before this story reaches its end," he said.
Obama said there is a "deepening spiral of division between the United States and the Arab world" that needs to be reversed.
He also accused Iran of hypocrisy for publicly supporting protests in parts of the Arab world after violently cracking down on protests at home.
He mentioned Bahrain, a U.S. ally. But the president made no mention of another key U.S. ally in the region in which some have been trying to launch a fight for greater freedoms: Saudi Arabia.
Obama did not mention many specific proposals. He announced $1 billion in debt forgiveness for Egypt as well as $1 billion in loan guarantees.
He also announced the launch of "a comprehensive trade and investment partnership initiative in the Middle East and North Africa. If you take out oil exports, this region of over 400 million people exports roughly the same amount as Switzerland." The United States will work with the European Union to facilitate more trade in the region, he said.
On Libya, the president said that while the United States can't intervene militarily everywhere, it had to act in Libya to prevent an imminent massacre.
Now "time is working against (Libyan leader Moammar) Gadhafi," he said. When Gadhafi goes, "decades of provocation will come to an end" and a democratic transition can begin, he said.
Some of the speech was devoted to the Israel-Palestinian conflict. "The borders of Israel and Palestine should be based on the 1967 lines with mutually agreed swaps, so that secure and recognized borders are established for both states," the president said.
"The full and phased withdrawal" of Israeli security forces from the West Bank can only be accompanied by proof of a Palestinian state that can prevent attacks against Israel, he said.
Saying the United States will remain a stalwart friend to Israel committed to its security, Obama warned that "technology will make it harder for Israel to defend itself," and that the occupation will have to end for the "dream of a Jewish and democratic state" to be fulfilled.
"The Palestinian people must have the right to govern themselves, and reach their potential, in a sovereign and contiguous state," Obama said.
Three senior administration officials who briefed reporters about the speech in advance on condition of not being identified by name said the speech was designed to serve as an opportunity for the United States to help people in the Middle East-North Africa region gain a say in their future governance through the changes they have launched.
"It's important to note that some of the protests in the region are deeply rooted in a lack of individual opportunity and economic growth, as well as a suppression of political rights," one of the officials said. "We also know from our study of the past that successful transitions to democracy depend in part on strong foundations for prosperity, and that reinforcing economic growth is an important way of reinforcing a democratic transition."
That means that "one of the most important areas for us to focus on is supporting positive economic growth that, again, can incentivize and reinforce those countries that are transitioning to democracy," the official continued, adding that "we see this as a critical window of time for the United States to take some concrete action to demonstrate our commitment to their future and to, again, reinforce their democratic transition with support for a broader base of prosperity."
Thursday's speech came nearly two years after Obama delivered an address in Cairo, the Egyptian capital, that called for "a new beginning" between the United States and the Muslim world.
Now, many in the Middle East and North Africa consider the Cairo speech a collection of lofty ideals that lacked sufficient follow-through, and they have been looking for Obama to signal substantive and concrete policies that support the aspirations of the region's people.
Marwan Muasher, a former Jordanian foreign minister and longtime advocate of Arab reform, said Wednesday that the Middle East is a new environment now, where young men and women are laying their lives on the line for democracy throughout the region. They need to be told their cause is just and how the United States will support them.
If Thursday's address turned out to be "another Cairo speech, forget it," said Muasher, now at the Carnegie Endowment for International Peace. "It was great two years ago, and even then the feedback was mixed, because people wanted to see what he would do. If he doesn't have much to add this time, people will not be fooled by it."
Gigi Ibrahim, a 24-year-old Egyptian activist and blogger, told CNN that Obama's words will have little impact in her country.
"At this point, whatever President Obama will address will really be irrelevant to what the situation is now because we're really building democracy from the bottom up," Ibrahim said, adding that "America is not the model of democracy that we are striving for."
She called U.S. policy on the Middle East "hypocritical" because, she said, the United States "will support a dictatorship if it's aligned with its interests."
That attitude is rife throughout the Middle East and North Africa, noted CNN senior political analyst David Gergen.
With Egypt facing economic crisis, the Libyan conflict at a stalemate, an ongoing harsh crackdown on demonstrators in Syria and the Israeli-Palestinian peace process at a standstill, there is little belief in the region that Obama or the United States can do much to help, Gergen said.
"I think it's going to be very difficult in the near term to generate excitement about his policies in the Middle East," Gergen said.
In an effort to start changing such perceptions, the Obama administration on Wednesday imposed tough sanctions against Syrian President Bashar al-Assad and six other senior Syrian officials in an effort to stop the regime's fierce crackdown on anti-government protests.
The sanctions also target two top Iranian officials whose unit was a "conduit for Iranian material support" to Syrian intelligence, according to a copy of the executive order issued by the White House.
Obama's speech comes in a week when the White House has focused on Middle East issues. He met Tuesday with Jordan's King Abdullah II at the White House, and will meet Friday with Israeli Prime Minister Benjamin Netanyahu.
After his talks with King Abdullah, Obama said it was "more vital than ever that both Israelis and Palestinians find a way to get back to the table and begin negotiating a process whereby they can create ... two states that are living side by side in peace and security."
However, former Sen. George Mitchell unexpectedly submitted his resignation as the president's Mideast envoy Friday, and deadly clashes broke out Sunday between pro-Palestinian protesters and Israeli forces.
Ongoing Israeli settlement construction in the West Bank and Palestinian steps toward a unilateral declaration of statehood have driven the two sides further apart since Obama took office. They have also placed new obstacles in the path of the administration's push for a mutually acceptable two-state solution.
Additional doubts about the viability of the stalled peace process were raised this month in the wake of a formal reconciliation agreement between the two largest Palestinian factions: President Mahmoud Abbas' party, the West Bank-based Fatah; and the Islamist group Hamas, which rules Gaza.
Both Israel and the United States consider Hamas a terrorist organization and have voiced strong opposition to the inclusion of the group in any unity government, demanding that it first renounce violence, recognize the state of Israel and abide by all previous agreements.
Netanyahu has called on the Palestinian Authority to pull out of the deal, saying it jeopardizes prospects for a peace agreement.
The Obama administration has "made it clear that Hamas must stop its outrageous use of terrorism and must recognize Israel's right to exist," White House Press Secretary Jay Carney said Tuesday. "Any participation in a Palestinian government would require that it abides by those standards, in our view."
In other engagement in the region, Obama helped push Egyptian President Hosni Mubarak from office in February and subsequently committed U.S. forces to a NATO air campaign in support of the rebel movement in Libya. The administration has repeatedly called for an end to Gadhafi's nearly 42-year rule.
The White House has been much less vocal, however, in dealing with allies such as Bahrain, a small Persian Gulf state that is home to the U.S. Navy's Fifth Fleet.
Obama did address Bahrain In his speech Thursday, however.
The government of Bahrain "has a legitimate interest in the rule of law," but "mass arrests" and the use of "brute force" cannot be allowed, he said.
Legitimate democratic protesters should not be jailed, he said, adding there needs to be a dialogue.
Source: http://edition.cnn.com/2011/POLITICS/05/19/obama.mideast/index.html?hpt=C1