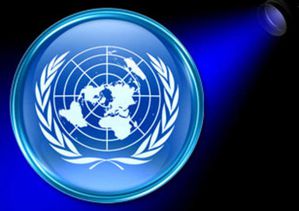 The United Nations marked Human Rights Day today by shining the spotlight on the hundreds of thousands of "largely unsung heroes," the human rights defenders who risk dismissal, harassment, torture, jail and even death for their activities.
"Laws to protect and promote human rights are indispensable," Secretary-General Ban Ki-moon said in a message. "But quite often, progress comes down to people, courageous women and men striving to protect their own rights and the rights of others, determined to make rights real in people's lives.
Diverse in background, sometimes part of a civil society organization, or a journalist or a lone citizen, they all share a commitment to expose wrongdoing and stand up, speak, and today tweet, in the name of freedom and human dignity, he added.
"Far too often, their work entails tremendous risk. Defenders are harassed, stripped of their jobs and wrongfully imprisoned. In many countries, they are tortured, beaten and murdered. Their friends and family members are also subjected to harassment and intimidation," he said, calling on all States to ensure the freedom of expression and freedom of assembly that makes their work possible.
"Let us remember that everyone – no matter their background, training or education – can be a human rights champion. So let us use that power. Let us each be a human rights defender."
It was a plea echoed by UN High Commissioner for Human Rights Navi Pillay. "We can all be human rights defenders, and – given how much we owe to others for the rights many of us now take for granted – we all should be human rights defenders," she said in a message. "At the very least, we should do our utmost to support those who do defend human rights."
She, too, noted that human rights defenders come from all walks of life, "ranging from princesses and politicians, to professionals such as journalists, teachers and doctors, to people with little or no formal education.
"There are no special qualifications. All it takes is commitment, and courage," she said, underscoring the risks they run and citing Russian journalist Anna Politkovskaya, who was murdered outside her apartment in 2006, and Democratic Republic of Congo (DRC) human rights defender Floribert Chebeya Bahizire, who was found dead in his car earlier this year.
"But many of those less well-known defenders who are murdered for their belief in human rights remain unknown to the wider world," she stressed.
"On this Human Rights Day, I call on Governments to acknowledge that criticism is not a crime, and to release all those people who have been detained for peacefully exercising their fundamental freedoms to defend democratic principles and human rights."
General Assembly President Joseph Deiss noted in his message that the 192-member body "strongly benefits" from the work of human rights defenders.
"They bring a grassroots perspective to our debates, they galvanize action, they advance issues and they play a pioneering role; they thus lay the ground for the intergovernmental processes that take place at the General Assembly," he stated.
A group of 55 independent UN independent human rights experts used the Day to call on States to recognize and respond to the continued targeting of rights defenders by non-State actors, which have lead to the deaths of community leaders, lawyers, journalists, women defenders, social activists and many others working to stop discrimination and injustice.
"They do not bear arms, they do not use violence, defenders use only their voices and persistence to challenge injustice peacefully," said Najat Maalla M'jid, Chair of the Committee representing the UN experts. "However, too often it is human rights defenders themselves who require protection from human rights abuses."
In a joint statement to mark the Day, the experts – who report to the Geneva-based UN Human Rights Council in an independent and unpaid capacity – praised all those individuals and organizations that reveal injustice, discrimination and human rights violations that would otherwise remain hidden, stating: "We could not function without them."
Source: http://www.un.org/apps/news/story.asp?NewsID=37015&Cr=human+rights&Cr1