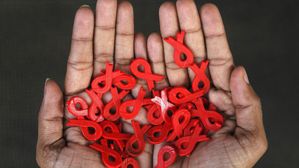 As donor nations prepare to cut levels of overseas assistance, medical agencies and private charities may soon start to lose the race with HIV/Aids in sub-Saharan Africa unless new strategies for prevention and treatment are developed quickly, experts warned on the eve of World Aids Day.
The progress that has been made in tackling Aids in Africa is at risk, shows a bleak report by the US Institute of Medicine. It advocates a greater focus on prevention. Otherwise, the numbers of HIV-positive Africans will continue to explode, reaching 70 million by 2050 if the present trend continues;there are 22.5 million infected today. The report also warns that the HIV-positive population in Africa could rise to 30 million by 2020.
Dr Thomas Quinn, of Johns Hopkins University in Baltimore, and one of the report's authors, says: "The number of people that are infected with HIV/Aids in sub-Saharan Africa is projected to far outstrip the available resources for treatment by 2020. Because treatment will reach only a fraction of those who need it... preventing new infections should be the central tenet of any long term response to HIV/Aids in Africa."
Bono, the U2 front-man whose own contributions to fighting Aids in Africa are well-known, also sounded the alarm while kicking off World Aids Day at the Sydney Opera House last night. The economic recession was undercutting the work of recent years, he said. "Times are hard in the Western world. In recessionary times, people have to tell their politicians this is important to them. Some people think the pandemic is on its way out and it's job done. It is really not so."
The huge growth in levels of spending for overseas medical aid before the recession is spelt out in another report released by the University of Washington. Contributions from developed nations to healthcare programmes in developing countries quadrupled between 1990 and 2010, the report says, in large part because of the growing awareness of the Aids crisis. But that progress is now in jeopardy.
Writing in The Independent today, former President Bill Clinton says it is time to do more with less in Africa if the "dramatic progress" of the past 10 years, fuelled in part by dramatic increases in spending by the US government, is not to be reversed. "We risk losing our momentum unless we find new ways to fill the gaps left by reductions in government spending," he adds. Mr Clinton proposes finding "user-friendly" ways of raising funds through large numbers of small contributions. He cites the levy on airline tickets in France.
Doing more with less, he says, should include ending the duplication of efforts, making the delivery of medicines more efficient and stepping up the distribution of very low-cost medicines to prevent those diseases HIV-positive patients are most prone to develop, such as pneumonia and TB. The seriousness of the challenge is underlined in a report from the charity group, Doctors without Borders, which predicts that its efforts to combat Aids in Africa are being hit hard. "The price of newer medicines we need are increasing rapidly, and donors have decided to retire," says Gilles van Custern, the medical co-ordinator with the group. Its own research suggests that getting the proper anti-retroviral drugs to Aids patients reduces deaths by 68 per cent. Just to keep up, the world needs $20bn in private donations in the next three years, he says. So far, $11bn has been raised.
David Serwadda, of Makerere University in Kampala, Uganda, who is a co-chair of the committee that wrote the Institutes of Medicine report, says that building and sustaining the capacity to deal with education, prevention and treatment remains one of the biggest challenges in Africa, including in his own country.
"Already in Uganda and a few other nations, we don't have enough health care workers or (HIV drugs) to meet demands, and health centres are increasingly turning away patients who need these drugs to survive," he says. "If we don't act to prevent new infections, we will witness an exponential increase in deaths and orphaned children in sub-Saharan Africa in just a couple of decades."
And now the good news... Improving sanitation key to keeping children in school
Thirteen-year-old Auma is a student at Mcedo Beijing School, in Nairobi, Kenya. Last year, she got her period for the first time.
To most Western girls, that rite of passage quickly becomes a normal part of life. But for Auma, growing up was far more complicated. Her family could not afford to buy disposable sanitary pads, which meant that during her periods she had to use pieces of tattered clothes, mattress, and socks. That, in turn, made school attendance far more complicated.
"I was embarrassed because the other kids teased me when this happened," she says. "I used to feel so bad when I missed lessons and catching up was difficult. My self esteem really went down."
With the schooling of girls a key factor in encouraging development, Auma's problem does not just matter for her personally. But now there is a simple solution: reusable sanitary towels. Through a friend, she found out about a company called Huru, which provided a kit consisting of a set of reusable pads, soap, and information about safe sex and HIV/Aids.
Auma does not miss school any more – and she understands how to protect herself. That is hugely important, because 1,000 new HIV infections  a day come in sub-Saharan Africa to children under the age of 15.
"Girls who can stay in school are less vulnerable to HIV/Aids," Eric Goosby, the US Global Aids co-ordinator, says. "Removing a simple obstacle like available sanitary towels makes a huge impact on the risk of girls missing school each month or dropping out altogether."
With 10,000 of the kits distributed so far and more to come, the risks of girls like Auma going down that path are getting lower every day.
Source: http://www.independent.co.uk/news/world/africa/prevention-rather-than-cure-is-the-new-focus-in-africa-as-donors-look-to-cut-aid-2148028.html