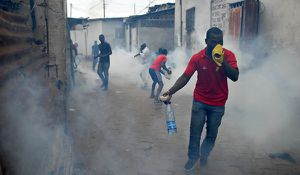 Tear gas fired on hundreds of demonstrators in Togo. Mass arrests of protesters in Guinea. Guerrilla assaults against police officers and soldiers in Ivory Coast. Rock- and bottle-throwing antigovernment militants suppressed with force in Gabon.
It has been a hot summer in the capitals of Africa's west coast. Authority has been challenged — in the streets, by ambush at night, with stones or guns in broad daylight — and the governments have struck back with their customary heavy hand. Regardless of whether those governments are considered legitimate by outside observers and governments, as in the case of Guinea and Ivory Coast, or suspect, as with Togo and Gabon, it has been a summer of siege.
Political evolution on the continent's western side is often a series of eruptions: order appears to be established, and then the volcano explodes again. In Togo and Gabon, the levers of power have long seemed immutable, dominated by the same families for decades. In Guinea and Ivory Coast, both on the mend after years of upheaval, democratic order seemed to arrive at last only recently. But all of these nations bubble with uncertainty beneath the surface. Western donors and officials who visit the West African capitals to offer congratulations on stability — the new World Bank president was in Abidjan, the Ivorian commercial capital, last week — should be warned: their compliments may be premature.
Legitimacy, it turns out, is not conferred from the outside. Witness the disaster of Mali. Its government collapsed like a house of cards earlier this year to the shock of complacent outsiders, who had hailed the country as a democratic exemplar. But it fell to knowing nods from Malians, who had long considered it too corrupt to stand.
All four of this summer's other hot spots illustrate a persistent undercurrent of political life on the continent's west side: where there are internal doubts about legitimacy, stability is an illusion. Protesters and rioters will go into the street, and armed men will carry out nighttime attacks, whether Western embassies approve of the governments in place or not.
Add to this a big dose of income inequality — Africa is woefully lopsided, belying the souped-up African growth rates trumpeted by development banks and publicists — and volatility is all but guaranteed. This year's season of low-intensity political violence has called into question that rosy growth narrative.
Guinea is a particularly troubling example of the region's summer of trouble. In 2010, it managed a legitimate presidential election, its first ever, after more than 50 years of authoritarian oppression. A veteran leader of the opposition, Alpha Condé, a man imprisoned and exiled by the country's longtime tyrants, was elected in a vote judged fair.
And yet late last month, his police officers were rounding up dozens of demonstrators, firing tear gas into the house of a political opponent, shooting live ammunition at protesters in the capital's ramshackle neighborhoods, and beating and arresting them. The United Nations Office of the High Commissioner for Human Rights denounced the "excessive force" used by Mr. Condé's police. In one case, the police fired on a bulletproof car carrying the top opposition leaders, the leaders said.
Mr. Condé's country could no longer be considered exemplary. What happened? The opposition suspects him of wanting to rig much-postponed legislative elections. The machinery of the election, critical in countries with no democratic tradition, was thought to be in the hands of a Condé ally. Memories of ethnic persecution simmered. The election date has been repeatedly pushed back and in place of a Parliament there is a "National Transitional Council," nearly two years after Mr. Condé's election.
The 2010 election that had appeared to bestow legitimacy did so only partly. The underlying problems — weak institutions, ethnic hatred, brutal security forces — were not resolved by the vote. That good-conduct medal granted from the outside had little meaning to the people of a country just nine from the bottom on the United Nations' Human Development Index, where deadly cholera is a regular summer visitor because of the near-total absence of sanitation in the capital's poor districts.
The same questions of internal legitimacy are true in Ivory Coast. President Alassane Ouattara, a former top International Monetary Fund official, won his election legitimately but had to be installed by force, with the aid of the French military, after a short but bloody civil war in which some 3,000 died. Yet nearly half the country voted for Mr. Ouattara's opponent, Laurent Gbagbo, and that half has not forgotten either him or the role of the French in his downfall.
Mr. Gbagbo, who had dug himself in and refused to accept the election result, is in jail awaiting trial for crimes against humanity at the International Criminal Court. Substantial numbers of his fellow citizens agree with neither those accusations nor Mr. Ouattara's right to govern.
Over the last month, attacks on Mr. Ouattara's soldiers and others have killed around 20, sharply rattling a fledgling government that has been piling up congratulatory handshakes for righting what was once the region's strongest economy. On Aug. 16, just outside Abidjan, attackers went after a police station as well as a military camp, killed three civilians and freed dozens of inmates from a prison.
Mr. Ouattara's government blamed what remains of Mr. Gbagbo's political party for the attacks and promptly went about arresting some of its top officials. The party denied it and accused the Ouattara camp of torturing those it had arrested. Outtara officials have labeled the party "terrorists." A national reconciliation commission has been moribund. Whatever his rightful claim to legitimacy in the eyes of outsiders, Mr. Ouattara is still far from a similar standing with many of his countrymen.
Where legitimacy has been questioned from the outset, leaders can expect trouble. That series of events has been playing out for weeks in the small coastal nation of Togo, where antigovernment demonstrators have repeatedly filled the streets of the capital, Lomé. The police fired tear gas at hundreds of them last week, just as they had the week before. As in Guinea, the demonstrators of Save Togo fear that coming parliamentary elections will be rigged. The women of Save Togo have even called for a national sex strike.
The country has been run by the same family for more than 40 years. When the dictator Gen. Gnassingbé Eyadéma died after 38 years in power in 2005, the military put his son Faure Gnassingbé in power. Not surprisingly, he won a dubious election later that year — a victory accompanied by the deaths of nearly 800 protesters and the flight across borders of thousands more, according to Togolese human rights groups — and again in 2010. This year's demonstrators, inspired partly by the Arab Spring, appear to have reason to mistrust elections managed by the ruling clan.
"We're asking for a radical change in our country," said Jil-Benoït Afangbedji, a lawyer who helps run Save Togo. "We want to establish a nation truly founded on laws, one that respects the rights of men."
The protesters are unlikely to force the president from office, said the leading Togolese political scientist, Comi Toulabor. And yet "the government has been weakened" because of them, he said.
In Gabon, the situation is similar: violent protests against a family, the Bongos, that has ruled the small-scale petrostate for more than 40 years. Even if Ali Bongo really won the election to succeed his father in 2009, his legitimacy has been questioned from the start, simply because of his last name. The police broke up a protest spearheaded by a returning opposition leader with tear gas two weeks ago, the most violent outbreak since postelection riots in 2009.
Moreover, the unrest seems unlikely to go away, for a basic reason. "The Togolese are not eating three times a day," Mr. Afangbedji said. "The authorities are deaf to our demands. But we are not going to shut up."
Source: http://www.nytimes.com/2012/09/09/world/africa/summer-of-siege-for-west-africa-as-discontent-shakes-streets.html?pagewanted=2&_r=1&ref=africa