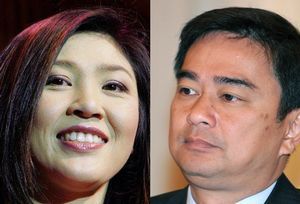 Thailand is readying itself for an election battle that will pitch the incumbent Prime Minister and his party against supporters of a former premier who was ousted in a bloodless coup and whose sister is likely to lead the campaign.
Last week, the country's parliament was dissolved and July 3 fixed as the date for a contest that will come down to a clash between prime minister Abhisit Vejjajiva and exiled businessman Thaksin Shinawatra, who was twice elected premier only to be forced out by the military in 2006. Reports suggest that Mr Thaksin's younger sister, Yingluck Shinawatra, is to be announced as prime ministerial candidate of his Pheu Thai party.
For both sides, everything is to play for. For the British-born, Eton-educated Mr Abhisit, who came to office by a parliamentary vote in 2008, it is an opportunity to finally obtain a popular mandate.
From the perspective of Mr Thaksin, a telecommunications tycoon who currently lives in Dubai, it is the chance to right the wrongs that were done to him and his supporters when he was forced from office.
"[The election] will decide which direction the country is taking, whether to walk ahead or dwell on the conflicts," said Mr Abhisit, as he announced the dissolution of the parliament.
Opinion polls suggest the race between Pheu Thai and Mr Abhisit's Democrat Party will be very tight. A report in the Bangkok Post said a poll carried out by the National Institute of Development Administration found 23 per cent of voters supporting Pheu Thai and around 20 per cent supporting the Democrat Party. Other polls have been even closer. Anywhere between a third and half of voters are apparently undecided.
Most analysts believe neither side will achieve a clear majority and as such, it will be crucial which of the smaller groups the two larger parties are able to draw into a coalition. In such circumstances, the bargaining power of a myriad of smaller parties will soar.
The election is taking place against a backdrop of unyielding polarisation within Thai politics a year after dozens of Red Shirts supporters of Mr Thaksin were killed during a series of protests in Bangkok. Despite calls for reconciliation, Red Shirt supporters have continued to be harried. Earlier this week, a candidate for Pheu Thai, Pracha Prasopdee, was shot and wounded. On Wednesday, several other senior members of the party were sent to jail over amid allegations that had breached rules that prohibit insulting the country's royal family. Activists say the so-called 'lese majeste' law is increasingly being used to target dissidents and political opponents. A leading academic also faces charges.
"The way things are going, this has little chance to meet any definition of a "free and fair" election. Thailand does not have a history of large-scale election fraud; even if they wanted to, I am not at all confident that the generals have the know-how to pull off something like that," said Federico Ferrara, of the University of Hong Kong. "But that doesn't mean that the Democrats do not enjoy a decided advantage as a result of the banning of opposition politicians, control of the state and most media, censorship, threats of further judicial intervention."
In the run-up to the election, Mr Abhisit is hoping that a series of populist measures, hurriedly passed by his cabinet, will be enough to lure voters and give his party its first clear victory at the polls since 1992. Taking a leaf from the actions of his rival Mr Thaksin when he was in office, the prime minister has approved more than £2.7m worth of projects, including help for landless farmers, pay increases for state employees and low-cost loans for housing.
Pheu Thai, whose support is strongest in the north and north-east and among the country's rural poor, is likely to announce that Yingluck Shinawatra, who has minimal political experience, is to be the candidate for prime minister.
"It's a zero-sum game and this election will only heighten the level of confrontation and polarisation," Somjai Phagaphasvivat, a professor of politics and economics at Bangkok's Thammasat University, told Reuters. "Thaksin has promised he will return and his enemies are afraid he will want revenge. They will try to stop him and although the situation will be contained for now, after the election, another face-off is inevitable."
Crucial, will be the role adopted by the army. Thailand has endured at least 18 coups since 1932. Many believe the army, backed by a small establishment of royalists and business elite, will do whatever it can to ensure Mr Thaksin and his party does not return to power.
Giles Ji Ungpakorn, an academic who fled to the UK when he faced lese majeste charges, said recent actions by the military were directly related to the upcoming poll. He said the army had carried out public manouvres, stepped-up fighting on the Thai-Cambodia border and was now pursuing opponents with the threat of imprisonment. "They are trying to create a climate of fear," he said. "They believe that Abhisit, or another civilian politician like him, is their best option."
Source: http://www.independent.co.uk/news/world/asia/thailand-split-as-thaksins-sister-joins-poll-2283370.html