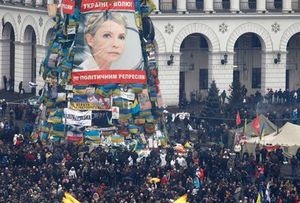 Opposing sides in Ukraine's political struggle saw stunning reversals of fortune on Saturday, with President Viktor Yanukovych forced from office and his rival, Yulia Tymoshenko, freed from prison.
TYMOSHENKO TRIUMPHANT
To shouts of "Yulia! Yulia!" from supporters, and sporting her distinctive blond braid, Tymoshenko was driven out of the hospital in the northeastern city of Kharkiv where she had been held under prison guard while she had treatment for a bad back.
The former Ukrainian prime minister and key player of 2004's Orange Revolution was jailed in 2011 for abuse of office over a natural gas deal with Russia, but her supporters and Western leaders regarded her as a political prisoner. She was freed Saturday after Ukraine's parliament voted to overturn her conviction.
Within hours of her release, the former prime minister was carried in her wheelchair onto a stage on Independence Square, where 82 people were killed this week in the worst violence in more than 22 years of Ukrainian statehood. "You have no right to leave the Maidan [square] … Don't stop yet," Tymoshenko told the crowd, wrapped in a thick anorak as rain fell.
YANUKOVYCH ON THE RUN
Ukraine's parliament voted on Saturday to remove President Viktor Yanukovych.
Yanukovych defiantly declared that he regarded parliament's actions as invalid. "The events witnessed by our country and the whole world are an example of a coup d'etat," he said, comparing it to the rise of the Nazis to power in Germany in the 1930s. He said he had also come under fire. "My car was shot at. I am not afraid. I feel sorrow for my country," he told UBR television.
Only a day earlier, Yanukovych had signed an agreement with protest leaders that cut his powers and called for early elections. Parliament, once controlled by Yanukovych supporters, quickly thereafter voted to decriminalize the abuse-of-office charge for which Tymoshenko was convicted.
The Globe's Paul Waldie and Mark Mackinnon report on Yanukovych's ouster here.
WHERE'S YANUKOVYCH?
Rumours of the fugitive president's whereabouts were swirly wildly on Saturday. Here are some theories:
Crimea: In an interview in what looked like a hotel room, a shell-shocked Yanukovych told Ukrainian television station UBR he had no intention of fleeing the country. Instead, he planned to tour the southeast, a region that includes the autonomous and majority ethnic Russian region of Crimea, home to Russia's Black Sea fleet. If Yanukovych hunkers down there, and vows to fight, it will fuel suspicions of a plot to split the country along its historic linguistic and cultural fault line.
Donetsk: One report had him ejected from a charter flight at Donetsk airport in his native east. Interfax news agency reported, however, that two armed men had tried to bribe border guards to let Yanukovych fly out of Donetsk on a private jet, but were refused. Where was he heading?
Russia: Russia would seem an obvious choice. Yanukovych had done Moscow's bidding in turning his back on a deal to deepen ties with the European Union in November, the spark for a revolt that eventually brought him down. But Russia, uncomfortable with the example being set in its backyard, had hardly disguised its impatience with Yanukovych's inability to extinguish the protests against him.
Belarus: Yanukovych might find he gets a warmer welcome in neighbouring Belarus, where veteran strongman Aleksander Lukashenko took in Kyrgyz leader Kurmanbek Bakiyev after his ouster in 2010.
WHO'S RUNNING UKRAINE NOW?
It's unclear who will fill Ukraine's power vacuum, partly because the parliament adopted a decision on Friday to revert to the 2004 constitution to take away some of the president's powers. He did not sign that measure.
Under the 2004 constitution, the No. 2 is the parliamentary speaker, Oleksander Turchynov, an ally of Yanukovych's bitter enemy, Yulia Tymoshenko.
Under the 1996 constitution, which was revived by Yanukovych in 2010 to strengthen the presidency, the No. 2 was the prime minister. That would mean power lay in the hands of acting Prime Minister Serhiy Arbuzov.
But his government has a very short shelf life under the agreement Yanukovych reached with the opposition on Friday to end three months of protests. Under the agreement, brokered by the European Union, a national unity government is to be formed in about 10 days.
The armed forces made clear they would not intervene on the President's behalf, saying they were "loyal to their constitutional obligations and cannot be pulled into domestic political conflict."
PROTESTERS GAWK AT PRESIDENT'S MANSION
One place Yanukovych definitely wasn't was Mezhyhirya, his luxury estate near Kiev. Hundreds of Ukrainians gathered there Saturday, rubbing their eyes in disbelief when they were confronted by the scale of the opulence he built around him and kept secret from the outside world.
There were Australian and African ostriches, stretching their legs. There were hares darting around people's feet – clearly unused to large numbers. Deer and billy goats – their cages neatly labelled – were hunkered down, slightly alarmed at the numbers of sudden visitors.
All this in a country where the average salary is less than $500 a month.
Few people – apart from Yanukovych's chosen few and family – have visited Mezhyhirya, which has been charted by satellite images that show a helicopter pad and a golf course. Over the years journalists have often tried to penetrate the security cordon – often with unfortunate consequences. "This is a monument to a tyrant which we want to show the people," said Eduard Leonov, a parliamentary deputy from the far-right nationalist Svoboda party.
GLOBAL REACTION
Canada: Foreign Affairs Minister John Baird issued a statement Saturday saying Canada would "continue to monitor the situation closely," but was pleased at the agreement to end violence and Tymoshenko's release. "The unity of the Ukrainian people is fundamental at this juncture. Canada stands firmly behind the people of Ukraine, and we will work tirelessly to help rebuild the country in support of its peaceful, European future."
United States: The White House on Saturday urged Ukraine to move swiftly to form a unity government and help restore order after a spate of deadly violence. "We have consistently advocated a de-escalation of violence, constitutional change, a coalition government, and early elections, and today's developments could move us closer to that goal," White House press secretary Jay Carney said in a statement. "The unshakeable principle guiding events must be that the people of Ukraine determine their own future."
France: French Foreign Minister Laurent Fabius welcomed Tymoshenko's release in a statement to Agence France-Presse. "In the exceptional situation that is the Ukraine, France, alongside its European partners, appeals for the preservation of the unity and integrity of the country and the abandonment of violence."
Source: http://www.theglobeandmail.com/news/world/latest-from-ukraine-day-of-upheaval-leaves-ex-pm-free-president-a-fugitive/article17053764/