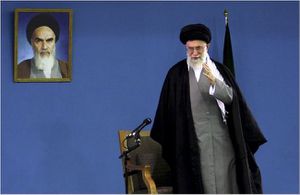 Iran's supreme religious leader, Ayatollah Ali Khamenei, declared that President Obama's new nuclear strategy amounted to "atomic threats against Iranian people," and Iranian state television reported Thursday that the military had begun a large exercise in the Persian Gulf, where the United States and Israel have both increased their presence in recent months.
The ayatollah's statement on Wednesday referred to the section of Mr. Obama's "Nuclear Posture Review" that guaranteed non-nuclear nations that they would never be threatened by a United States nuclear strike — as long as they are in compliance with the Nuclear Nonproliferation Treaty as judged by the United States.
Speaking in Washington on Wednesday, Gary Samore, Mr. Obama's top adviser on unconventional weapons, said the wording of the nuclear review was "deliberately crafted" to exclude Iran and North Korea from the security guarantee, creating an incentive for both countries to come into compliance with the treaty. (While North Korea has conducted two nuclear tests and is believed to have fuel for eight or more weapons, the United States has never acknowledged it as a nuclear-weapons state.)
Mr. Samore insisted that Mr. Obama's decision did not amount to making a nuclear threat against Iran, which many Western countries believe is pursuing a weapon. The policy, Mr. Samore said, referred only to the use of nuclear weapons in the most extreme circumstances, which most experts believe means in retaliation for a strike against the United States or its allies.
Still, Ayatollah Khamenei's statement struck at the heart of one of the criticisms of Mr. Obama's Nuclear Posture Review: That it could give Iran a pretext to argue that it should develop nuclear weapons to defend itself. The ayatollah's remarks suggested that the Iranian leadership regarded the administration policy as a new level of intimidation, or perhaps a justification for pursuing its nuclear program.
"How can the U.S. president make atomic threats against Iranian people?" Ayatollah Khamenei said in a speech to Iranian medical workers, the Fars news agency reported from Tehran. "This threat is a threat against humanity and international peace and no one in the world should dare to articulate such words."
Ayatollah Khamenei said Wednesday that countries that had nuclear ability were themselves "brazenly lying" about their commitment to nonproliferation. He argued that nuclear-armed states sought to keep non-nuclear states from developing such weapons because they did not want competition. "We have repeatedly said that we do not intend to use weapons of mass destruction, but the Iranian people do not surrender to these threats and will force those who make such threats to come to their knees," Ayatollah Khamenei said.
"We will not allow America to renew its hellish dominance over Iran," he added.
To meet the United States' demands, Iran would need to take several important steps, including halting uranium enrichment and allowing broad inspections of the country to ensure that Iran had no secret plants.
The Iranian military defined its military exercise as a three-day naval, ground and air-war game in the Persian Gulf, including the sensitive Strait of Hormuz, a narrow transit way through which a large amount of the world's oil passes.
The deputy chief of Iran's Revolutionary Guards Corps, Brig. Gen. Hussein Salami, said that the exercise, which is being called the Great Prophet 5, was aimed at showing "Iran's strength and will against the threats of the enemies," Fars reported. Iran regularly stages drills to show off its military power.
Iran has refused to suspend its nuclear program despite existing United Nations sanctions and calls by the United States for new, more stringent sanctions.
Iranian officials have floated in recent days the possibility of revisiting a deal to swap a portion of the country's nuclear fuel. The Iranians had agreed in principle to a deal last year that would have allowed the fuel to be converted overseas and then returned in a form that would be difficult to convert for weapons use, but they later renounced the agreement.
While some officials have suggested recently that they might reconsider, they have recently insisted that all the fuel they gave up would have to be stored on Iranian soil. To the Obama administration, the main advantage of the original deal was that it would take the fuel out of Iranian hands for about a year, in the hopes of slowing their program.
The head of Iran's Atomic Energy Organization, Ali Salehi, said Wednesday that Iran would be willing to discuss a deal on the sidelines of a Nuclear Nonproliferation Treaty review meeting in New York, which begins next month, the state-run Press TV reported.
Source: http://www.nytimes.com/2010/04/22/world/middleeast/22iran.html?ref=global-home