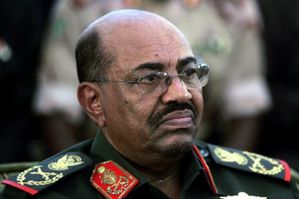 On the international summit circuit, no one can clear a room more quickly than Sudan's president, Omar Hassan al-Bashir.
Leaders have maneuvered to stay out of photographs with him, dashed away from an official lunch to avoid sitting next to him and gone as far as canceling an entire international meeting to keep Mr. Bashir at bay.
The evasions are all part of the diplomatic dance that began a year ago when the International Criminal Court in The Hague issued a global arrest warrant for Mr. Bashir, citing charges of war crimes and crimes against humanity, for his role in the bloodshed in the western Darfur region of Sudan. The warrant, scoffed at by the Sudanese president, has also set off private and not-so-private scoffing at the suspect in various capitals.
The latest snub has come from Paris, which has plainly told Mr. Bashir that he is not on the guest list for the African-French summit meeting in Nice, on the French Riviera, on May 31. "Sudan is invited," a French Foreign Ministry official said, "but President al-Bashir was asked to designate a representative."
This followed an earlier, even stronger French rebuff. The original plan was for the gathering to be held in Sharm el Sheik, an Egyptian resort, but when Egypt's president, Hosni Mubarak, refused to exclude Mr. Bashir, President Nicolas Sarkozy of France said he could not come, thereby sinking the meeting.
The African-French meeting, a biennial event, has special importance this year because more than a dozen African states will be celebrating 50 years of independence. About 45 leaders from Africa and the Middle East are expected in Nice, producing the historical oddity that some former French colonies will now celebrate their independence on the soil of their former colonial master.
"Something like holding American independence festivities on the coast of Britain," said one northern European diplomat.
Mr. Bashir's position remains strong at home in Sudan. He handily won the nation's first multiparty elections in more than 20 years, though the voting was marred by an opposition boycott and reports of intimidation and widespread fraud. But the president's dominance in Sudan may do little to halt his gradual isolation abroad.
"We haven't had the usual 'what happens now' questions from diplomats," said Béatrice Le Fraper, a close adviser to the prosecutor at the court in The Hague, noting that while there had been many questions about the arrest warrant in the past, no one was asking how the elections would affect the arrest warrant.
"There is a change," she said. "Governments realize that the political process does not affect the legal process now under way."
Governments have seemingly stopped trying to undermine this rare warrant for a sitting head of state — Charles Taylor was also indicted while president of Liberia — but there is also broad recognition that Mr. Bashir could play a critical role in carrying out a peaceful referendum next year on independence for southern Sudan. The vote could allow the mostly Christian and animist south to break away from the Muslim north.
Mr. Bashir, a proud man who has defied the court often and loudly, has been acting as if he does not notice the accumulating slights. He has made a point of traveling to friendly countries, including Egypt, Mauritania, Saudi Arabia and Qatar, but he has not been to any of the 111 countries that joined the International Criminal Court, 30 of which are in Africa.
Some of those countries have warded off visits by warning him that, as court members, they are legally bound to arrest him. South Africa dissuaded him from attending last year's inauguration of President Jacob Zuma, and he stayed away from two high-level meetings in Uganda and an African Union conference on Darfur in Nigeria. In March, he did not go to a meeting in Kenya, even though it dealt with the peace agreement between north and south Sudan. He also skipped the climate conference in Copenhagen and last fall's meeting of the United Nations General Assembly in New York.
Other spaces have also appeared to shrink. Turkey, which is not a court member, invited Mr. Bashir to an Islamic bloc summit meeting last year, but after European Union pressure on the Turks, they quietly suggested that he stay away.
On some occasions when he has traveled, his movements have resulted in some quick dodging by his counterparts. At an international meeting in Qatar last year, President Luiz Inácio Lula da Silva of Brazil abruptly left a lunch table when Mr. Bashir arrived late, taking his designated seat next to Mr. da Silva.
At the same meeting, Colombian and Chilean officials sent word that they would not appear in an official group photograph if it included the Sudanese president. Mr. Bashir did not show up for the photo session.
Source: http://www.nytimes.com/2010/05/02/world/africa/02sudan.html?ref=world