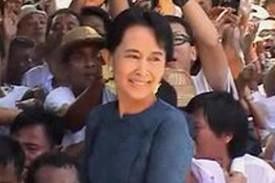 Two months after her release, Burma's most famous dissident is inspiring a shift among protesters
Her release brought joy and a rare glimpse of hope to the long-suffering people of Burma. Now, two months after democracy heroine Aung San Suu Kyi was freed from house arrest, the euphoria has faded, but hope remains.
On the surface, little has changed. After a November election boycotted by Ms Suu Kyi's National League for Democracy (NLD) party and decried as rigged by other oppositionpoliticians, the Burmese junta is pressing ahead with its plans to create a "discipline-flourishing democracy".
A new parliament will convene at the end of January with the ruling generals firmly in control. A quarter of the seats in the two-house Union Parliament are reserved for military nominees. Of the seats contested in the election, 80 per cent went to the junta's proxy, the Union Solidarity and Development Party.
Enriched by rising revenues from gas deals with Thailand and China, the Burmese military's five-decade grip on power appears stronger than ever. Perhaps this confidence led the ruling general, Than Shwe, to release Ms Suu Kyi from house arrest on 13 November, a week after the elections. After a highly charged public address to thousands of her supporters, "The Lady" as 65-year-old Ms Suu Kyi is known, has retreated into her party headquarters to consult with colleagues, activists, diplomats and expert advisers.
To the generals, the situation seems controlled and contained. But young democracy activists insist Ms Suu Kyi's release has motivated a new generation of Burmese to stand up to military oppression. "Before we saw her, we felt directionless and afraid," said Thar Nge, a 27-year-old journalist and community activist in Burma's main city, Rangoon. "Now we have a little more courage. We have learned this from her."
Thar Nge was among 300 young people who met Ms Suu Kyi at her party's offices at the end of December. The Nobel Peace Prize laureate encouraged them to form networks, in communities and online, to improve education and social conditions for the Burmese youth.
But many, including Thar Nge, read more into the message. "We are forming new networks not just for social work but also for our political work," he added. "We were below the surface. Now we are coming back to the surface and are becoming active again. We all want democracy; I think it will happen step by step but finally there will be a revolution."
Facebook pages such as Myanmar Story Teller are evolving from simple social networks into forums for political activism and discussion. The internet played a role in the so-called "Saffron Revolution" of 2007, when monks led tens of thousands of Burmese on to the streets to protest against the junta.
Those demonstrations were crushed, but online videos and accounts of the crackdown played a key role in documenting the violence in a country where traditional media is heavily censored.
And although very few people in impoverished Burma have access to the internet, the innate democracy of such networks makes it difficult to clamp down on them, Thar Nge said. "In networks, everyone has a role, everyone is equal. There are no leaders. It is not easy for the government to break us down."
Ms Suu Kyi's role in this is not clear, other than as a much-needed figurehead for a democracy movement that lost direction during her most recent, seven-year stint during a house arrest that spanned two decades.
"Since she was released, I've seen her three times," said 28-year-old poet and blogger Moe Hlaing Nya. "We don't think the situation depends only on her, we know we have to work by ourselves. But now we have seen her we are inspired again. Now all the young people are behind her." Ms Suu Kyi is also working through more traditional means. Efforts are being made to overturn a ban on the NLD, which was forced to disband officially when it boycotted last year's election. The party said the poll could not be considered fair or free while its leader and more than 2,000 other political prisoners remained behind bars. Lawyers are preparing an appeal to overturn a court ruling that enforced the party's dissolution. Last November a similar appeal was dismissed.
And the containment of Ms Suu Kyi that the generals banked on may not last long. In the coming weeks, she plans to head upcountry on a tour of the ethnic minority areas close to the Thai border, where armed groups have been battling the government since Burma won independence from Britain in 1948. Thousands of supporters are expected to turn out to see her, and such a roadshow – particularly in those areas hostile to military rule – would displease the regime. Any perceived misdemeanour on the part of Ms Suu Kyi may prompt her re-arrest.
The last time she was released, in 2002, Ms Suu Kyi and her party travelled to the country. In May 2003, in the northern town of Depayin, her convoy was attacked by government mobs and more than 70 of her supporters were killed. The authorities then detained her again, "for her own protection".
Thar Nge said: "If she goes on a tour, I want to follow her, both as a supporter and as a witness. If they try to harm her again, I will tell the world what happened."
Wooing the rebels – after a broken promise
Aung San Suu Kyi hopes to visit the Karen, Shan and Mon ethnic minority groups, elements of which have been battling the junta for decades. The Karen have been fighting since Burma gained independence in 1948.
Her visit upcountry would not be without its complications. While the beleaguered Karen – whose fighters have lost control of vast swaths of territory – support Ms Suu Kyi and campaign for democratic change, they do not feel the same way about her late father.
General Aung San, the national independence hero, initially fought for the Japanese against the British, which were backed by Karen fighters. When the general took power, he did not grant the group the autonomy they were promised by the colonial rulers.
In Karen territory inside Burma and in the refugee camps along the Thai border where up to 145,000 displaced Burmese live, you will hear harsh words spoken of the general. But with Burmese troops accused of rape and torture as they push ever deeper into Karen territory, the group have adopted the pragmatic position of supporting their enemy's opponent. Senior aides to Ms Suu Kyi say she will be warmly welcomed if the generals allow her to visit.
By Andrew Buncombe
Source: http://www.independent.co.uk/news/world/asia/the-suu-kyi-effect-a-new-age-of-quiet-defiance-2184290.html