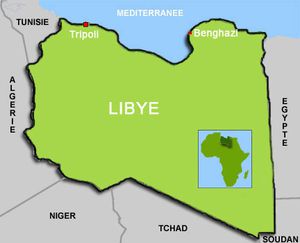 French, British and American military forces made good Saturday on international warnings to Libyan leader Moammar Gadhafi, using fighter jets and cruise missiles to hammer military positions in the first phase of an operation that will include enforcement of a no-fly zone.
More than 110 Tomahawk missiles fired from American and British ships and submarines hit about 20 Libyan air and missile defense targets, U.S. Vice Adm. William Gortney said at a Pentagon briefing.
 The U.S. will conduct a damage assessment of the sites, which include SA-5 missiles and communications facilities.
 The salvo, in an operation dubbed "Odyssey Dawn," was meant "to deny the Libyan regime from using force against its own people," said Gortney, who declined to detail future operations.
 Earlier, French fighter jets deployed over Libya fired at a military vehicle Saturday, the country's first strike against Gadhafi's military forces, which earlier attacked the rebel stronghold of Benghazi.
Prime Minister David Cameron said late Saturday that British forces also are in action over Libya. "What we are doing is necessary, it is legal and it is right," he said. "I believe we should not stand aside while this dictator murders his own people."
While there were no U.S. warplanes flying over Libya late Saturday, the allies were preparing for enforcement of a no-fly zone, Gortney said.
A Libyan government spokesman said Saturday that instead of sending international observers to witness a cease-fire, the coalition of international allies chose military aggression.
Air attacks on several locations in Tripoli and Misrata have caused "real harm" to civilians, the spokesman said.
"I am very sorry and saddened that my country is facing a barbaric and armed attack," he said, adding that "this aggression will not weaken our spirits."
Shortly after the first missile attacks, U.S. President Barack Obama informed the American people of the efforts by a "broad coalition."
"The use of force is not our first choice," the president said from Brasilia, Brazil. "It is not a choice I make lightly. But we cannot stand idly by when a tyrant tells his own people that there will be no mercy."
Obama reiterated that the Pentagon has no plans to deploy ground forces in Libya.
Obama is planning for the U.S. portion of the military action in Libya to only last for a few days, according to a senior administration official.
"In terms of the heavy kinetic portion of this military action, the president envisions it as lasting days, not weeks," the senior official said. "After that we'll take more of a supporting role."
Coalition partners say Gadhafi has failed to adhere to a United Nations resolution that imposed the no-fly zone and ordered him to stop attacks on civilians.
"He's clearly been on the offensive," a senior U.S. military official said of Gadhafi. "He said that he was going to do a cease-fire and he continued to move his forces into Benghazi."
A Libyan army spokesman said on state TV that "the crusader army has bombed fuel tanks."
The international show of force is much welcomed by besieged rebel forces who have called for backup to help them stave off a government offensive against their positions in Benghazi and other rebel-held enclaves.
An opposition spokesman in Benghazi said Gadhafi forces that assaulted the city earlier Saturday are now positioned outside the town. However, the forces are preparing for more attacks.
Earlier Saturday, Gadhafi issued defiant messages to international powers.
"I have all the Libyan people with me and I'm prepared to die. And they are prepared to die for me. Men, women and even children," Gadhafi said in a letter addressed to Obama and read to reporters by a government spokesman in Tripoli.
Obama, Secretary of State Hillary Clinton and Gortney used the term "unique capabilities" to describe the U.S. part of the coalition effort. Officials have said American military forces are meant to augment Arab, European and other Western troops -- but not take a lead role.
The French Defense Ministry said its attack aircraft being used to take out tanks and artillery have deemed Benghazi and the surrounding area an "exclusion zone."
The French are using surveillance aircraft and two frigates in the operation to protect civilians. The aircraft carrier Charles De Gaulle will soon depart Toulon, France.
"Our air force will oppose any aggression by Colonel Gadhafi against the population of Benghazi," said French President Nicolas Sarkozy, speaking after an international, top-level meeting in Paris over the Libyan crisis.
"As of now, our aircraft are preventing planes from attacking the town," he said, calling the intervention a "grave decision."
Canada will be one of four principal partners helping to enforce the no-fly zone over Libya. Six Canadian CF-18 fighter jets are en route to an Italian base in Sicily and the HMCS Charlottetown will be in position to help with the naval blockade against Libya.
"America has unique capabilities, and we will bring them to bear to help our European and Canadian allies and Arab partners to stop further violence against civilians including through the effective implementation of a no-fly zone," Clinton said.
Sarkozy said Gadhafi still has time to stop its activities. As of Friday, France, Britain, the United States and Arab League nations passed along a warning for Gadhafi to stop his operations immediately.
But "Gadhafi has totally ignored the warning" and "in the last few hours his forces have stepped up their deadly offenses," Sarkozy said.
The international coalition meeting in Paris -- which included Western and Arab partners -- focused on how to take on a Libyan government bent on destroying the fledgling opposition movement under the U.N. resolution authorizing force to protect civilians against the Gadhafi government.
Herman Van Rompuy, president of the European Council, said the European Union is ready to give a "new Libya" economic help and aid in building new institutions.
In Rome, Italian Prime Minister Silvio Berlusconi's office confirmed to CNN that Berlusconi has proposed the use of the NATO base in southern Italy as a command center for allied action in Libya.
After Gadhafi forces earlier Saturday assaulted Benghazi, the opposition said the military repositioned itself far outside the city.
Earlier Saturday, incoming artillery rounds landed inside the city, and pro-Gadhafi tanks rolled into the town firing rounds, witnesses said. Plumes of smoke rose in Benghazi as civilians said buildings came under small arms fire. Many fled their homes in fear of a full-blown assault there.
A flaming fighter jet plummeted from the sky, nose-diving to the ground. Khaled el-Sayeh, the opposition military spokesman, said the plane was an old MiG-23 that belonged to the rebels.
As night fell over Benghazi on Saturday, the city became quiet and calm. While plumes of smoke could be spotted, the pro-Gadhafi tanks seen earlier were not in sight. El-Sayeh told CNN that "tens" have been killed in Benghazi on Saturday and opposition forces found 13 men clad in Libyan military uniforms bound and executed in a building that had been used by pro-Gadhafi forces to launch artillery assaults.
He said Gadhafi forces have withdrawn from the city and that they are now positioned 50 kilometers (31 miles) outside Benghazi on the road east to Ajdabiya. CNN could not independently verify those details.
In western Libya, pro-Gadhafi forces subjected the city of Misrata to heavy shelling, an opposition member said.
In Tripoli, Gadhafi's supporters took to the streets.
Libyan state TV now showed images of pro-Gadhafi demonstrations, and broadcast pictures of fireworks by pro-Gadhafi demonstrators over the Libyan leader's military compound in Tripoli. On the streets in Tripoli, people were waving green Libyan flags and singing pro-Gadhafi songs.
Fighting has raged in Libya over the last day despite the government's announcement of an "immediate" cease-fire on Friday.
The declaration -- which came hours after the U.N. Security Council resolution authorized the use of force, including the no-fly zone -- was seen by rebels as simply a move to buy itself time.
Gadhafi -- in a separate letter addressed to Sarkozy, Cameron and U.N. Secretary-General Ban Ki-moon -- called the U.N. moves "invalid" because the resolution does not permit intervention in the internal affairs of other countries.
"Libya is not yours. Libya is for all Libyans," said the letter, also read by the spokesman. "You will regret it if you take a step toward intervening in our internal affairs.
"It is not your country. We could never and would never fire one bullet against our people," the letter said.
Violence has raged in Libya following protests calling for democracy and freedom and demanding an end to Gadhafi's almost 42-year-long rule. It's a conflict spurred by anti-government protest and resulting regime violence against civilians -- which the U.N. resolution cites as "outrageous" and Sarkozy calls "murderous madness."
But Gadhafi defended his actions in his note to Obama. He said his opponents are from al Qaeda in the Islamic Maghreb, the group's North African wing, and asked Obama what he would do if such an armed movement controlled American cities.
"Tell me, how would you behave so I could follow your example?"
Source: http://edition.cnn.com/2011/WORLD/africa/03/19/libya.civil.war/index.html?hpt=T1