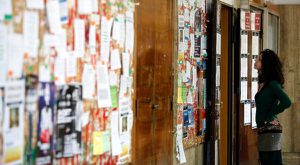 Unemployment in the euro zone has risen to its highest level since the introduction of the common currency even as inflation climbed, economic reports showed Thursday, underscoring the challenge facing European finance officials as they met in Brussels.
The jobless rate in the 17 euro nations rose in January to 10.7 percent from 10.6 percent in December reaching the highest level since the introduction of the euro in 1999, Eurostat, the statistical agency of the European Union, reported from Luxembourg. Flagging economies like Italy and Greece were responsible for much of the increase.
For all 27 European Union countries, the jobless rate ticked up to 10.1 percent in January from 10.0 percent in December, Eurostat said, with a total of 24.3 million men and women out of work.
Eurostat also reported that euro zone inflation edged up in February to 2.7 percent, from 2.6 percent in January. The European Central Bank tries to hold increases in the general level of prices to just under 2 percent; it has not met that target for 15 consecutive months.
The data were released as European finance officials were meeting in Brussels to discuss measures aimed at putting the region's economy back on firm footing.
Eurostat did not provide a breakdown of the inflation data in the preliminary report, but Ben May, an economist with Capital Economics, attributed the increase to rising energy prices. Mr. May noted in a report that euro zone inflation "has recently slowed less sharply than that in the U.K. and U.S., perhaps suggesting that the economic slowdown is not having quite the downward influence that we anticipated."
The E.C.B. has lent banks about €1 trillion , or $1.3 trillion in three-year loans at a 1 percent interest rate over the last few months. That, along with money-printing by other major central banks, has renewed fears in some quarters that the money supply may be growing too rapidly, with a potential for higher inflation.
But the global monetary authorities have been largely in agreement that deflationary pressure from declining real estate prices and deleveraging by households and financial institutions is the greater danger.
The unemployment rate in Europe remains higher than that in the United States, where the rate was at 8.3 percent in January, and in Japan, where it was 4.6 percent in December.
European countries nonetheless diverge widely: Spain again topped the list with a 23.3 percent jobless rate, followed by Greece, at 19.9 percent in November. That compares with just 4.0 percent unemployment in Austria and 5.0 percent in the Netherlands.
And in Germany, where the seasonally adjusted jobless rate stood at 6.8 percent in February, the job market is the strongest it has been in years.
"The labor market data is interesting mainly for the divergence across regions," Ken Wattret, chief euro zone economist at BNP Paribas, said bv telephone from London. "It looks like unemployment is improving in the United States while Europe is getting worse."
"It's unlikely to be temporary," Mr. Wattret said.
He said there were grounds for optimism in a report on European manufacturing released Thursday. An index of euro zone purchasing managers compiled by Markit Economics, a financial data firm, rose to 49.0, a six-month, from 48.8 in January.
Mr. Wattret said that while a number below 50 suggests the sector was continuing to contract in February, "if you look at the underlying momentum, I think it will rise further."
"I think we're in one of those phases where manufacturing is improving globally," Mr. Wattret said, noting some signs of improvement in the United States. "But Europe typically lags."
"Don't get carried away," he added, noting that for 2012 the euro zone would show, "at best, a negligible growth rate, but compared with where we were in October-November" — amid fears of a euro collapse — "that would be a pretty good outcome."
Source: http://www.nytimes.com/2012/03/02/business/global/unemployment-and-inflation-rise-in-euro-zone.html?ref=global-home