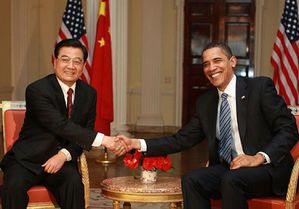 Chinese President Hu Jintao has acknowledged that "a lot still needs to be done" in China over human rights.
Mr Hu was speaking at a rare joint news conference with US President Barack Obama on the first full day of his state visit to the US.
Asked to justify China's human rights record, Mr Hu said China had "made enormous progress recognized in the world".
Mr Obama said he saw China's "peaceful rise" as good for the United States.
"The US has an interest in seeing hundreds of millions of people lifted out of poverty," Mr Obama said.
Mr Hu has arrived at the White House for a star-studded state dinner, and was ushered into the building by Mr Obama and First Lady Michelle Obama.
The opulent affair came following a long day of meetings and a press conference, at which the US president hailed relations with China and said the two countries had a huge stake in each other's success.
At a White House ceremony in the morning to greet Mr Hu, Mr Obama said the US and China would be more prosperous and secure when they worked together.
Mr Hu said co-operation should be based on mutual respect, and they should respect each other's development paths.
The two leaders' talks at the White House tackled issues from currency and trade to defence and security.
US officials revealed that a $45bn (£28bn) export deal had been signed with China, including Beijing's $19bn purchase of 200 Boeing aircraft.
Mr Obama said the deals would help create more than 200,000 jobs in the US.
'Source of tension'
Mr Obama admitted that differences on human rights issues were "occasionally a source of tension" between the US and China.
"I believe part of justice and part of human rights is people being able to make a living and having enough to eat and having shelter and having electricity," he said.
"We welcome China's rights.
"We just want to make sure that [its] rise occurs in a way that reinforces international norms, international rules, and enhances security and peace as opposed to it being a source of conflict either in the region or around the world."
Mr Obama said that although the two nations may demonstrate differences when it comes to these issues, it does not prevent them from co-operating in other "crucial areas".
Mr Hu said China was willing to continue a conversation about human rights on the basis of mutual respect and non-interference in China's internal affairs.
"China is a developing country with a huge population and also a developing country in a crucial stage of reform," the Chinese president and Communist Party leader said.
Mr Hu added that China "faces many challenges in social and economic development. A lot still needs to be done in China on human rights."
Mr Hu at one point did not respond to an American reporter's question about human rights issues, saying later that difficulties in translation and technical equipment caused the error.
Mr Obama said earlier on Wednesday that Mr Hu's trip to the US was the basis for the next 30 years of ties between the two nations.
The two presidents promised to co-operate in their dispute over China's currency, the yuan, which the US says is kept artificially low to help Chinese exporters.
Mr Obama said the yuan's value must be driven by the market, and that there needed to be a level playing field in trade.
Mr Obama said China was a top market for American exports, supporting nearly a half a million US jobs, adding that it was important for the two nations to co-operate while remaining competitive.
During the ceremony on Wednesday morning, Mr Obama cited President Jimmy Carter's meeting with Chinese leader Deng Xiao Ping in 1979 which normalised relations between the two countries, frozen for the previous 30 years.
The White House is laying out a full formal reception with lunch at the state department, a state dinner at the White House, and meetings with some of America's most powerful business leaders from firms like General Electric, Coca-cola and Boeing.
Former Secretary of State Henry Kissinger, who was a guest at the lunch and state dinner, told the BBC's Newsnight programme: "America has to live with the China that exists.
"Whether we have to be afraid of it or not, will depend on the politics that we both pursue."
The Chinese president's visit is likely to be Mr Hu's last state trip to the US before a handover of power is completed in China in 2013.
Later in the week, Mr Hu is expected to travel to Chicago, where some predict he will sign a series of trade and investment agreements.
The US is encouraging China to buy tens of billions of dollars of aircraft, car parts, agricultural goods and beef.
Trade between the US and China is worth $400bn, up from $100m 30 years ago, when the US last formalised relations with the communist state.
China also holds the world's largest foreign currency reserves at $2.85tn and a major share of US government debt.