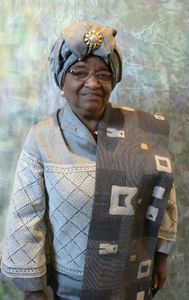 Two powerful women standing side-by-side in Liberia's capital place their faith for a better future in the country's women.
Both overcame formidable cultural barriers; both were jailed by previous rulers, but neither was deterred.
Ellen Johnson-Sirleaf, the first female elected president in Africa, and former Chilean President Michelle Bachelet, the first female elected to the top office in her country, were sharing center stage during events in Liberia to mark the 100th anniversary of International Women's Day.
Liberian women are tackling discrimination and a legacy of abuse with the help of U.N. Women -- the organization now headed by Bachelet that is dedicated to gender equality and empowering women.
"All over the world women have a lot of difficulties," Bachelet said, "but in Africa we are dealing with women who have been a victim of war through rape and sexual violence. Secondly, in Africa are a lot of post-conflict countries and we need to support their efforts to promote peace."
Aware of how fragile that peace is, Sirleaf's first remarks to a crowd of about 3,000 on International Women's Day were about the violence that persists in Ivory Coast following disputed elections there.
"Let's take a moment of silence for our sisters and brothers in Cote d'Ivoire," she said.
Recent images of women brutally slaughtered in Ivory Coast resonate with Liberians. During the country's 14 years of civil war, which ended in 2003, women were routinely targeted.
Jerome Verdier, chairman of Liberia's Truth and Reconciliation Commission, said rape was used by every fighting faction as a tactic of war.
Eight years after that conflict ended and rape remains the top crime in Liberia.
"Rape is the number one reported crime surpassing armed robbery," said Christiana Tah, Liberia's Minister of Justice. Tah added that 40 percent of the reported victims are under age 12.
"We think that the whole problem has been accelerated and exacerbated by the experiences that our people, especially the young men, have had during the war," Tah said.
In an effort to combat the current problem, Sirleaf's administration set up a special court to prosecute rape.
But due to a backlog of cases and only one judge for the special rape court in Monrovia, Tah said hundreds of accused rapists are set free without facing a trial because of time limits on pre-trial detention.
Bachelet visited a Peace Hut in the rural community of Totota. The U.N. initiative is based on the Palava Hut system of community justice that has long existed in Liberia and is one of the schemes aimed at tackling the issues of impunity.
Historically, village elders would gather beneath the thatch-roof huts to discuss and resolve community disputes. The Peace Huts similarly act as community courts but are made up of an organized, mostly-female team with some male community elders.
Bachelet watched a domestic abuse case in which the husband was accused of hitting his young wife. The community sentenced him to one night in jail. The case was heard and a sentence handed down in less than 20 minutes.
Women in the Peace Hut said they liked settling their disputes quickly and it helped create a peaceful community. Peace Huts do not, however, address rape or murder cases
Bachelet said there are eight Peace Huts in the country and the U.N. Foundation plans to expand the model to other areas.
"Small, Small" is an expression many Liberians use, referring to the small steps they must make for such progress.
The Liberian women at the Peace Hut told Bachelet they are suffering economically and that "small small" is not enough. Liberia's unemployment rate was estimated at around 80 percent in 2008 and almost two-thirds of people lived on a dollar a day, according to U.N. figures.
During the war, many schools were destroyed. Today, the government boasts of new schools, but even in the capital, about 40 percent of girls still are not going to school, according to the U.N. Foundation.
"The biggest challenge is education for women and it is the biggest tool for empowerment, and that's what we are trying to address," said Sirleaf.
Among new initiatives that Bachelet's team spoke of is a program called "Girl Up," whose mission is to get UN agencies to partner with local programs helping adolescent girls, an age group that's considered important in building strong communities.
While the road ahead is long, Liberia's women have a record of making change happen. It was their peaceful protests and sit-ins which helped forge the peace agreement that finally ended Liberia's 14 years of civil war.
In Bachelet's words, "It's a very important symbol for all the world to see how women can be in a very bad situation but can also have a lot of hope."
Source: http://edition.cnn.com/2011/WORLD/africa/03/10/liberia.women/index.html