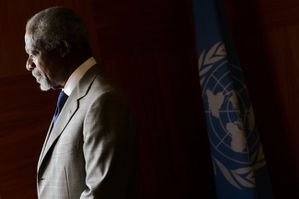 Frustrated by the seemingly intractable Syrian conflict, Kofi Annan announced his resignation on Thursday as the special peace envoy of the United Nations and the Arab League, throwing new doubts on whether a diplomatic solution is possible. He also said President Bashar al-Assad of Syria "must leave office."
In an announcement tinged with bitterness and regret, Mr. Annan tied his decision to what he described as Syrian government intransigence, increasing militance by Syrian rebels and the failure of a divided Security Council to rally forcefully behind his efforts.
"I accepted this task, which some called 'Mission: Impossible,' for I believed it was a sacred duty to do whatever was in my power to help the Syrian people find a peaceful solution to this bloody conflict," Mr. Annan said at a news conference at the Geneva offices of the United Nations.
But, he said, "without serious, purposeful and united international pressure, including from the powers of the region, it is impossible for me, or anyone, to compel the Syrian government in the first place, and also the opposition, to take the steps necessary to begin a political process."
Mr. Annan also was critical of what he called "finger-pointing and name-calling in the Security Council."
The announcement was coupled with an opinion article Mr. Annan wrote that was posted Thursday on the Web site of The Financial Times and headlined "My Departing Advice on How to Save Syria." In the article, he castigated all parties in the conflict but appeared to reserve particular criticism for the Syrian government, which he described as "40 years of dictatorship."
"It is clear that President Bashar al-Assad must leave office," Mr. Annan wrote. "The greater focus, however, must be on measures and structures to secure a peaceful long-term transition to avoid a chaotic collapse."
Diplomats and Syria political experts said they were not surprised at Mr. Annan's resignation. Some wondered why it had taken him this long, given the rising levels of violence and refusal of Mr. Assad and his antagonists to negotiate, making Mr. Annan's peace plan seem increasingly irrelevant.
"Bottom line on Kofi's mission. D.O.A. from the get-go," Aaron David Miller, a Middle East scholar at the Wilson Center, a research group in Washington, said in an e-mail. "Too much blood spilled for a  negotiated settlement between the Assads and the rebels, and not enough for foreign intervention to pressure the Assads to leave."
Ban Ki-moon, the United Nations secretary general, said in an announcement that the search was on for a successor to Mr. Annan, who will serve until the end of August, when his mandate expires.
It was unclear what the resignation might mean for the United Nations observer mission in Syria, which was sent there by the Security Council as part of Mr. Annan's peace plan and suspended most work in mid-June because of the violence. The observer mission's mandate expires on Aug. 19.
Gérard Araud, France's ambassador to the United Nations and the president of the Security Council, said he did not believe it would renew the mandate. But later in the day he softened his remarks, saying he could not rule out an extension.
Mr. Annan, one of the world's most experienced diplomats, would not speculate on who might replace him but sought to counter suggestions that with his departure, the peace effort was over.
"Let me say that the world is full of crazy people like me, so don't be surprised if someone else decides to take it on," Mr. Annan told reporters in Geneva.
It was no secret that Mr. Annan had grown increasingly flustered over his failure to achieve even a basic cease-fire in the conflict, which began 17 months ago as a peaceful uprising against Mr. Assad and has now escalated into civil war.
A Nobel Peace Prize winner and former United Nations secretary general, Mr. Annan, 74, agreed in February to act as a special representative for both the United Nations and the Arab League to negotiate a peace plan. He received unanimous backing from the Security Council.
He negotiated a six-point proposal that called for the Syrian government to withdraw its heavy weapons and troops from populated areas and for anti-Assad fighters to put down their guns. Other provisions included a process for a political transition that, in theory at least, would have replaced Mr. Assad, a member of Syria's Alawite minority whose family has dominated politics for four decades.
Despite a pledge from Mr. Assad on March 27 to abide by the peace plan, the Syrian government never put it in place. Mr. Assad's opponents, concluding that he had no intention of honoring his commitments, did not lay down their weapons, either.
Although the Security Council supported Mr. Annan's efforts, two permanent members, Russia and China, blocked any additional coercive measures that they feared could lead to a change of government imposed by outside powers, foreign military intervention, or both.
Their actions led to bitter recriminations on the council, pitting Russia and China against the United States, Britain and France, the three other permanent members, which had been pressing for more forceful action.
Mr. Ban noted in his statement that the Security Council's own divisions "have themselves become an obstacle to diplomacy, making the work of any mediator vastly more difficult."
Word of Mr. Annan's resignation came as the United Nations General Assembly was preparing to vote on a resolution drafted by Saudi Arabia that demands compliance by the Syrian government with his plan.
But the General Assembly resolution, scheduled for a vote on Friday, does not have the enforcement power of a Security Council measure, and has been viewed as a symbolic effort to embarrass Syria and its backers.
Major powers expressed regret over Mr. Annan's resignation and acknowledged the difficulties of his assignment, but in doing so they appeared to commit the kind of blame-laying he cited as one reason for quitting.
Jay Carney, the White House spokesman, said Mr. Annan's resignation "highlights the failure in the United Nations Security Council of Russia and China to support meaningful resolutions against Assad that would hold Assad accountable for his failure to abide by the Annan plan."
Russian news agencies quoted President Vladimir V. Putin as calling Mr. Annan a "very respectable person, a brilliant diplomat and a very decent man, so it's really a shame." At the same time, Russia's United Nations ambassador, Vitaly I. Churkin, said Russia opposed the General Assembly resolution on Syria, calling it unfairly biased against the Syrian government.
There was no immediate reaction to Mr. Annan's departure from Mr. Assad or the array of Syrian opposition groups, some of which have long expressed doubts about Mr. Annan's efforts.
But Louay Hussein, a Syrian writer and opposition activist, said in an e-mail: "The responsibility of the failure of Mr. Annan in his mission is the responsibility of the international community, and not the Syrian parties to the conflict. It will have very negative consequences on the armed conflict in the country."
Source: http://www.nytimes.com/2012/08/03/world/middleeast/annan-resigns-as-syria-peace-envoy.html?pagewanted=2&_r=1&ref=global-home