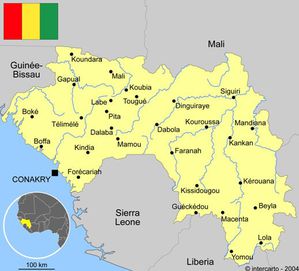 Failure by Guinea's politicians to reach agreement for a long-delayed legislative poll is stirring up tribal violence, jeopardizing economic gains and raising fears that the military could once again step in.
The election, first scheduled for 2011, is meant to complete a transition to civilian rule after a military coup in 2008, but has been postponed several times as government and opposition parties remain at loggerheads over the organization of the vote.
At least 12 people have been killed and over 300 wounded between February and April during several days of violent clashes between opposition supporters, government loyalists and security forces in the seaside capital Conakry.
The government and its opponents have traded accusations of stirring hatred between the largely pro-opposition Peul, who account for around 40 percent of the population, and the smaller Malinke tribe loyal to President Alpha Conde.
"The risks for Guinea are enormous," said Christopher Fomunyoh, Africa regional director for Washington-based think tank National Democratic Institute (NDI).
"The ethnic undertones to the political debate in Guinea are growing increasingly polarizing."
For some, like 24-year-old car mechanic Abdoulaye Jibril Sow, the risks are already reality. In early March he arrived at his home in Bambeto, an opposition stronghold, when a bullet ricocheted off a wall, sliced through his neck and exited through his left shoulder blade.
Sow did not see who fired the shot, which paralyzed his arm, nor who shot dead a 16-year-old neighbor the same night during an attack on the poor Peul neighborhood by Malinke tribesmen.
"All I am asking for is that the opposition and those in power reach an agreement so that the youth of this country should not continue to pay the price of this violence," Sow said, wincing as he tried to sit up.
The international community is working hard to bring the parties to the negotiating table, worried that Guinea's collapse could suck in neighbors Ivory Coast, Liberia, Sierra Leone and Mali, themselves struggling to recover after civil conflicts.
VOTE-RIGGING ALLEGATIONS
Hopes of a compromise waned when the government said this month it would press ahead with the elections on June 30, disregarding opposition objections.
The opposition has demanded South African firm Waymark be stripped of a contract to revise the voter list. They say Waymark, which was hired in between the two rounds of the 2010 presidential election, when Conde's vote climbed from just over 18 percent to nearly 53 percent to overhaul main opposition challenger Cellou Dalein Diallo, was helping Conde rig the vote by registering more of his supporters.
Waymark Managing Director Pikie Monaheng dismissed allegations that his company was favoring Conde: "This is business. We're just the technology provider."
Conde's government says there is not enough time to find a new firm before the ballot.
The opposition has also demanded the mostly pro-opposition diaspora be allowed to vote, but time is against that, too, says the government.
Opposition politicians are also calling for the release of supporters who have been arrested during protests, but the government insists that is a matter for the courts.
In the meantime, observers say hardliners on both sides are gaining the upper hand.
FEARS OF MILITARY INTERVENTION
NDI's Fomunyoh warned that Guinean politicians risked giving the army an opportunity it has been quick to grasp in the past.
General Lansana Conte staged a coup in 1984 following the death of President Sekou Toure and ruled for 24 years. Hours after Conte's death, Captain Moussa Dadis Camara seized power in 2008, ushering in two more years of military rule.
Many in the army are hostile to Conde after his sweeping reform of the military forced 4,000 soldiers to retire. The former armed forces chief is awaiting trial for a 2011 gun and rocket attack on Conde's home by soldiers.
"Some opposition politicians are creating this situation in the hope the military will intervene," said Territorial Administration Minister Alhassane Conde. "Some in the opposition do not want to go to the polls, fearing they will lose."
Former prime minister Sidya Toure, who emerged as an opposition leader after coming third in the 2010 presidential vote, said Conde's intransigence was radicalizing his opponents.
"Only the international community can force Conde to open a serious dialogue with the opposition," said Sidya, leader of the Union of Republican Forces (UFR). "If not, the pressure will come from the streets, and then anything is possible."
INVESTMENT ON HOLD
The tensions are putting at risk three years of economic gains that allowed Guinea to secure $2.1 billion in debt relief from the World Bank and International Monetary Fund.
Despite vast deposits of gold, iron ore and diamonds, global miners Rio Tinto, BHP Billiton and Brazil's Vale have cited the political uncertainty as one of the reasons for slowing billions of dollars of investments.
A transitional council that sits in place of a parliament has ratified a revised mining code that cuts tax and royalty demands to attract resources development, but investors worry a new parliament could undo the council's decisions.
Though Conde has won plaudits for stabilizing the economy, cutting the budget deficit and halving inflation to 13 percent, many ordinary Guineans say conditions have not improved in the world's top exporter of bauxite, an aluminum ore. Half the country's 10 million people still live in poverty.
Guinea's economic growth, at 3.9 percent, missed forecasts by a full percentage point last year. The Finance Ministry warned this month that investors' caution was jeopardizing this year's 4.5 percent target, too.
Nowhere is the situation more fraught than in Fria, which houses the cavernous 640,000 metric ton (1.1023 tons)-a-year Friguia alumina refinery, operated by Russian aluminum giant RUSAL.
RUSAL suspended operations a year ago after a strike over wages, leaving over 3,000 workers idle and depriving the town's nearly 150,000 inhabitants of most of the power, water and waste disposal services the refinery used to provide.
Children now play on mounting piles of rubbish on Fria's dusty red streets, while hundreds of workers loiter in the tropical heat, desperate for work.
"People have become so hungry and so desperate that they are losing their dignity, begging and scavenging for food," said Moriba Lamah, a 33-year-old electronic engineer who used to work at the plant.
"This cannot go on for long; there is risk of a violent explosion in this city. Without Friguia, Fria is lost."
The country's exports slumped 45 percent to 614 billion Guinea francs ($87 million) in January from a year earlier. Since January 2012, it has not exported any alumina, one of its main hard currency generators.
A senior official at an international agency said the slowdown on mining projects such as Rio Tinto's giant Simandou iron ore mine could slash three quarters off Guinea's economic growth, projected at about 19.9 percent between now and 2015.
Source: http://www.reuters.com/article/2013/05/01/us-guinea-politics-idUSBRE94005F20130501